06 Feb 2015

Strengthening Ecuador's Community Radio and "Buen Vivir"

Ecuador
Implemented by the Asociación Latinoamericana de Educación Radiofónica (ALER) with the support of WACC, this project increased the capacity of community media groups in Ecuador to bring about grassroots social change, particularly in the context of the country's new development paradigm and recent changes in its communication legislation.
The past decade has seen Ecuador shift away from a development model based on the imperative of economic growth and towards the paradigm of "Buen Vivir" or Sumak Kawsay. This model, which draws on pre-Columbian Andean culture and is based on principles of community-centred, ecologically-balanced and culturally-sensitive development, has given way to a progressive communication law: the Ley Orgánica de Comunicación. It provides the legal framework for media democratization in Ecuador.
ALER's project designed and delivered a specialized course for community media practitioners, and drafted and disseminated an educational manual explaining the details of the Ley Orgánica de Comunicación.
The course "Cruzando Puentes: Comunicación e Integración más allá de las fronteras" was delivered in partnership with other civil society organizations such as Catholic Relief Services (CRS), Save the Children – Ecuador, UNHCR-Ecuador Office, and GIZ. Course activities were designed specifically for civil society groups, most of them with a direct connection to community communication, working in remote areas of the country near the Peruvian and Colombian borders.
ALER counted on the support of the Universidad Internacional del Ecuador (UIDE) to ensure the course was pedagogically sound. All in all, the course, which had five thematic focuses including one specifically relating to communication legislation, benefitted 48 participants (22 women and 26 men) from approximately 30 community radio stations and 10 civil society groups. Representatives of the national government also participated in the course activities.
The educational manual, produced in partnership with Coordinadora Nacional de Radios Populares del Ecuador (CORAPE), drew in part on insights drawn from the training course. It examined each of the articles of the Ley Orgánica de Comunicación, and provided useful clarifications and explanations. All community and alternative radio stations associated with both ALER and CORAPE received a printed copy of the manual. ALER also made the document available online.
Ultimately, this project was successful in building new relationships between different established NGOs for the delivery of the course. It contributed to increased knowledge about the new communication law among community media practitioners and their allies, and created stronger links between the national government and grassroots community communicators.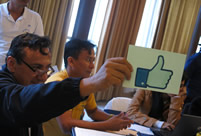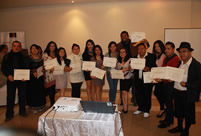 Project 2267