06 Jul 2016

Summer interns join WACC General Secretariat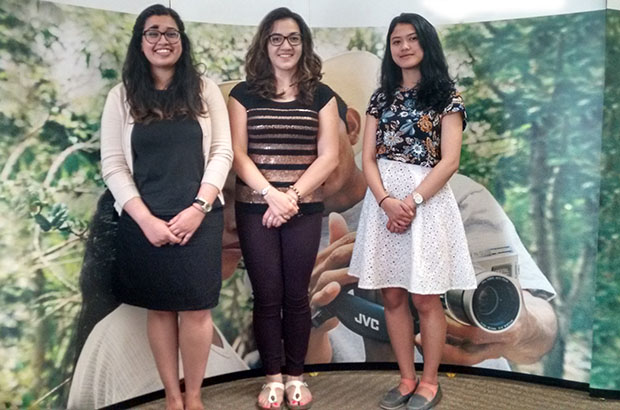 Left to right: Kripa Koshy, Saba Mirsalari, and Rahma Wiryomartono. Photo: Lucas Nonnemacher.
---
Supported by Service Canada, three summer interns have been welcomed to the WACC General Secretariat in Toronto.
Kripa Koshy is interning as a project assistant, helping to administrate projects and programmes.
Rahma Wiryomartono is applying her writing skills to background materials for forthcoming publications.
Saba Mirsalari is assisting with the development of publicity for a campaign to "End media sexism by 2020" to be launched later this year.
Kripa Koshy is a recent graduate of McGill University, where she studied International Development and, Religion and Globalization. Her academic interests lie in development economics and the role of gender and religion in the processes of development.
Kripa intends to extend her knowledge into the field of public policy this fall, as she begins graduate studies in the Public Administration programme at the Queen's University School of Policy Studies.
Rahma Wiryomartono is an undergraduate English literature student at McGill University in Montreal, Quebec. She comes to WACC with editorial experience in campus media and youth creative writing publications.
Originally from Indonesia, Rahma speaks English, Bahasa Indonesia and Malay.
Later this year, Saba Mirsalari will be entering her fourth year of undergraduate studies at Ryerson University to complete a Bachelor's Degree in Sociology. She hopes eventually to complete a Master's in Public Policy and Global Affairs.
Her interests include advocacy-related work for gender equality, developing integration and settlement programs for refugees and displaced individuals, and raising awareness about education for youth and women in developing countries.
At the end of their internship, each of the interns will return to full-time studies with wider experience of the impact of communication rights on sustainable development and social justice.
WACC is extremely grateful to Service Canada giving vital support to its work by enabling three skilled and talented young women to spend two months assisting its international staff at its global headquarters.