07 Nov 2016

Syria Film Festival repeats its success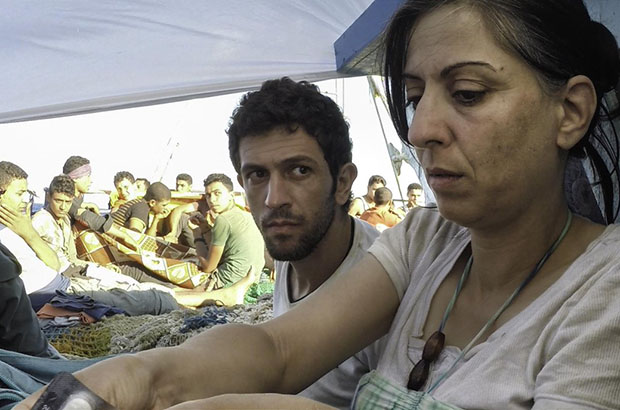 Still from the feature film "The Crossing" directed by George Kurian. Courtesy: Syria Film Festival.
---
The Syria Film Festival opened one year ago in Toronto to great acclaim.
On the heels of that highly successful, sold out first year, the Syria Film Festival (SFF) returned in 2016 with three nights of thought-provoking films, special guests and engaging discussions.
WACC was privileged to partner with the SFF to promote stories about migration and the struggles of Syrian migrants to reshape and redefine their lives in their new environments.
The opening night film "After Spring" directed by Steph Ching and Ellen Martinez offered a window into the Zaatari refugee camp in Jordan, familiar from many media reports.
The carefully chosen night of short films on the second day of the festival presented a selection of personal stories from around the world told in a variety of formats.
One of them was "Syrian Eagles", the story of a soccer team made up exclusively of Syrian newcomers to Toronto.
Toronto has welcomed thousands of newcomers to its communities. For those refugees, the future demands integrating into a new culture and environment. "Syrian Eagles" showcases a team of 21 players of all ages from all parts of Syria.
Each Sunday they meet to forget about the stresses of a new life and play soccer with various other teams of the Muslim Soccer League, offering a rare glimpse into the day-to-day lives of newcomers to Canada.
The festival closed with "The Crossing", directed by George Kurian, a feature film about a group of Syrian friends making the dangerous journey across the sea to safety."
As television coverage of the Syrian crisis has shown, thousands of desperate Syrians have risked their lives on overcrowded, ill-fitted boats in an attempt to cross the Mediterranean to safety.
"The Crossing" – dedicated to the memory of three-year old Alan Kurdi – accompanies a group of families as they reluctantly abandon their former lives to seek refuge in different European countries.
"The Crossing" is a story of hope fulfilled. Eventually each family is given asylum and begins to carve out a new life – a theme that the SFF admirably pursued across three days of inspirational films.
The SFF will continue in 2017. To discover more or to support this vital work, visit the web site here.