16 Nov 2015

Syria Film Festival scores huge success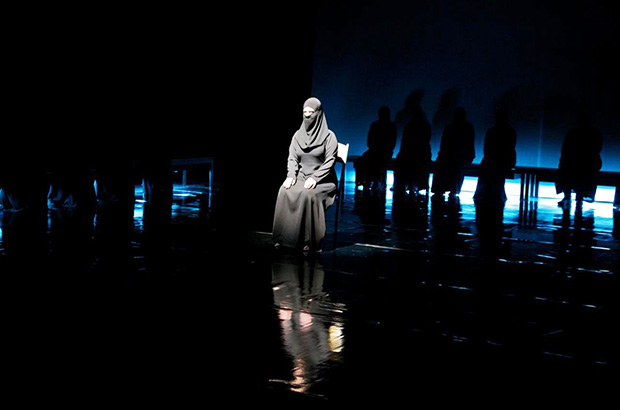 Still from the film Queens of Syria (2014) directed by Yasmin Fedda.
---
Documentary screenings in Toronto, Canada, were sold out 13-15 November 2015 as audiences expressed their solidarity with Syria.
WACC was a partner in the event, which focused on the themes of conflict, displacement and loss.
"Nothing better demonstrates communication rights in practice than seeing the faces and hearing the voices of real people affected by the terrible events in Syria," said WACC General Secretary Rev. Dr Karin Achtelstetter.
"WACC was privileged to have been invited to participate in the Festival," she added.
Three feature films presented strong female protagonists grappling with their own versions of life in exile, as well as the extraordinary work of Syrian American hand surgeon Hisham Bismar.
Five short films in the program reflected a mix of documentary, fiction, animation, and experimental storytelling.
Aisha Jamal and Maya Annik Bedward, responsible for the festival program, noted that the choice of films took into account "perspectives that are too often missed by mainstream media, paying particular attention to the plight of those most vulnerable in armed conflict – refugee women and children."
Queens of Syria (2014), directed by Yasmin Fedda, is a powerful contemporary retelling of Euripides's tragedy, "The Trojan Women". Performers dressed in black use the Greek text as a way of telling their own stories.
"This is real … it's not just in Troy," says one young woman, Maha, to the camera. "This has happened for real. It has happened to us."
Not Who We Are (2013), directed by Carol Mansour, tells the stories of five Syrian women from different socio-cultural backgrounds. Refugees in Lebanon, they struggle to rebuild lives shattered by war, demonstrating great resilience in the face of incredible hardship.
Illustrating the human cost of the Syrian revolution, Fifty Feet from Syria (2015), directed by Skye Fitzgerald, highlights the work of an American surgeon who decides to leave his family and work in Turkey caring for victims of the conflict.
Following the screening, Dr Hisham Bismar and the film's director took part in a question and answer session.
The Syria Film Festival is a non-profit enterprise seeking further backing for its mission to create greater understanding about the consequences of the tragedies being enacted in this ancient country.
In the words of Maher Azem, Festival Coordinator, "It is run by dedicated volunteers who want to give a voice to brave filmmakers who often risk their lives and sometimes even the lives of those they love to capture important footage and to document stories that would otherwise never reach the public."
For more information visit: http://syff.ca/