15 Jan 2016

Toolkit for journalists explains 'hate speech'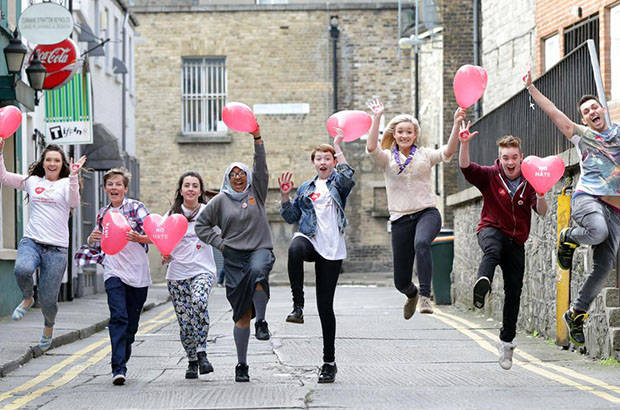 Young people celebrating diversity. Photo: Courtesy of No Hate Speech Movement Ireland.
---
ARTICLE 19 has published a guide to identifying and countering 'hate speech'.
The 87-page publication responds to a growing demand for clear guidance on identifying 'hate speech' and for ways to respond to the challenges it poses within a human rights framework.
The toolkit (which can be downloaded here) addresses three key questions:
How do we identify 'hate speech' that can be restricted, and distinguish it from protected speech?

What positive measures can States and others take to counter 'hate speech'?

Which types of 'hate speech' should be prohibited by States, and under which circumstances?
Noting the complexities involved, ARTICLE 19 points out that, "'Hate speech' is an emotive concept, and there is no universally accepted definition of it in international human rights law. Many would claim they can identify 'hate speech' where they see it, but the criteria for doing so are often elusive or contradictory."
The toolkit is guided by the principle that coordinated and focused action taken to promote the rights to freedom of expression and equality is essential to fostering a tolerant, pluralistic and diverse democratic society in which all human rights can be realised for all people.
Part I outlines that there is no uniform definition of 'hate speech' under international human rights law, rather, it is a broad concept which captures a wide range of expression. The toolkit advances a typology for identifying and distinguishing different forms of 'hate speech' according to their severity, guided by States' international human rights law obligations.
Part II provides guidance on what policy measures State and non-State actors can undertake to create an enabling environment for freedom of expression and equality that addresses the underlying causes of 'hate speech' while maximising opportunities to counter it.
Finally, Part III discusses the exceptional circumstances in which the State is obliged by international law to prohibit the most severe forms of 'hate speech', and where also States may under international law place other restrictions on 'hate speech'. This includes guidance on ensuring that such prohibitions are not abused, and to ensure that where sanctions are imposed they are appropriate and proportionate, as well as ensuring support and redress for victims.
ARTICLE 19 believes that ensuring that responses to 'hate speech' comply with international human rights law is crucial. Prohibitions that censor offensive viewpoints are often counter-productive to the aim of promoting equality, as they fail to address the underlying social roots of the kinds of prejudice that drive 'hate speech'. In most instances, equality is better-promoted through positive measures which increase understanding and tolerance, rather than through censorship.
ARTICLE 19 says that the toolkit is not a definitive version, and it will be continuously updated to reflect the developing case law and best practices in this area.
Source: ARTICLE 19.