19 Mar 2015

Tribute to Roderick Sanatan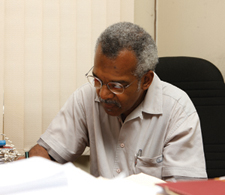 Roderick Sanatan passed in his homeland Trinidad and Tobago on Monday 16 March 2015. Roderick was a founding member of WACC Caribe and a tireless campaigner for the development of Caribbean institutions and movements related to communications. Among his many assignments within the region were – General Secretary of the Caribbean Telecommunications Union; Director of the Centre for International Studies at the UWI, Cave Hill Campus in Barbados, and Senior lecturer at CARIMAC, UWI, Mona Campus Jamaica.
The highlights of his engagement with communications and information, were a series of seminars throughout the Caribbean region which explored the relationships among the various facets of the new information society and social issues in the region. These seminars usually brought together academics, activists, NGO's public sector institutions, the service providers and regulators. Most times, the common ground in these eclectic groupings was the forum for debate and setting agendas for further research and investigation, with small projects as take-aways.
Roderick had a passion for research and writing. He wrote a lot of his thoughts and questions in long hand and in many published and unpublished papers. Generally he always pointed to linkages, sometimes in a not so obvious manner. In one discussion on the impact of ICTs on the Caribbean, he opined that "To learn from the experience of telecom deregulation it would be prudent to consider ways of linking regulatory policy to labour policy. In this way, it may be feasible to avoid some of the costs of social disruption"
While some colleagues may recall that he was sometimes complicated thinker and a brilliant Caribbean mind, for me he was also a genuine friend. I remember Roderick along with a groups of Caribbean thinkers and communication/cultural works rights advocates such as Aggrey Brown and many other Caribbean communications/cultural workers who never stopped on their journey to rest…… until now.