18 May 2022

Twenty films that opened the eyes of Canada

Philip Lee

Why is it important to have fair and balanced representations in film, TV, and popular media? Because otherwise they can have a negative impact on people's perceptions of others, especially women and minorities. Studies show that audiences substitute stereotypes they see on screen for reality when they have not had direct interaction with other peoples. Since media have the power to shape attitudes and behaviour, authentic representations can help break down barriers, open us up to new ideas, and even be a source of inspiration.

In 2001, Jack G. Shaheen published Reel Bad Arabs: How Hollywood Vilifies a People. Based on a study of more than 900 films, it revealed how the distorted lenses of moviemakers depicted Arabs as heartless, brutal, uncivilized, and religious fanatics in stereotypical representations akin to the worst propaganda.

Shaheen's watchword was the Arab proverb Al tikrar biallem il hmar (By repetition even the donkey learns). In other words, how people are represented in the media – in this case in film – by degrees affects the perceptions and behaviour of others. This can be positive or negative. Conversely, when people are not represented in the media, they are silenced and their lives and cultures become invisible.

With regard to "others", as noted by sociologist Elfriede Fürsich:
"Media imagery across various platforms, from news journalism to fictional movies, has often portrayed minorities as different, exotic, special, essentialised or even abnormal. It is especially striking that the repertoire of representations of diverse minorities that contemporary media offer is often linked to historically established racist imaginaries such as in colonial literature and science (for example, slave imaginary or Orientalism). Moreover, as post-colonial, race, and gender studies have shown, the long history of visual mass media production that started with the invention of film more than 100 years ago has created a stockpile of mediated representation types that are constantly recycled in a variety of media outlets."1
Fortunately, over the past three decades and especially in the case of Canada's First Nations, Indigenous directors have been able to make films offering alternative perspectives on the lives of their peoples. One of them – Reel Injun directed by Cree-Canadian Neil Diamond – followed in Shaheen's footsteps to produce a feature-length investigation of a century-plus of popular images of aboriginal North Americans.
Reshaping collective memory
This article highlights 20 films and documentaries directed by Indigenous filmmakers that have helped to change how the public sees the lives and cultures of Indigenous peoples in Canada. Several appeared at a time when the findings of the country's Truth and Reconciliation Commission (2015) are still in the process of being addressed, including a call to reshape "a shared, national, collective memory".2
In itself, this is also a response to the UN Declaration on the Rights of Indigenous Peoples (UNDRIP, 2007), which underlined their right to "revitalize, use, develop and transmit to future generations their histories, languages, oral traditions, philosophies, writing systems and literatures, and to designate and retain their own names for communities, places and persons" (Article 13).
How Indigenous peoples are represented in the media – including film – directly impacts their acceptance as equal citizens in a multicultural environment.
Kanehsatake: 270 Years of Resistance (1993) directed by Alanis Obomsawin
The Oka Crisis in July 1990 was a critical moment in Canadian history and a turning point for Indigenous affairs. That summer, a small Quebec community was thrust into the international spotlight when members of the Mohawk Nation blocked access to reserve lands that the predominantly white community of Oka wanted to develop into a golf course. This powerful documentary goes right to the heart of the action, painting a sensitive and deeply affecting portrait of the people behind the barricades. Winner of several awards from film festivals around the world, including the Toronto International Film Festival's Best Canadian Feature Film prize in 1993.
Rocks at Whiskey Trench (2000) directed by Alanis Obomsawin
On August 28, 1990, a convoy of 75 cars left the Mohawk community of Kahnawake and crossed Montreal's Mercier Bridge – straight into an angry mob of non-Indigenous people that pelted the vehicles with rocks. The targets of this violence were Mohawk women, children, and elders leaving their community, in fear of a possible advance by the Canadian army. This film is the fourth in Obomsawin's landmark series on the Mohawk rebellions. Nominated for the Genie Award for Best Documentary, Rocks at Whiskey Trench is shocking and essential viewing.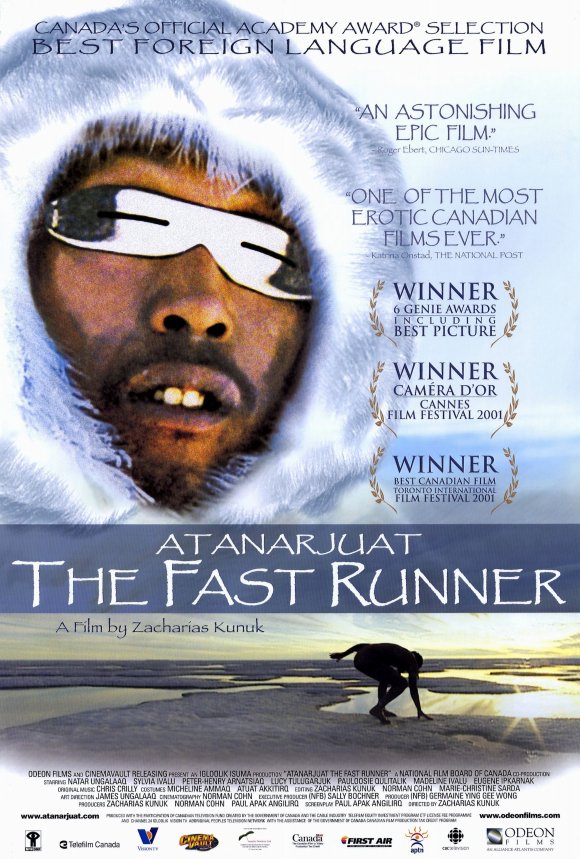 Atanarjuat: The Fast Runner (2002) directed by Zacharias Kunuk
Based on an ancient Inuit legend, Atanarjuat is an epic tale of love, betrayal and revenge. The beautiful Atuat has been promised to the short-fused Oki, the son of the tribe's leader. However, she loves the good-natured Atanarjuat, a fast runner and excellent hunter. When Atanarjuat is forced to battle the jealous Oki for Atuat's hand, the events that follow determine not only his fate, but that of his people. Atanarjuat won 20 awards, including eight Genies and the Caméra d'Or at the 2001 Cannes Film Festival.
Club Native (2008) directed by Tracey Deer
On the Mohawk reserve of Kahnawake, outside Montreal, there are two unspoken rules: don't marry a white person, and don't have a child with one. The consequences of ignoring these rules can be dire – loss of membership on the reserve for yourself and your child. For those who incur them, the results can be devastating. In this honest and affecting documentary, filmmaker Tracey Deer follows the stories of four Kahnawake women whose lives have been affected by these rules, shedding light on contemporary Indigenous identity and asking questions about how we all understand who we are.
Reel Injun (2009) directed by Neil Diamond
Reel Injun is an enlightening documentary about the way Indigenous people have been depicted in film, from the silent era to the present day. Chock-full of clips from hundreds of films and packed with interviews with famous Indigenous and non-Indigenous actors, directors and writers, Reel Injun is an entertaining and insightful look at how the powerful medium of film both reflects and influences culture. Director Neil Diamond takes the audience on a trip through time to explore the history of the "Hollywood Indian" and offers a refreshing, candid and personal analysis, tracing how these cinematic images have shaped and influenced understandings of Indigenous culture and history.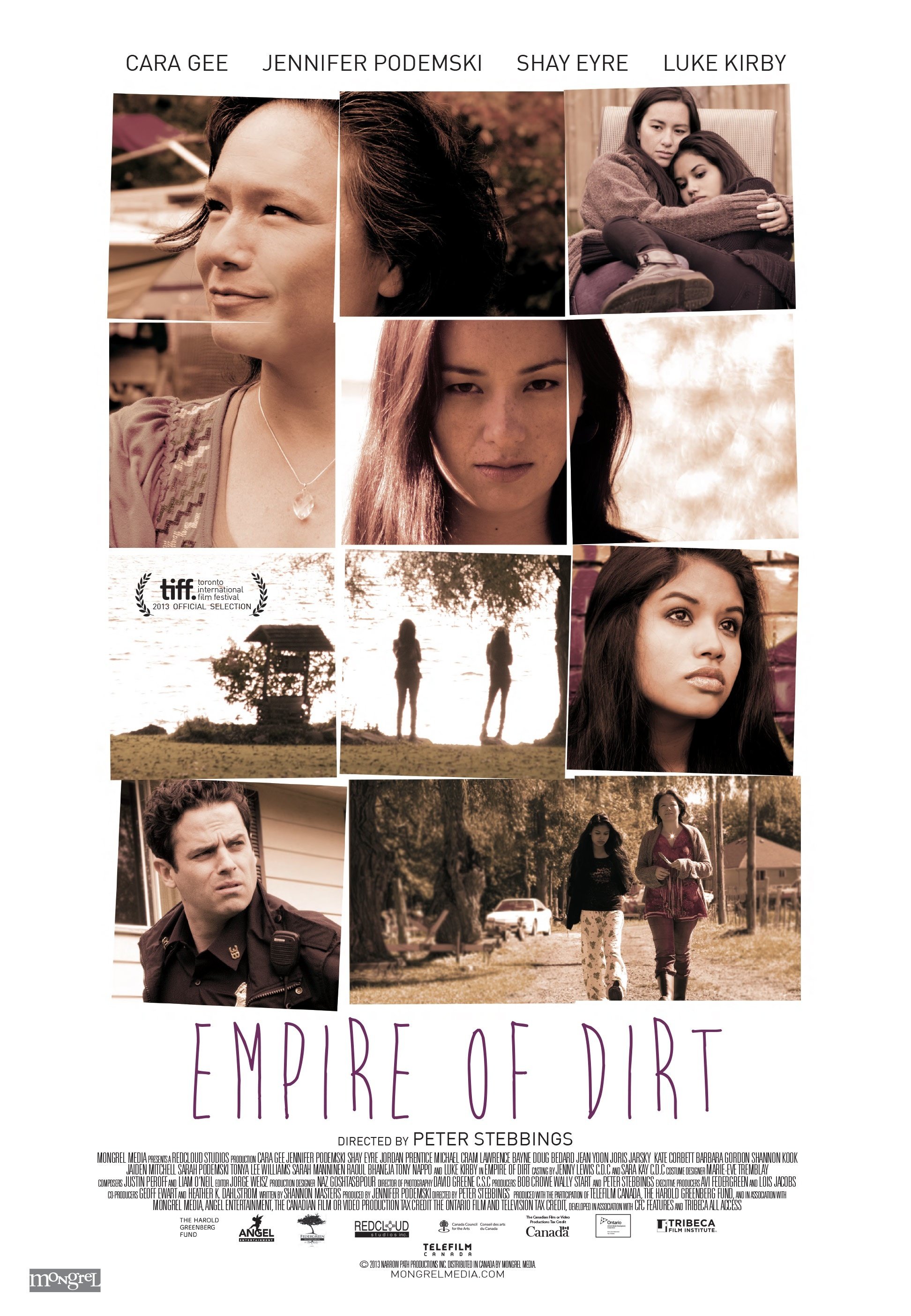 Empire of Dirt (2013) directed by Peter Stebbings
When single mom Lena realizes that her daughter is in danger of succumbing to the same addiction issues she herself faced, she decides to take her daughter and leave the city to return home to her estranged mother in the rural Indigenous community of her youth. The homecoming forces Lena to deal with her past and raises issues that test all three generations of this family of spirited women. Empire of Dirt was nominated for five Canadian Screen Awards, including Best Picture.
Birth of a Family (2016) directed by Tasha Hubbard
Four siblings, taken from their Dene mother's care as infants and raised separately across North America, meet for the first time in this moving documentary. Betty Ann, Esther, Rosalie, and Ben were four of the estimated 20,000 Indigenous children who were taken from their homes between 1955 and 1985 and placed in the child welfare system as part of the Sixties Scoop, a policy that followed the same trend of forced assimilation as residential schools. Over several decades, Betty Ann worked tirelessly to track down her siblings, all of whom have had very different life journeys. Now, they come together for the first time, challenged by the sadness and comforted by the joys of learning their full history.
Angry Inuk (2016) directed by Alethea Arnaquq-Baril
A vocal anti-sealing movement imbued with cultural prejudice has damaged the Inuit seal hunting economy and had a lasting impact on Inuit communities. This award-winning film follows a generation of Inuit working to change widely held beliefs about seal hunting through new technology and innovative methods of communicating their message to the world that has judged them.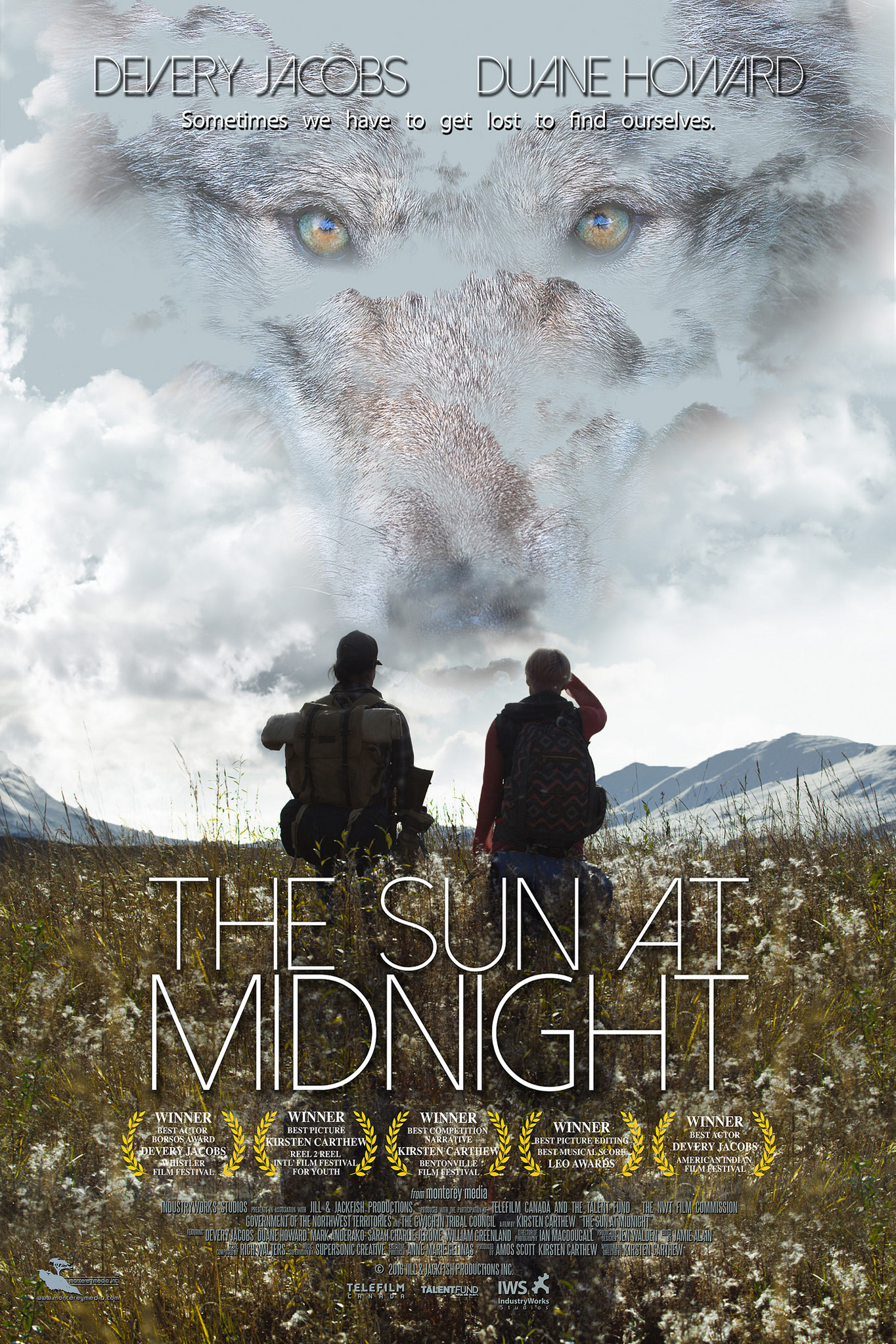 The Sun at Midnight (2016) directed by Kristen Carthew
Set in the stunning landscape of the Arctic Circle, this coming-of-age drama tells the story of an unexpected friendship between a hunter obsessed with finding a missing caribou herd and a teenage rebel who gets lost while on the run.
After her mother dies, 16-year-old "urban princess" Lia is sent to spend a summer with her Gwich'in grandmother in a small community in the far north. Desperate to get back to city life, she steals a boat and heads south. As might be expected, she quickly gets lost, and is soon discovered by Alfred, a Gwich'in hunter, who reluctantly helps her navigate the unfamiliar wilderness.
Our People Will Be Healed (2017) directed by Alanis Obomsawin
Alanis Obomsawin's 50th film reveals how a Cree community in Manitoba has been enriched through the power of education. The students at a local school for the Norway House Cree Nation discuss their aspirations for the future and reflect on how they are feeling more hopeful than previous generations.
By discussing the effects of intergenerational trauma, substance abuse and many other issues facing Indigenous communities, the students are able to undergo a process of collective healing that shows that the strength of the community comes from the people within it.
Rise (2017) directed by Michelle Latimer
This powerful documentary series gives viewers a rare glimpse into the frontline of Indigenous-led resistance, examining Indigenous life through the stories of people in diverse communities who are working to protect their homelands.
Sacred Water: Standing Rock Part 1: The residents of the Standing Rock Sioux Reservation of South Dakota are fighting to stop a pipeline from being built on their ancestral homeland. In this absorbing account of the events leading up to the protests, Anishinaabe host Sarain Carson-Fox provides context and background, telling the water protectors' side of the story as the conflict develops right before our eyes.
Red Power: Standing Rock Part 2: As the #noDAPL movement grows in size and reaches boiling point, over 5,000 people descend on the Standing Rock camp. Using the unprecedented occupation at Standing Rock as its starting point, this episode delves into the evolution of the Red Power Movement, combining history lessons about Indigenous-led resistance with explosive footage of this historic moment.
The Urban Rez: Winnipeg, MB, is home to Canada's largest Indigenous population – over 90,000 people. In this powerful and inspiring episode, several grassroots organizations and collectives take back the streets, battling the intergenerational effect of Canada's Residential School System, poverty, high crime, and violence against Indigenous women and girls.
Angelique's Isle (2018) directed by Marie-Hélène Cousineau and Michelle Derosier
In the midst of the 1845 mining boom on the shores of Lake Superior, newly-wed Anishinaabe woman Angelique agrees to accompany her voyager husband, on a copper expedition. Left by the rest of the crew to guard a large discovery on a remote island, the couple must survive for weeks dealing with the harsh winter conditions and dwindling food supply. As hunger sets in, Angelique – a devout Christian – struggles with her faith and must rely on the teachings she received from her grandmother in order to survive. Based on the true story of 17-year-old Angelique Mott, the film is a harrowing tale of perseverance and survival.
The Messenger (2019) directed by Alanis Obomsawin
This film follows the fight between provincial and federal governments over who would pay for the care of Jordan River Anderson, a young Cree boy with a rare genetic condition. The battle that took place resulted in the New Jordan Principle, which ensured equitable access for children in Canada; specifically, that First Nations and Inuit Children would receive the same standard of social, health, and educational services as are offered to the rest of the population in Canada.
Nîpawistamâsowin: We Will Stand Up (2019) directed by Tasha Hubbard
On August 9, 2016, a 22 year old Cree man named Colten Boushie was killed by a gunshot to the back of his head after entering a rural farm property in Saskatchewan with his friends. When an all-white jury acquitted the white farmer of all charges, the case received international attention and sent Colten's family and community on a quest to fix the Canadian justice system. Nîpawistamâsowin was the opening night film at Toronto's Hot Docs 2019, where it won the prize for Best Canadian Documentary.
Red Snow (2019) directed by Marie Clements
Dylan, a Gwich'in soldier from the Canadian Arctic, is on a military tour in Afghanistan when he is ambushed and captured by Taliban rebels. As he is held prisoner and interrogated, he is reminded of painful memories connected to the love and death of his Inuk cousin, Asana. What begins as a fight for survival becomes a terrifying race against time as Dylan is forced into a situation no soldier ever wants to face. Marie Clements' second feature premiered at the imagineNATIVE festival in 2019 and collected a number of accolades.
---
The Grizzlies (2019) directed by Miranda de Pencier
When Russ Sheppard moves north to teach in a town struggling with a high suicide rate, he is shocked by the challenges facing the town's youth – a result of the legacy of colonization. Russ introduces a lacrosse program in the school through which young people find a vital outlet for their emotions, and a sense of pride and purpose in themselves and their community. The film won four awards at film festivals internationally.
Rustic Oracle (2019) directed by Sonia Bonspille Boileau
A moving portrait of a family in crisis, Rustic Oracle tells the story of eight-year-old Ivy, who joins her mother Susan in a desperate race against time to search for her older sister who's gone missing from their Mohawk community. While their journey to find answers is one that no family should go through, their shared hope helps mother and daughter come together in love in difficult circumstances. With the issue of missing and murdered Indigenous women continuing to make headlines as a national tragedy, filmmaker Sonia Boileau tells a story that is personal, intimate and humane.
The Incredible 25th Year of Mitzi Bearclaw (2019) directed by Shelley Niro
When Mitzi Bearclaw turns 25, it's time to start making big decisions for the future. Her dream to design cool hats is put on hold when she chooses to move from the city back to her isolated reserve to look after her sick mother. With the reserve bully constantly at her heels and an old flame suddenly back in her life, she is grateful that her cousin is there to help her in the fight to stay positive under trying circumstances. With a lot of laughs along the way, Mitzi embarks on a quest to get her family back on the right track.
One Day in the Life of Noah Piugattuk (2019) directed by Zacharias Kunuk
Spring 1961, Noah Piugattuk's nomadic Inuit band live and hunt by dog team, just as their ancestors did. When a government emissary arrives in camp, he asks them to relocate their families to permanent settlements and send their children to school. Behind what seems to the hunters to be the government agent's incoherent requests is a policy that will mean a fundamental rupture in the lives of Inuit.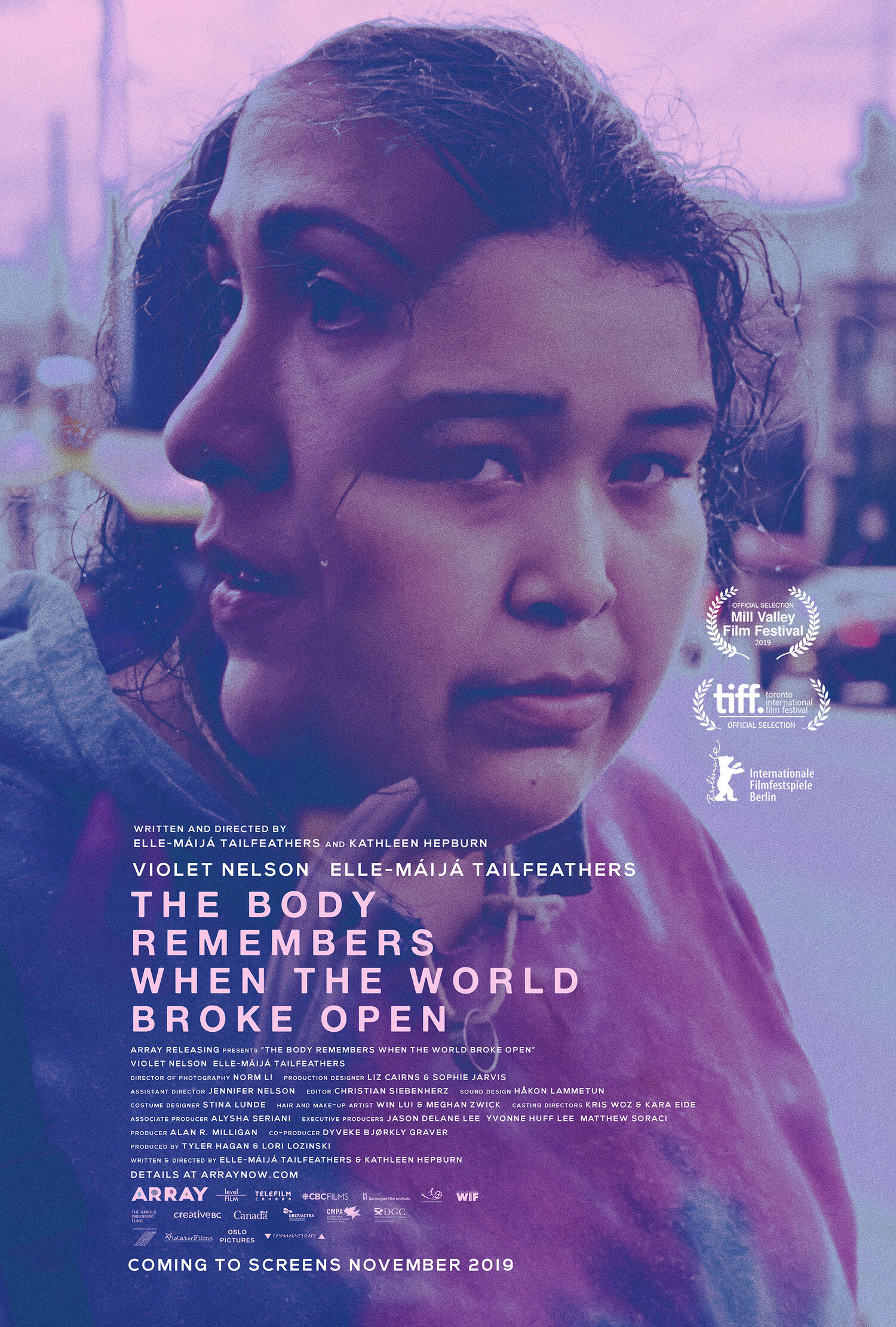 The Body Remembers When the World Broke Open (2020) directed by Elle-Máijá Tailfeathers and Kathleen Hepburn
Set in Vancouver, BC, this film explores the complex themes of racialization, gender, and colonisation through the bonds that two women form with one another. In a chance encounter in the street, Áila finds Rosie, heavily pregnant and barefoot, and takes her home in order to escape Rosie's violent boyfriend who has assaulted her. As the two women explore and unpack the traumatic event that Rosie survived, their relationship becomes one of deep connection and safety in a world that has harmed them.
With acknowledgement to material provided by Reel Canada, a charitable organization that celebrates Canada through film.
Notes
1. Fürsich, Elfriede. (2010). "Media and the representation of Others." International Social Science Journal, March 2010. 61. 113-130.
2. Honouring the Truth, Reconciling for the Future. Summary of the Final Report of the Truth and Reconciliation Commission of Canada (2015, p. 268).
Philip Lee is General Secretary of the World Association for Christian Communication (WACC) and Editor of its journal Media Development. His publications include Many Voices, One Vision: The Right to Communicate in Practice (ed.) (2004); Public Memory, Public Media, and the Politics of Justice (ed. with Pradip N. Thomas) (2012);  and Expanding Shrinking Communication Spaces (ed. with Lorenzo Vargas) (2020).