15 Sep 2015

UNESCO event analyzes community media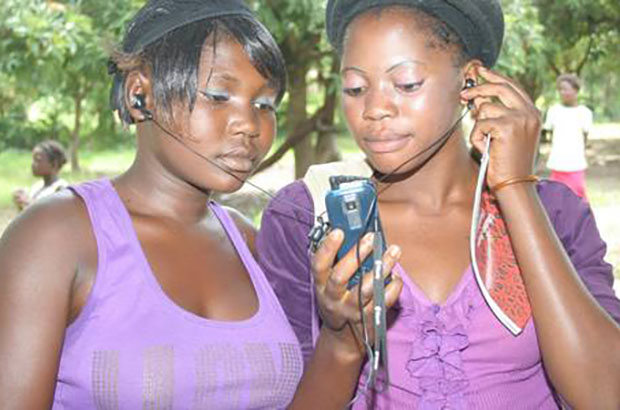 In many parts of the world, community radio is essential. Photo: UNESCO.
---
WACC is one of six organizations invited to partner with UNESCO in a seminar at the agency's headquarters in Paris providing a platform for knowledge exchange and sharing of good practice to strengthen community media and pluralistic media institutions.
Titled Community Media Sustainability: Strengthening Policies and Funding, the Sept. 14-15 event is bringing together experts and participants from multi-stakeholder communities including broadcasting regulators, community radio networks, academia, and NGOs. Also participating are intergovernmental, international and UN organizations. They are presenting good practice case studies and concept papers that are debated through moderated panels. WACC is also a member of the Steering Committee for this event.
As part of the introductory panel on Sept. 14, WACC UK Development Manager Sara Speicher spoke on the topic of communication rights as the foundation for sustainable community media.
Defining communication as an "essential human need," Speicher noted that it is "a basic human right," similar to the rights to food, security and shelter.
Community media groups around the world are putting communication rights into practice, she said, citing initiatives in Uganda and Ecuador. However, such initiatives face a number of financial and regulatory challenges.
She noted that "freedom of opinion and expression, as expressed in the Universal Declaration of Human Rights, is the cornerstone on which we need to build community media. But to move from the ideal, into a practical enabling environment, policies and practices" need to support genuine participation of marginalized groups in decision making and implementation, independence, language rights, among others
Taking a communication rights-based approach to media regulation and practices means that access to spectrums and licenses is framed as a right that must be respected by government and private sector groups, as opposed to as a privilege awarded only to those communities whose thinking aligns with special interest groups, Speicher said.
She noted that WACC has supported many community media initiatives over the decades.
This support has seen "even small initiatives in community radio or digital communication" strengthen the ability of poor and marginalized people – such as indigenous peoples, women, youth, people with disabilities, refugees – to help each other and contribute effectively to society, Speicher said. "In addition, community media projects contribute to achieving other development goals in areas such as agriculture, sanitation, literacy and education, and governance," she noted.
However, many community media groups face a number of challenges in order to become sustainable in the long term, Speicher said. "Some of these barriers include limited access to radio spectrums, government controls, difficulties receiving broadcasting licenses, the high cost of equipment, lack of financial resources, limited access to training and new knowledge, and poor communication infrastructure," she related.
"WACC hopes that the recommendations coming out of this seminar will specifically support the ability of community media practitioners to network with other organizations locally and nationally to create a sense of solidarity, and to find solutions to common problems faced by community media groups, particularly in the areas of management, operations, and financing," Speicher concluded.
Also participating in the opening session was Sharon Bhagwan Rolls, leader of Fiji-based femLINKPacific, a WACC partner and community media initiative aimed at supporting the views and concerns of women in the South Pacific. Rolls' presentation was titled, "Concept to Strengthen Regulatory Practice in Favor of Community Radio."
She reviewed the history and operations of FemTALK 89FM, femLINKPacific's women's community radio network, and the regulatory environment in Fiji under which it operates.
"Within Fiji's diverse and highly commercialized radio environment, the establishment of our first "suitcase radio station" in May 2004 signified … investing in the development of a rural community media network of volunteer producers and broadcasters but also navigating the evolving channels of regulations," Rolls said.
FemLINK, therefore, has "a responsibility to advocate for clear legal recognition and regulatory provisions within the media landscape," she noted.
WACC partner Loreto Bravo Munoz, Founder, Palabra Radio on Sept. 15 made a presentation titled "Mexico Community Radio and Free New Technologies: Case study of Oaxaca Community Radio."
Bravo Munoz focused on how community media outlets in the Mexican state of Oaxaca are becoming more sustainable. Drawing on the lessons learned by numerous community media groups in Oaxaca, she said there are three main elements: 1) understand sustainability as something that impacts the entire community and not just the community media outlet, 2) engage women at all levels of community media work, which tends to make community media outlets stronger and more resilient, 3) use open-source software and hardware, which allows groups to adapt these technologies to their own needs while being less expensive than their brand name counterparts.
Bravo Munoz provided case studies of communities that have developed their own cellular phone infrastructure at a very low cost and in ways that have increased engagement with the local community radio station. These types of initiatives have met the communication needs of local communities, are becoming sustainable partly because they rely on open-source technology, and are ultimately strengthening people's ability to exercise their communication rights.
She called on national and international decision-makers to help create structures for local communities to create, own, and manage their own media. "State institutions must establish regulatory measures for community media that recognize the social organization of local communities, particularly indigenous communities, and that recognize enable people's communication rights," she said.