09 Aug 2017

WACC and Cultural Survival Highlight the Role of Communication in Advancing the Rights of Indigenous Peoples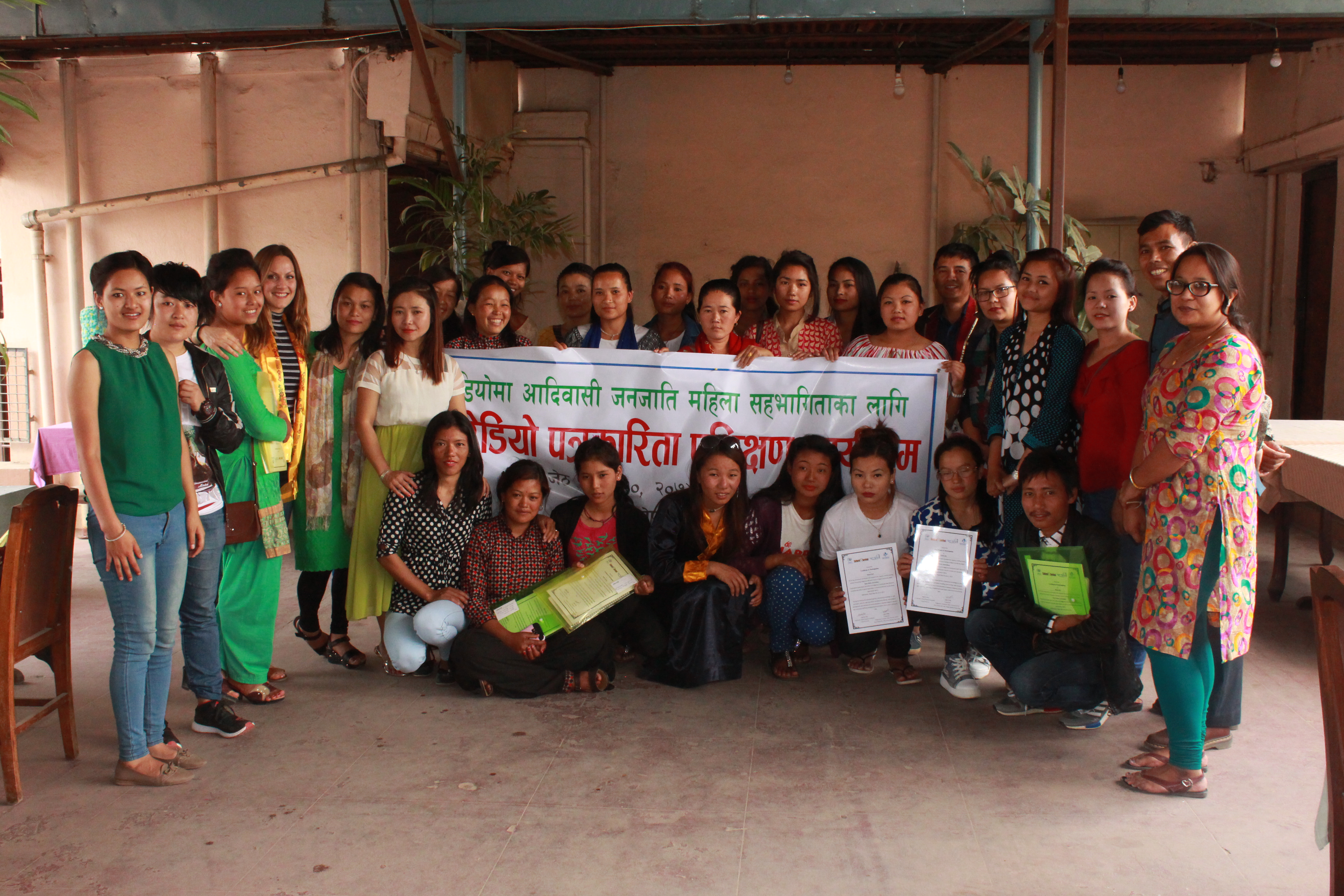 Participants at a workshop to help build the capacity of Indigenous women broadcasters and sector leaders, held in Kathmandu, Nepal, by WACC and Cultural Survival partner Radio Kairan. Photo Credit: Cultural Survival
On International Day of the World's Indigenous Peoples, WACC and Cultural Survival are highlighting the importance of communication in helping to promote and advance the rights of indigenous people around the world.
Today, among the world's current population of 6.7 billion people, there are more than 370 million Indigenous Peoples in over 72 countries. Practising unique traditions, they retain social, cultural, economic and political characteristics that distinguish them from those of the dominant societies in which they live. Indigenous Peoples are the custodians of unique languages, knowledge systems and beliefs and possess invaluable knowledge of practices for the sustainable management of natural resources.
The United Nations Declaration on the Rights of Indigenous Peoples (UNDRIP), adopted by the United Nations General Assembly 10 years ago, reflects global concern that indigenous peoples continue to suffer from historical injustices that prevent them from exercising their rights. The Declaration acknowledged the fact that indigenous peoples are organizing for political, economic, social and cultural development, and that they have the right to maintain and strengthen their distinct political, legal, economic, social and cultural institutions.
Communication, particularly when understood from a rights perspective, is essential to the achievement of Indigenous Peoples' rights. Access to information, fair and balanced media representation, intellectual property rights, the right to own and control their own media, and the right to cultural diversity, among others, are essential communication rights that enable the achievement of numerous other rights for Indigenous Peoples. Many of these rights are highlighted in the UNDRIP.
WACC's General Secretary, Rev. Karin Achtelstetter, said "the rights of Indigenous Peoples cannot be fully achieved without a rights-based approach to communication-related issues such as decision-making, media platforms, and cultural diversity. On this International Day of the World's Indigenous Peoples, WACC calls on Indigenous rights and communication rights advocates to work together to promote and advance the rights of indigenous people everywhere. WACC also calls on civils society organizations and governments to take action on the promotion of the communication rights of Indigenous people."
Cultural Survival's Community Media Grants Program Manager Avexnim Cojti, Maya K'iche', said "at Cultural Survival we are committed to walk beside and support the different Indigenous movements around the world for the right to have a voice that truly reflects the needs and interests of their nations. Indigenous Peoples have fought to be recognized within their countries and exercise their right to communication, that is, to have their own platform of communication to inform and educate from their own perspectives, in their own languages, and about their own cultures and goals. We are pleased to have this partnership with WACC to support community radio projects of Indigenous communities".
WACC and Cultural Survival have been working together over past year to strengthen Indigenous community radio through a joint grants program.
The International Day of the World's Indigenous Peoples is celebrated every August 9 in recognition of the first meeting of the United Nations Working Group on Indigenous Populations, held in Geneva in 1982. This year's celebrations around the world are focusing on the 10th Anniversary of the United Nations Declaration on the Rights of Indigenous Peoples.