24 Feb 2017

WACC Annual General Meeting 2017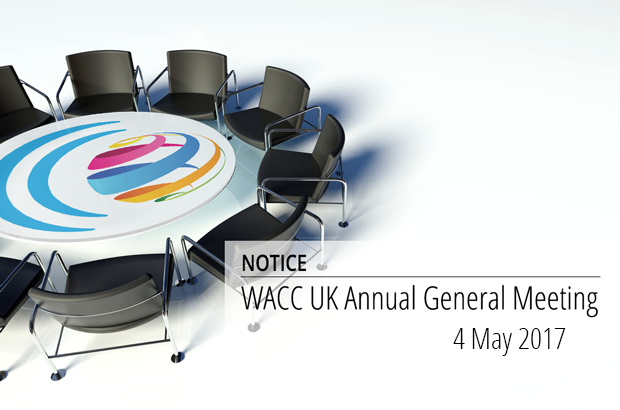 ---
The Board of Directors of the World Association for Christian Communication, registered in England and Wales (WACC-UK), has called an Annual General Meeting to be held at its registered office in the United Kingdom, at 16 Tavistock Crescent, London W11 1AP, on Thursday 4 May 2017 commencing at 1400 local time.
The AGM will review documents related to 2016.
Corporate Members and Individual Members may participate in this Meeting, but only Corporate Members may vote.
Agenda
Introduction by the President
Report by the Officers
Report by the Treasurer
Roll Call
Ordinary Business:
1. Approve the Minutes of the Twenty-Ninth Annual General Meeting.
2. Receive and approve the Reports by the Officers and Treasurer and the Auditor's Reports and the Accounts for the year ended 31 December 2016.
3. Reappoint the Auditors, V R Accountants Ltd, and authorize the Officers to fix their remuneration for the year ending 31 December 2017.
4. Adjournment