06 Sep 2016

WACC Board of Directors meet in Canada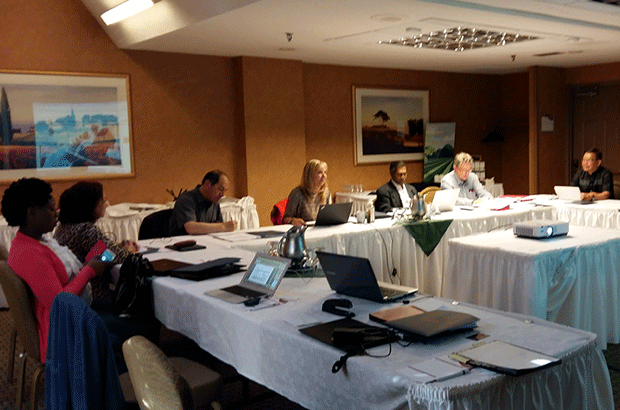 Members of the WACC board of directors, in Toronto, Sept 6, 2016 Photo: Shari McMaster
---
WACC's board of directors, meeting in Toronto 6-9 September 2016, is reviewing the organization's strategic plan, financial planning, and governance matters.
Opening the meeting, WACC President Rev. Dr Samuel W. Meshack focused on how communication rights are enabling individuals and communities around the world to make their voices heard.
"How ordinary people can be enabled to create spaces for self-expression in their cultural environments is critical to understanding media democratization in the 21st century," he said.
Meshack pointed to the challenges facing communication activists today, and asked how WACC can continue to be prophetic in its communication outreach.
"WACC's new Strategic Plan should provide crucial answers and directions to such concerns," he stated.
General Secretary Rev. Dr. Karin Achtelstetter, in her presentation to the board, noted that WACC had met several goals including establishing longer-term operational relationships, working in partnership with ecumenical organizations, and becoming the "go-to-organization" for communication rights.
Achtelstetter said WACC has entered into a significant partnership with the World Association of Community Radio Broadcasters (AMARC), affirming a shared understanding of communication that challenges injustice.
WACC and AMARC initiated two projects to prepare policy papers on "Guiding principles, regulatory measures and regulation codes for inclusive rural communication policies and services" and on "International guidelines for radio regulation codes with a gender perspective with regard to media and ICTs".
Other memoranda of understanding leading to operational partnerships are with Cultural Survival, the Global Fund for Women, Farm Radio International, and the Council for World Mission.
The latest Global Media Monitoring Project (GMMP), with a record participation of 114 countries, has strengthened strategic alliances with multilateral entities such as UNESCO and UN Women and created high global visibility.
The WACC board is scheduled to discuss the organization's moves towards expanding its funding base and reducing its costs.
"WACC is working towards a clearly defined fundraising and fund development strategy to ensure it will always have the required resources to achieve its vision, mission and objectives," said Achtelstetter.
In addition, the Board will discuss a new Strategic Plan for the organization based on an evaluation of its achievements over the past five years.
Currently, WACC's Board of Directors consists of the Rev. Dr. Samuel W. Meshack (President), Dr. Jose Luis Aguirre A. (Vice-President), Dr. Stephen Brown (Treasurer), Margrite Saroufim (Middle East), Keishagay Jackson (Caribbean), Ramon Bultron (Asia), Sheila George (North America), Rev. Akuila Yabaki (Pacific), Ruth Stella Etemesi (Africa). WACC General Secretary Rev. Dr. Karin Achtelstetter is an ex officio member of the Board.