08 Sep 2016

WACC Celebrates Leadership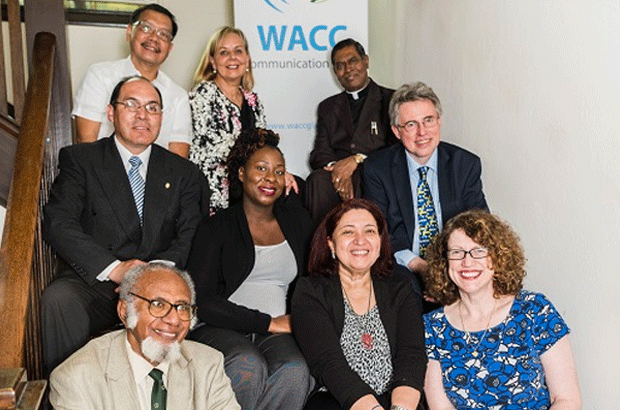 WACC Directors and General Secretary following the "Giving Thanks for Leadership Service," Toronto, September 7, 2016 Photo: Nino Liu
---
A service to give thanks for new leadership took place Wednesday 7 September 2016 at Hope United Church, next to the WACC General Secretariat in Toronto, Canada.
The occasion marked the conferring of the Stole of Office on WACC President, Rev. Dr Samuel W. Meshack in the presence of WACC's Board of Directors, who were holding a five-day meeting in the city.
Some 40 guests, including WACC members and representatives of Toronto's interfaith community attended the event, which was led by WACC General Secretary Rev. Dr Karin Achtelstetter.
Welcoming guests, Achtelstetter thanked Hope United Church for hosting the event and spoke of the importance of visionary leadership to make real change happen. She expressed gratitude for the leadership provided by WACC's Board of Directors, and encouraged all attendees to engage in conversation with WACC's Directors.
Rev. Dr Karen Hamilton, General Secretary of the Canadian Council of Churches, was the preacher and WACC President Emeritus Dr Dennis Smith was present to hand over the presidential Stole of Office. WACC General Secretary Emeritus Rev. Dr Randy Naylor was also in attendance to co-officiate at the service.
In her sermon, Hamilton spoke of the great diversity in Canada's faith communities, and emphasized the need to work together, both in ecumenical and inter-faith circles, to bring about social justice. Praising WACC's mission to promote communication as a human right around the world, Hamilton encouraged those in attendance to work tenaciously for dialogue, peace and reconciliation.
During the ceremony to confer the Stole of Office, Smith reflected on the responsibility of leading a global organization such as WACC, and wished Meshack well during his term as WACC President. WACC's President thanked Smith for all his efforts to promote communication rights during his time in office and encouraged all members of the WACC family to work together to make the organization's mission a reality.
WACC's international Board of Directors is elected by its Members and currently comprises Rev. Dr Samuel W. Meshack (President, India); Dr José Luis Aguirre (Vice-President, Bolivia); Ms Ruth Stella Etemesi (Secretary, Kenya); Dr Stephen Brown (Treasurer, United Kingdom); Mr Ramon M. Bultron (Hong Kong); Ms Keishagay Jackson (Jamaica); Ms Margrit Saroufim (Egypt); and Ms Sheila George (Canada).