17 Aug 2015

WACC delegation at AMARC 11 celebrates power of community radio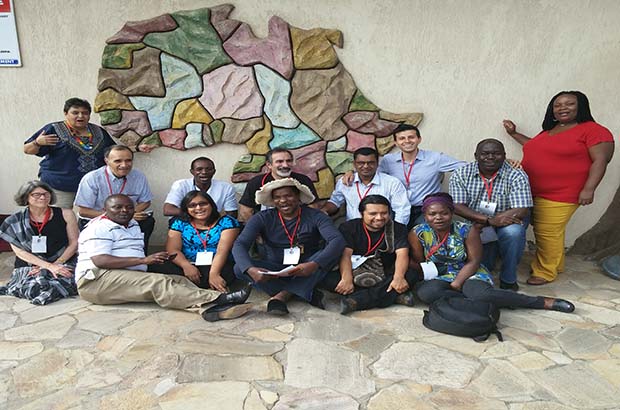 WACC participants at the AMARC conference in Ghana. Photo: Lorenzo Vargas.
---
A team of 14 WACC delegates joined dozens of other attendees from around the world at the 11th Conference of the World Association of Community Broadcasters (AMARC), held in Accra, Ghana, 10-14 August.
The WACC delegation comprised staff, project partners, and members who brought a wealth of knowledge and experience in the area of communication rights and community radio to AMARC 11.
Coming from places as diverse as Paraguay, Uganda, and Bangladesh, the members of the WACC delegation made an important contribution to the conference, which focused on the relationship between community-based communication, sustainable development, and well-being.
The delegation was led by Lavinia Mohr, WACC's Director of Programs and Deputy General Secretary, and Lorenzo Vargas, WACC's Community Radio Program Administrator.
AMARC 11, co-organized by the AMARC General Secretariat and the Ghana Community Radio Network (GCRN), celebrated the transformative power of community radio. It was a unique opportunity for the strengthening of the community radio movement.
The Conference was a much-needed platform for knowledge exchange, collective reflection, and planning to ensure that the community communication movement is able to adapt to changing technologies, audiences, and agendas.
Some of the key topics discussed during the conference were gender and communication, communication efforts in support of family farming, the role of youth within the community radio movement, the imperative for community radio stations to embrace new ICT in order to remain relevant, and media regulation and legislation at national and international levels, among others.
The AMARC Assembly, which elected a new International Board of Directors and adopted a number of new policies, was also held during AMARC 11. Representatives of two of WACC's corporate members were elected (Adeline Nsimire of SAMWAKI (Voice of Rural Women) in Democratic Republic of Congo and Marie Guyrleine Justin of REFRAKA (Haiti Community Radio Women's Network) in Haiti.
From WACC's perspective, AMARC11 was opportunity to strengthen its global network and to derive valuable insights to enhance our work. The conference was also an occasion to gather feedback on WACC's Strengthening Community Radio program in light of upcoming discussions to draft a new strategic plan for WACC.
WACC was also happy to receive membership applications from three new corporate members during AMARC 11: the Community Media Network of Uganda (COMNETU), the Lubombo Community Multimedia Centre from Swaziland, and Japexunk from Mexico.
To learn more about WACC's work in the area of community radio, please contact Lorenzo Vargas at LV@waccglobal.org
Photo caption: Top row: Alma Montoya (Colombia), Hector Camero (Mexico), Ary Regis (Haiti), Arturo Bregaglio (Paraguay), Golam Mourtoza (Bangladesh), Lorenzo Vargas, Jimmy Okello (Uganda), Marie Guyrleine Justin (Haiti); bottom row: Lavinia Mohr, Jean-Claude Bagunda (Dem. Rep. of Congo), Esperanza Gonzalez (Mexico), Ambrose Zwane (Swaziland), Socrates Vasquez (Mexico) and Catherine Apalat (Uganda). Missing: Adeline Nsimire (Dem. Rep. of Congo).