19 Mar 2015

WACC General Secretary appointed to second term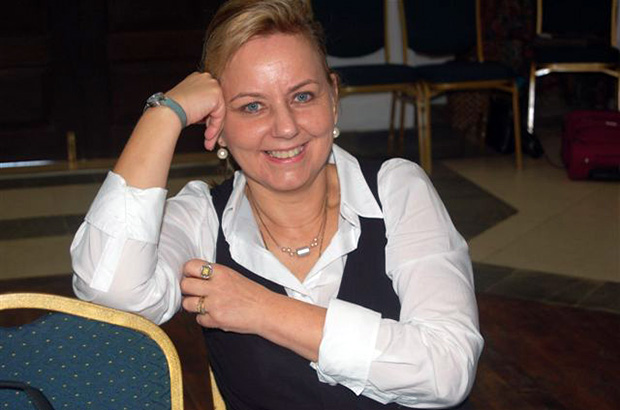 Rev. Dr. Karin Achtelstetter, WACC General Secretary. Photo: WACC.
---
WACC's Board of Directors has re-appointed the Rev. Dr. Karin Achtelstetter as General Secretary.
Installed in 2010, Achtelstetter has overseen the implementation of WACC's current Strategic Plan 2012-2016, established new relationships with ecumenical and secular partners, and consolidated WACC's position as an international non-governmental organization focusing on communication rights.
Confirming the appointment, WACC President Dr Dennis Smith said, "Karin came to WACC during a time of transition. I have been thankful for her strong leadership and her commitment to working closely with WACC's global membership. Under her leadership we have been able to strengthen our relationship with historic partners in the ecumenical movement while simultaneously raising WACC's profile as a promoter of communication rights within the UN system and other international organizations."
Dr Smith, who completes two terms as WACC President in May 2015, added, "On the home front, she has presided over the implementation of a new financial architecture for WACC that will serve us well in the future. However, many challenges remain and I am sure that whoever next assumes this office will find in Karin a competent and committed partner in the struggle to achieve communication for all."
Achtelstetter is former Deputy General Secretary, Director and Editor-in-Chief of the Lutheran World Federation (LWF), and former Coordinator of the Public Information Team & Media Relations Officer of the World Council of Churches (WCC), both based in Geneva. She has also previously served on both the WACC Europe Executive Committee and the WACC Board of Directors.
Born in Schwabach, Germany, she holds a Masters in Theology and Bachelor of Arts from the Friedrich-Alexander University, Erlangen, Germany as well as a Master of Arts in Women's Studies from the University of Kent at Canterbury, England.
She also has a diploma in International leadership, with a focus on organizational development, from the Craighead Institute, Glasgow and The Grubb Institute, London.
Achtelstetter was ordained to the ministry of word and sacrament of the Evangelical Lutheran Church in Bavaria in January 2010 and has served as an occasional lecturer in the Department for Practical Theology, Christian Communication Unit, Friedrich-Alexander University, Germany.
In November 2011, she was conferred Doctor of Divinity (Honoris Causa) by the Academy of Ecumenical Indian Theology and Church Administration in Chennai, India.
"I am honoured to be invited to continue the important task of advancing WACC's actions and initiatives and excited by the many challenges that continue to arise in the field of global communications," said Achtelstetter.
WACC is currently preparing for its next Global Media Monitoring Project day as well as pursuing nominations for a new WACC President and a new Board of Directors to be elected later this year. In addition, plans are being laid to draw up the next Strategic Plan based on WACC's achievement to date and its vision for the future.
"It is an incredible privilege to work with WACC's international networks of members, GMMP volunteers in 140 countries, and activists promoting communication rights and communication for development," commented Achtelstetter.
"I look forward to strengthening WACC's ongoing relationships and partnerships and to discovering new opportunities for collaboration which also involve corporate and individual members and partners in our eight regions," she added.
Rev. Dr. Karin Achtelstetter will hold the post until 2020. Follow on Twitter #karinwaltraut