09 Oct 2015

WACC hosts workshop at Parliament of the World's Religions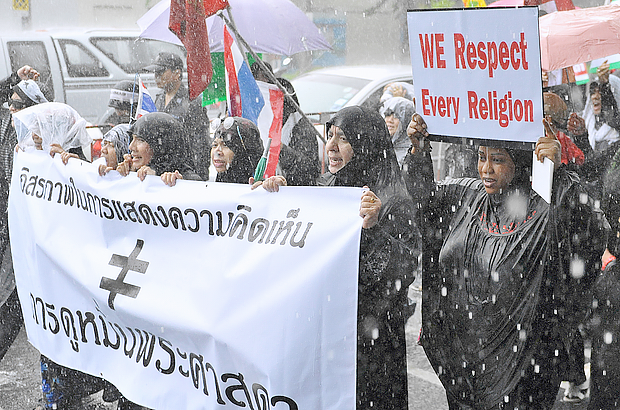 A large crowd of Muslim women rally outside the American Embassy protesting against the controversial film Innocence of Muslims on September 18, 2012 in Bangkok, Thailand. Photo: 1000 Words/Shutterstock
---
WACC will present a workshop on "Interfaith Dialogue on Communication, Freedom of Expression and Freedom of Religion" on Friday, Oct. 16 2015 during the the Parliament of the World's Religions meeting in Salt Lake City, Utah.
Recognizing that there are a range of perspectives and understandings both within and between different cultures and faith traditions, and in the light of growing tensions between society, religion, and politics, there is an urgent need for interfaith dialogue about the role of communication – especially mass and social media – in today's societies.
The context for the workshop reaches back to the publication of Salman Rushdie's The Satanic Verses (1988), the Jyllands-Posten cartoon controversy (2005), and the attack on the satirical magazine Charlie Hebdo (2015) which provoked widespread public debate on the relationship between freedom of expression and freedom of religion.
More recently, the characterization by some politicians of the Syrian refugee crisis as a "Muslim invasion of Christian Europe" – a story carried in the world's news media – has provoked fear rather than empathy.
WACC believes that freedom of speech is a precious right that must be guarded carefully. But what happens when it comes into conflict with its potential to incite hatred and religious intolerance? While some statements or actions may not immediately be the direct cause of a specific act of violence, they still spread seeds of intolerance and anger that tend to legitimize bigotry and hate.
At the same time, new communication paradigms such as peace journalism and new communication technologies such as digital platforms offer enormous potential for creating greater understanding and opening up paths towards common ground.
From both a faith-based and a secular perspective, this workshop will address aspects of freedom of religion and freedom of expression and the role of public media in promoting greater inter-religious understanding.
The workshop will be moderated by WACC General Secretary, Rev. Dr. Karin Achtelstetter. It will include short presentations on peace journalism in the context of freedom of expression and religion by Philip Lee and on freedom of religious expression by Shaikh Habeeb Alli of the International Development and Relief Foundation (IDRF) as well as discussion and working groups.
Shaikh Habeeb Alli originates from Guyana where he studied at Queen's College and graduated in India with a Masters in Islamic Theology and Arabic Language, and also a Diploma in Journalism.
Hundreds of people are expected to attend the Parliament of the World's Religions Conference, whose major speakers include Dr Karen Armstrong, Dr Vandana Shiva, Dr Tariq Ramadan, The Venerable Dharma Master Hsin Tao, and Dr Jane Goodall.