22 Jul 2014

WACC joins FAO advisory group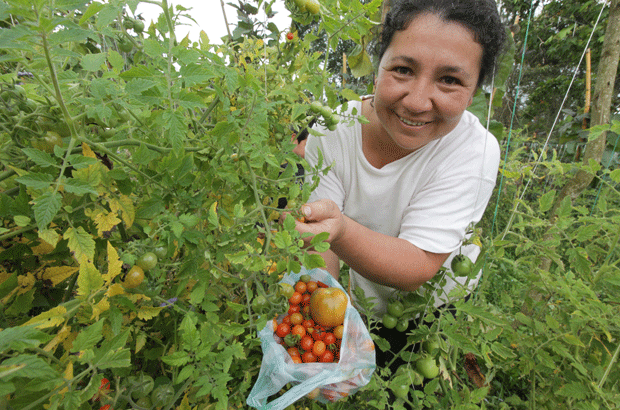 Maria Cristina Forero Ramirez, 35, picking some of the tomatoes she produces in her garden as part of a project that supports 55 IDP women to produce their own food. The project helps women who are displaced by violence to produce food for their families and for sale. Photo: ACT/Sean Hawkey
---
WACC has accepted an invitation from the Food and Agriculture Organization of the UN (FAO) to join an advisory group preparing for the International Forum on Communication for Development and Community Media for Family Farming (IFCCM), scheduled to take place at FAO headquarters in Rome on Oct. 28-29, 2014.
The forum is being organized by the FAO office of Partnerships, Advocacy and Capacity Development in the context of the 2014 International Year of Family Farming, which aims to raise the profile of family and smallholder farming.
The international forum is being organized in collaboration with the World Association of Community Radio Broadcasters (AMARC). The Forum is an official event of the Year of Family Farming and will also take place in connection with the Global Dialogue on Family Farming (30-31 October, 2014).
The main objective of the Forum is to identify policy options, strategic partnerships and a road map to promote communication for development (ComDev) services in support of family farming and rural development.
"The invitation to join the advisory group is a recognition of WACC's long-term experience in working with marginalized and dispossessed people whose rights to communicate are systematically denied," said WACC general secretary the Rev. Dr. Karin Achtelstetter. She especially drew attention to WACC's activities and projects in the areas of rural poverty reporting and community radio.
The Forum will be an opportunity to showcase experiences and lessons learned about the contribution of ComDev and community media to rural development challenges. It will be preceded by virtual consultations to identify priorities and common agendas also at the regional level.
The advisory group will provide technical orientation to the IFCCM and follow-up to its resolutions. The group began its activities during the first week of July 2014, including organizational meetings, promotion of online consultations and studies on the role of ComDev and community media to advance family farming and the identification of partnerships and follow-up initiatives.