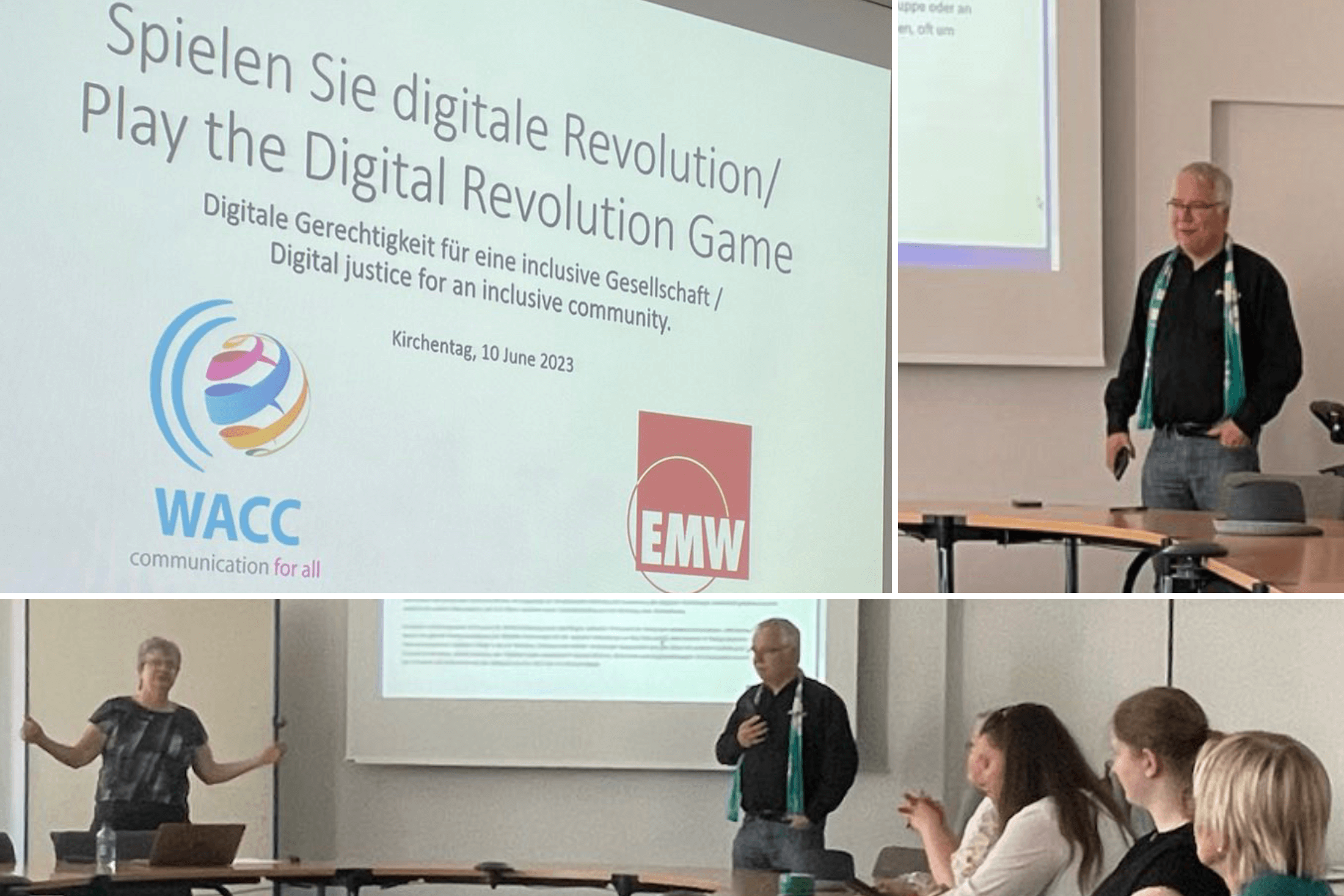 12 Jun 2023

WACC launches quiz as fun tool to promote digital justice

WACC has launched a new quiz as a fun way for people to test their knowledge of justice issues related to digital technology.

WACC Deputy General Secretary Sara Speicher and WACC Europe President Ralf Peter Reimann, together with WACC partner the Association of Protestant Churches and Missions in Germany (EMW), unveiled the Digital Revolution Game on 10 June in Nuremberg, Germany, at the German Protestant Kirchentag, a major church and society forum held every two years.

"We consider you digital justice champions just by coming and taking part in our game," Speicher told workshop participants. "Digital communication offers so much, but we must be aware of the justice issues, be knowledgeable users, and take action when necessary."
Interview — Digital justice concerns everyone
 
Before the workshop, EMW Editor-in-Chief and Media Officer Corinna Waltz spoke with Speicher about digital justice and actions people can take to champion a more just digital world.
CW: What does digital justice mean?
SS: All the justice issues we work for in communities around the world — from overcoming violence and poverty to promoting equality and care for creation — apply to the digital world as well.
Digital tools can be used for good in our justice work on the ground — to connect people, share information and expand our solidarity in new ways. But they also magnify the divides that still exist in our world — from access to political opinions — and many of the impacts of digital transformation are not apparent to us as individual users. Thinking in terms of "digital justice" is important so that we can be informed users and advocates.
In today's world, is there still a clear separation possible between digital and non-digital?
It's hard to imagine that this is possible anymore. And there is a real dilemma facing communities that do not have digital access yet. As one representative of an Indigenous community in Latin America said, without digital access they cannot progress, but digital access without some protections would destroy their way of life.
What are the advantages and the challenges when it comes to digital technologies and communication globally?
There are a lot on both sides! On the one hand, we have the possibility for greater connections and knowledge sharing than ever before. On the other hand, misinformation and disinformation are destabilizing societal relationships on a grand scale.
Individuals and groups have more power to share opinions and bring abuses to light — and individuals — particularly women in leadership and public positions — are targets for vile abuse online. And while in theory we have access to many more sources for news and perspectives, public interest media is suffering catastrophically while ad revenue goes to just a few of the big tech companies.
Why does WACC care about digital justice?
WACC is an organisation and a network of people who believe communication is a human right essential for sustainable development and democratic participation. No matter what type of communication — from printed books to social media — we can see how some people — particularly those from vulnerable and marginalized populations — are denied access to information, fed misinformation, censored, and more.
In the digital sphere, we see that justice issues are not only about getting an internet connection — they are about privacy, surveillance, concentration of wealth, accountability, racism, gender inequality, and even environmental issues.
Why should I care about digital justice? 
If the current debate about AI tells you anything, it is that our world is transforming faster and faster into the digital realm, and it will impact everyone. We need to be active online and offline to promote the world we want to see.
And what can the church and Christians around the globe do for a more just digital society? 
Start by getting more informed about the issues. There are small daily steps that anyone can take that are important in making our digital world safer and fairer. Take the digital justice quiz that we launched recently; the questions may be an eye-opener. We also have a digital justice study guide that church groups could use to discuss opportunities and challenges and to take action. Spread the word that all the justice issues we work on as Christians around the world, apply online as well.
WACC Deputy General Secretary Sara Speicher and WACC Europe President Ralf Peter Reimann introduce the Digital Revolution Game at Kirchentag 2023. Photos: Corinna Waltz/EMW.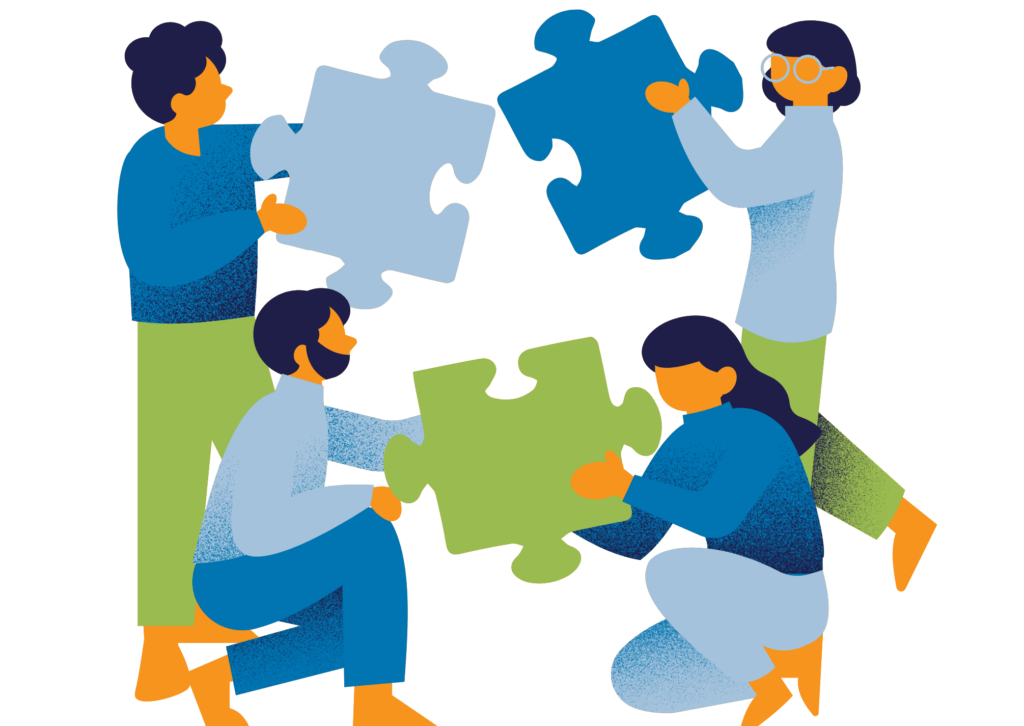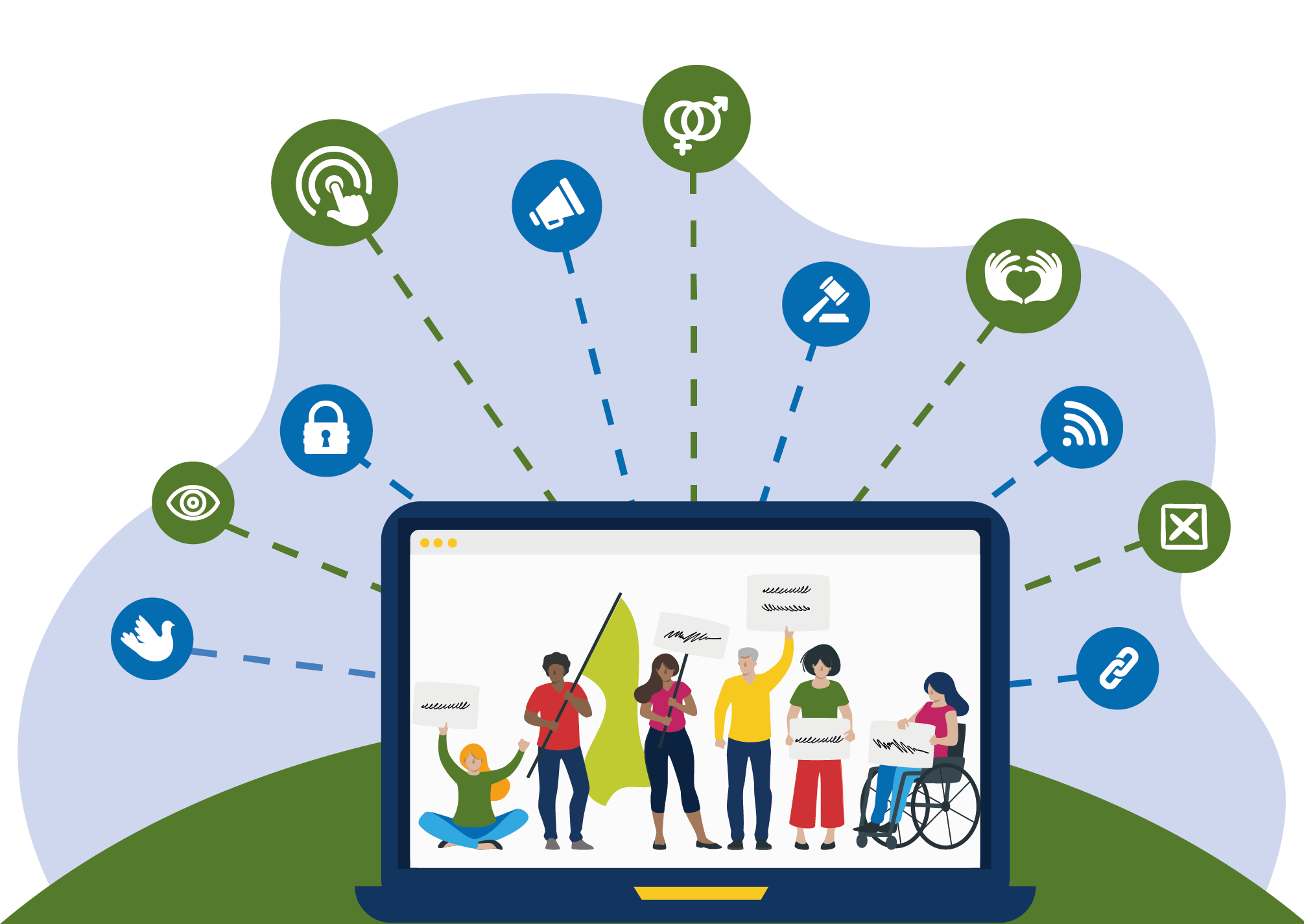 Digital Justice Study Guide