13 Apr 2015

WACC launches redesigned portal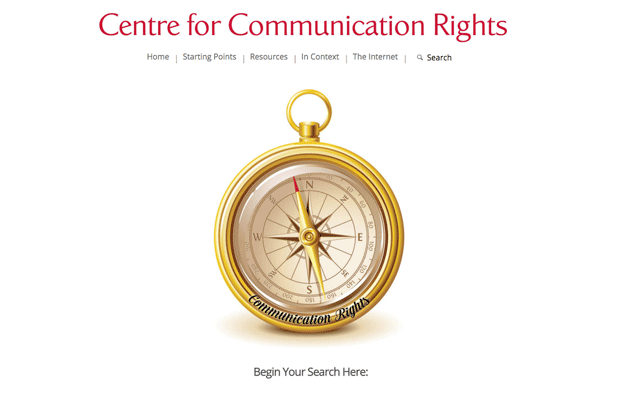 Web page design: Saskia Rowley.
---
WACC's web portal of information and resources on the theme of communication rights has been redesigned and relaunched.
Following technical difficulties and problems with hackers, WACC temporarily closed the Centre for Communication Rights (CCR) web portal for repairs. It has now been relaunched and can be found here.
After the World Summit on the Information Society (WSIS) concluded in 2005, there was an increased demand for materials and resources about media freedom and the democratization of communication.
From the early 1970s, decade-long discussions on media and communications led governments of the South, by then a majority in the UN, to voice concerns about media concentration, the one-way flow of news, and "cultural imperialism".
The UNESCO-sponsored MacBride Report (1981), "Many Voices, One World", called for a more just and more efficient world information and communication order. But the ensuing debate was polarised by the Cold War and fell apart after the USA, UK and Singapore pulled out of UNESCO. By 1988, the Report was no longer available, so WACC stepped in to republish it.
During this period, non-governmental organisations (NGOs) were becoming increasingly active in relation to a variety of communication issues, from community media, to language rights, to copyright, to free and open source software. The idea of communication rights began to take shape from the ground up.
WACC joined the movement led by the Communications Rights in the Information Society (CRIS) campaign. The CCR web portal carries many of the significant documents and articles related to that initiative.
The "right to communicate" and "communication rights" are not identical. The right to communicate envisages formal legal acknowledgment of such a right as a basis for effective implementation.
Communication rights, however, emphasize that an array of international rights underpinning communication already exists, but many are often ignored or require sustained mobilization.
As the debate moves on, and in a spirit of communication for all, WACC dedicates the CCR to strengthening the public voices and participation of poor, marginalized, excluded, and dispossessed people and communities worldwide.