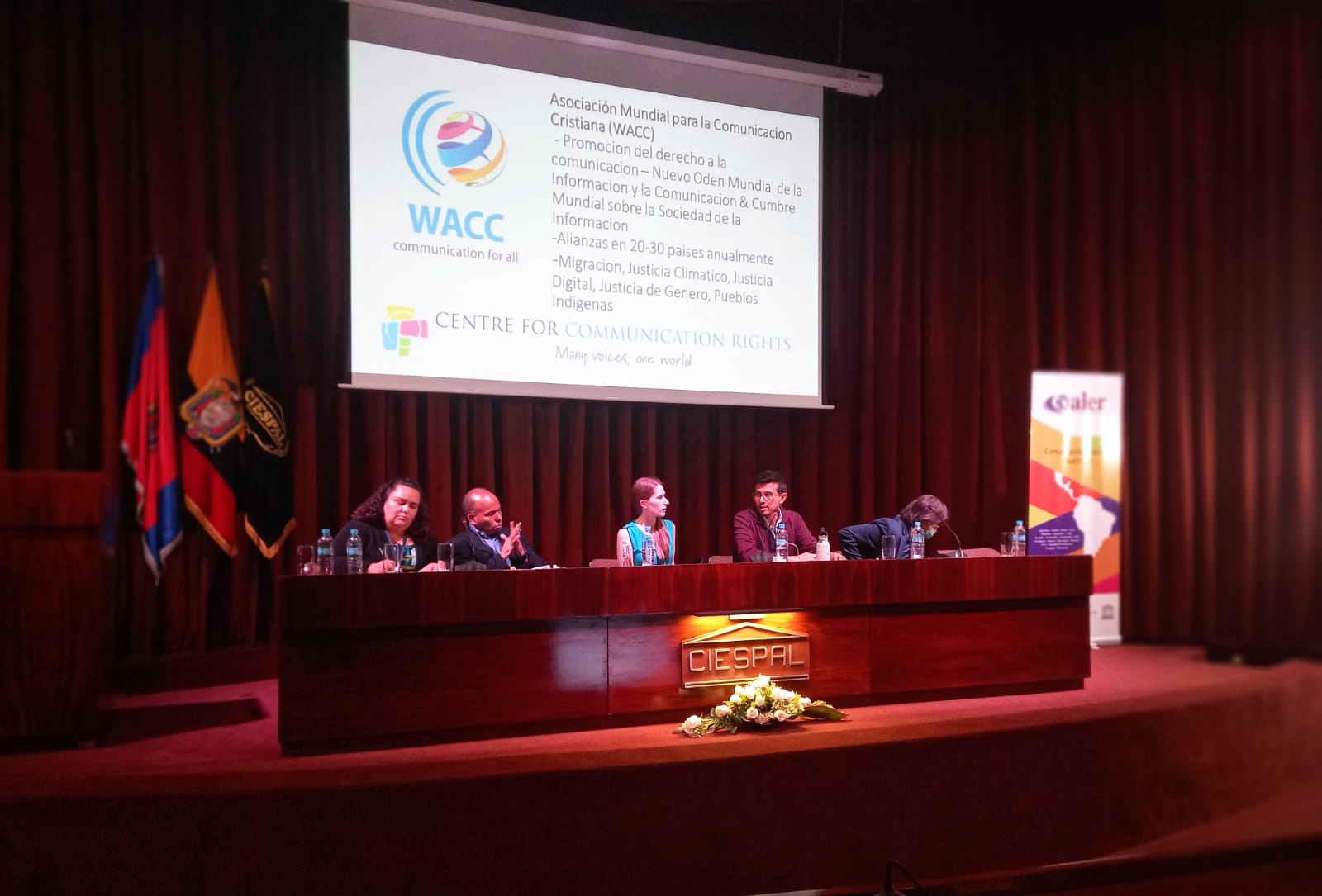 28 Apr 2022

WACC partners highlight digital challenges, opportunities for Latin America community media

On April 26, WACC partners from across Latin America participated in aknowledge sharing event organized by the Latin American Association for Radio Education (ALER) and the International Centre for Communication Research in Latin America (CIESPAL), both leading institutions in the struggle for communication rights in the region. The event, entitled "Challenges for People's Communication and Education in a Digital Age" brought together some 100 activists and academics from across the region and took place in the context of ALER's regional assembly and 50th anniversary celebration.

Gerardo Lombardi, coordinator of IRFA-Venezuela, discussed how people's communication has changed in the region over the past 50 years , and the challenges of digital communication a context marked by the growing concentration of digital power in a few corporate hands. WACC has been working with IRFA since 2019 to advance the rights of Venezuelan migrants and more recently to help establish a network of environmental reporters in rural parts of Merida state.

Sandra Lopez, director of GAMMA-Ecuador and Latin American coordinator of the GMMP, spoke about ongoing sexism in Ecuadorean media and about the results of the GMMP carried out in 2020. WACC has been working with GAMMA in recent years to lobby Ecuadorean media in favour of greater gender balance and fairness in the news.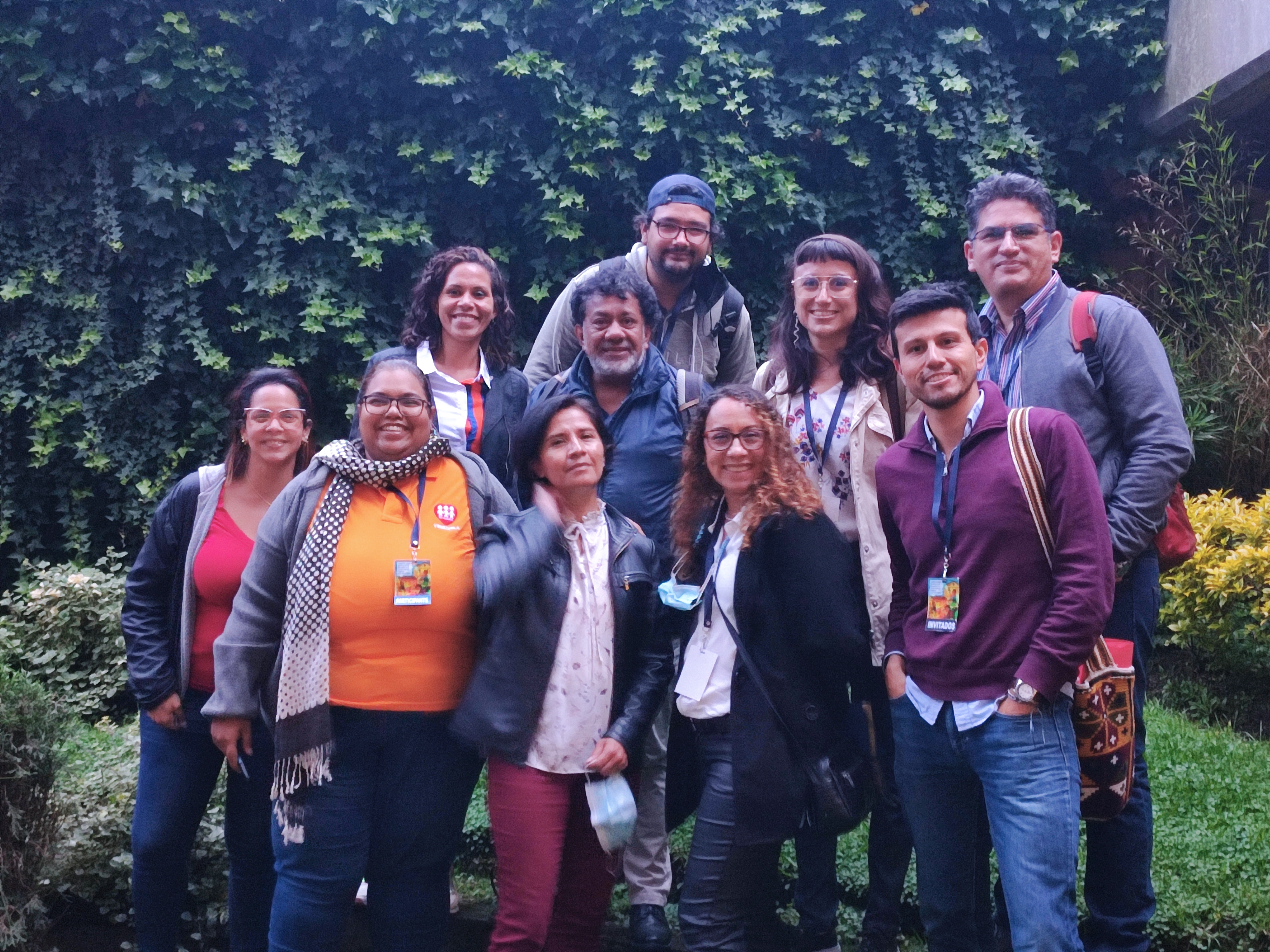 WACC partners from IRFA (Venezuela), ALER (Latin America-wide), CORAPE (Ecuador), ERBOL (Bolivia), COMUNICARTE (Colombia), Voces Nuestras (Costa Rica), CONFENAIE (Ecuador) and GAMMA (Ecuador) with WACC Programme Manager Lorenzo Vargas
Jorge Guachamin, director of CORAPE- Ecuador, shared lessons from his organization's work in supporting community radio stations across the country. In particular, Guachamin noted CORAPE's efforts to empower migrants and host communities in the border region between Ecuador and Colombia, an initiative that WACC has been supporting since 2020.
Genesis Cruz, coordinator of Voces Nuestras-Costa Rica, spoke about her organization's efforts to advance gender justice in and through the media, and how those efforts have contributed to sustainability. WACC has been working with Voces Nuestras for years to promote more democratic media policies and to monitor the representation of gender in Costa Rican media.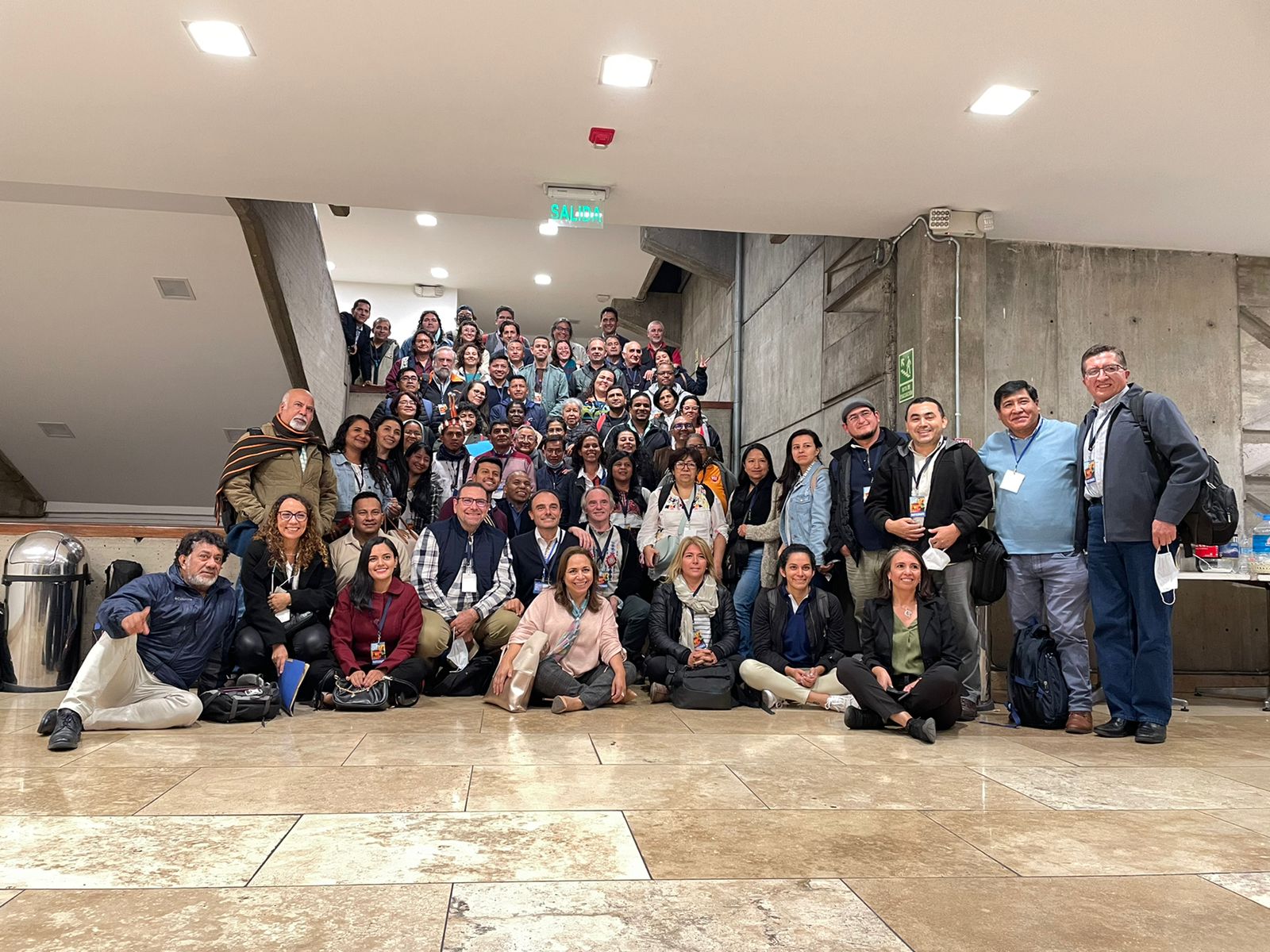 Conference attendees gather for a group picture.
Henry Gamba, coordinator at Grupo Comunicarte-Colombia, shared insights about the role of communication and culture in tackling xenophobic discourse and reaching migrants and host communities with information about their rights. He cited lessons from Comunicarte's work on Venezuelan migration in Colombia, which WACC has supported since 2018.
Andres Tapia, coordinator of CONFENIAE-Ecuador, explained how community radio stations support the organizing efforts of Indigenous communities in the Amazon region of his country. WACC has been working with COMFENAIE since 2020 to help establish a new radio station and to provide training to Indigenous reporters.
Ines Gonzalez, broadcaster at ERBOL-Bolivia, spoke about Indigenous communication practices in her country and how community radio is enabling Aymara-speaking communities to "decolonize" media practices. WACC has worked with ERBOL several times over the years and is currently supporting the organization's Aymara Indigenous network.
Lorenzo Vargas, WACC programme manager, presented findings from WACC research on the intersection between communication rights and the Sustainable Development Goals. Vargas made use of the opportunity to promote WACC's most recent publication La Comunicacion: Un Derecho Imprescidible para el Desarrollo Sostenible, co-published by the Centre for Communication Rights and the Faculty of Communication of the National University of Cordoba, Argentina.
All in all, this event was an invaluable opportunity for WACC and its partners to connect with the broader community media and communication rights movement in Latin America. This engagement might lead to new opportunities as WACC explores how to advance its climate justice and communication rights work in the Amazon region over the next few years.
The participation of WACC partners in this event was made possible thanks to contributions from Bread for the World- Germany under WACC's Communication for All Programme.
Above: WACC programme manager Lorenzo Vargas delivers remarks about WACC's work on sustainable development