12 Jan 2018

WACC plans for new leadership in 2018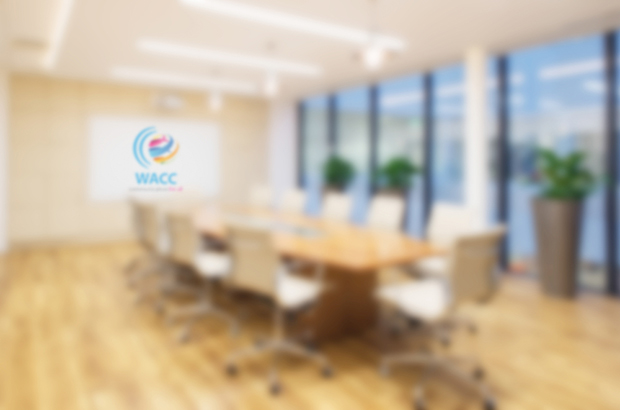 The Board of Directors of the World Association for Christian Communication (WACC) is looking to the future in anticipation of a leadership transition in 2018.
This follows the decision of its General Secretary, the Rev. Dr Karin Achtelstetter, to take on new responsibilities in another organization.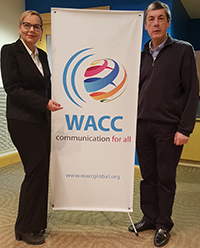 Achtelstetter (photo left with Philip Lee) is to leave her WACC position effective 4 February 2018 to become Executive Director of Canadian Lutheran World Relief.
"We have received the news of Karin's departure with great regret," said WACC President Rev. Dr Samuel Meshack. "She has provided inspiring leadership that has sustained and strengthened WACC as the global faith-based leader in communication rights for all."
The Board has appointed WACC's Deputy General Secretary, Philip Lee, to serve as Acting General Secretary from 5 February 2018.
"As WACC celebrates its 50th anniversary in 2018, we enter this leadership transition confident in the strength of WACC's organization and full of hope and faith," Meshack continued.
"Events and reflections already planned for WACC's 50th anniversary will provide ideal platforms for members and partners to consider how WACC can grow even stronger and more effective in the future," he said.
Lee brings many years of experience as a staff member with WACC, serving in a number of capacities over the past 32 years, most recently as Deputy Director of Programmes before his appointment as Deputy General Secretary in 2016.
"We are confident that the transition process will be smooth, due to Karin's commitment and the deep experience and expertise of Philip Lee and the entire WACC staff," stated Meshack.
Achtelstetter has served as WACC's General Secretary since November 2010. She was previously Deputy General Secretary and Director of Communication for The Lutheran World Federation and Coordinator of the Public Information Team & Media Relations Officer of the World Council of Churches, both based in Geneva, Switzerland.
"I have been honoured to serve WACC as General Secretary and proud of its strengthened recognition and effectiveness in advocating for the ability of all people, and especially those most vulnerable and marginalized in our society, to access and use all means of communication," stated Achtelstetter.
"WACC's national and international recognition is a tribute to the focus and commitment of the staff and the inspiration and involvement of its organizational and personal members. As I move on to new challenges, I look forward to continuing to be involved in WACC as a member."
Image above: by Photography Firm / Saskia Rowley