17 Feb 2016

WACC presentation to focus on faith in the news media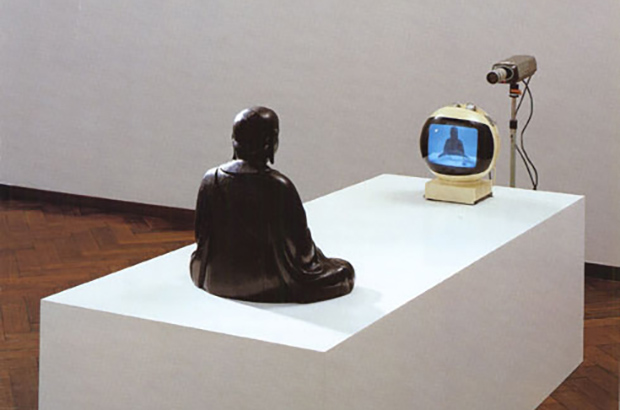 TV Buddha. Photo courtesy of NYU Center for Religion and Media.
---
WACC will present on Feb. 18 a proposal to monitor media coverage of religion at a conference in Berlin on the topic of religion's contribution to sustainable development and peace.
Titled "Partners for Change: Religions and the 2030 Agenda for Sustainable Development," the Feb. 17-18 meeting is sponsored by the German Federal Ministry for Economic Cooperation and Development. Representatives from the fields of religion, politics, civil society and academia will participate.
WACC is the only Canadian-based international non-governmental organization (INGO) invited to participate and become a member of the "Partners for Change" initiative.
WACC General Secretary the Rev. Dr. Karin Achtelstetter will participate in a workshop on Feb. 18 that focuses on the role of faith in seeking peace and social justice.
The presentation will focus on WACC's work in media monitoring for social change, specifically the Global Media Monitoring Project (GMMP), which is the largest longitudinal study of gender representation in the world's news media, and media coverage of poverty issues and women's security.
WACC's presentation notes that "media coverage sometimes explicitly links social conflict to religion, overlooking the root causes of social conflict, which could include poverty or social marginalization. Unbalanced media coverage can contribute to stigmatization of faith communities and can prevent them from participating in society as development actors."
There is a need to generate evidence about how peace and conflict are understood in relation to faith communities, which is crucial for public opinion formation and significant for public perception, according to the WACC presentation.
Engaging with the media through advocacy is a tangible way to create more enabling environments for faith communities to be active agents for development, WACC said.
"Our plan is to create interfaith partnerships on all levels — international, regional, national and local – and an international interfaith steering committee that accompanies the implementation of these projects," Achtelstetter said.
WACC will also highlight Voices for Peace, a youth-focused media project providing tools for youth to become full participants in conflict prevention, peacebuilding and social change.
The project includes community-based, youth-led peacebuilding projects using peace journalism & peace-focused media monitoring in 12 countries. Projects will promote a culture of dialogue and peace at the grassroots level by engaging with traditional and social media, WACC noted.
Local partners will be both faith-based and secular organizations involved in youth engagement. Projects will form a global network of youth communicators working for peace across faith and cultural divides, according to WACC.