06 Feb 2017

WACC screens award-winning "Words with Gods"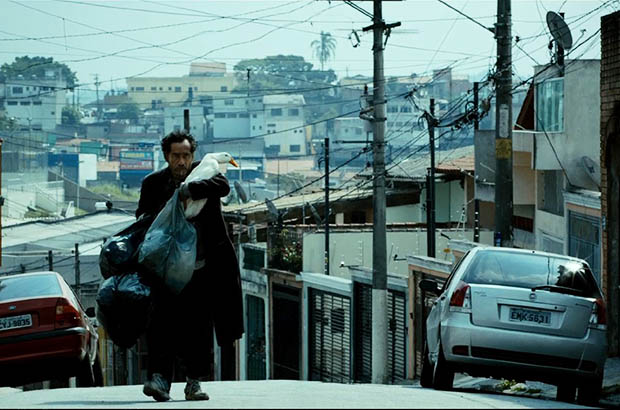 Still from "The Man Who Stole A Duck", one of the nine short films that make up "Words With Gods". Photo courtesy of Latam Pictures.
---
As a contribution to Interfaith Harmony Week, WACC partnered with the Diaspora Film Festival to show the film "Words with Gods".
"Words with Gods" features nine powerful stories of faith, created by some of the world's most celebrated filmmakers. A spectrum of beliefs is represented, with each filmmaker speaking about the one closest to the culture they depict in their story.
One of the film's nine directors, Guillermo Arriaga, provided the concept for this multifaceted project, and Novel-prize winning author Mario Vargas Lllosa decided on the order in which the anthology would be put together.
In Vargas Llosa's own words, the film "brings together different world experiences at varying stages of historical development to explore the past of many different cultures and civilizations – with truths and tales as told by the filmmakers that are anchored in reality but which are at the same time ephemeral."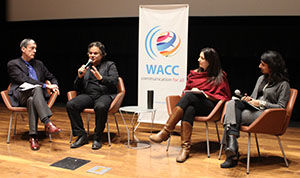 The screening was followed by a panel discussion with Tracey Erin Smith, founder of the award-winning Soulo Theatre Company, Areej Rashid, WACC's Development Coordinator, and Shahram Tabe, film critic and director of the Diaspora Film Festival.
The event was introduced by Philip Lee, WACC's Director of Programmes, who also moderated a Q&A session with the audience. (Left to right: Philip Lee, Sharam Tabe, Tracey Erin Smith and Areej Rashid. Photo: Diaspora Film Festival.)
The nine short films that comprise "Words with Gods" are directed by Warwick Thornton (Aboriginal Spirituality), Héctor Babenco (Umbanda (Brazil), Mira Nair (Hinduism), Hideo Nakata (Shinto Buddhism), Amos Gitai (Judaism), Álex de la Iglesia (Catholicism), Emir Kusturica (Orthodox Christianity), Bahman Ghobadi (Islam) and Guillermo Arriaga (Atheism).
The shorts are provocative, profound, reverent, and irreverent. Each offers a different take on faith and spirituality in particular contexts, presenting stories and characters who question and, in some cases, get answers – although not necessarily the ones they were looking for.
"Words with Gods" won a Gold Medal at the New York Film Festival 2015; was in the Official Selection for the Venice Film Festival 2015 (where the Ecumenical Jury commended it for revealing "the complex diversity of religious beliefs in different cultures and social environments"; and it was Nominated for the Audience Award at the Chicago Film Festival 2015.
Panellists and audience members had their own interpretations of the stories as well as of the film as a whole. No one left the auditorium unaffected by what they had seen or without questions of their own.
A mix of parables and metaphors, "Words with Gods" is ultimately open-ended. There is no preaching or prescription: only wonder, humour, and insight into people's search for meaning.
At 135 minutes, "Words for Gods" may seem overly long, but as a whole, it offers a panorama that adds up to more than the sum of its parts.