26 Jul 2016

WACC Summer School 2016: "Communication does not happen in isolation"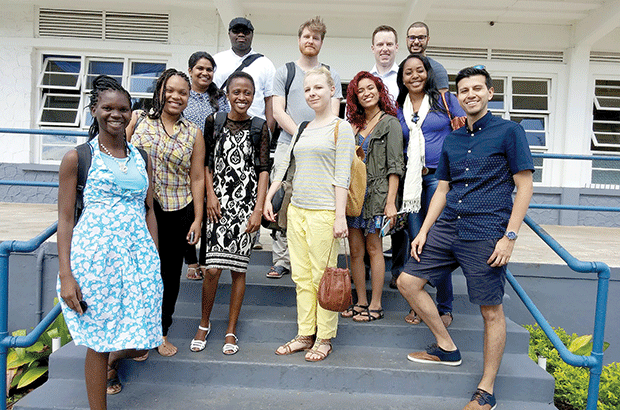 Students at WACC's Summer School on Communication Rights and Religion in Jamaica. Photo: Lorenzo Vargas
---
WACC is currently holding its biennial Summer School in Mandeville, Jamaica, in collaboration with the Northern Caribbean University (NCU). The Summer School, which started on July 25 and will run until July 29, has a strong focus on the relationship between communication rights, religion, and social change, with a special emphasis on the Caribbean region.
WACC's Summer School is being organized in cooperation with the Friedrich-Alexander University Erlangen-Nürnberg, Germany, and the World Council of Churches (WCC) and with the support of the Evangelisches Missionswerk in Deutschland (EMW). Students include communication and theology students from different parts of Jamaica as well as from Haiti, Suriname, Bahamas, Puerto Rico, United States, Mexico, Germany, Malawi, and India. Two of the participating students are Handa Fellows in Interreligious Communication.
The summer school began with an introduction by WACC General Secretary the Rev. Karin Achtelstetter, who highlighted the importance of the partnerships that made the summer school possible. WACC's Finance Manager, Joseph Patterson, who is of Jamaican origin and has been one of the key organizers of the school, thanked NCU for hosting the course.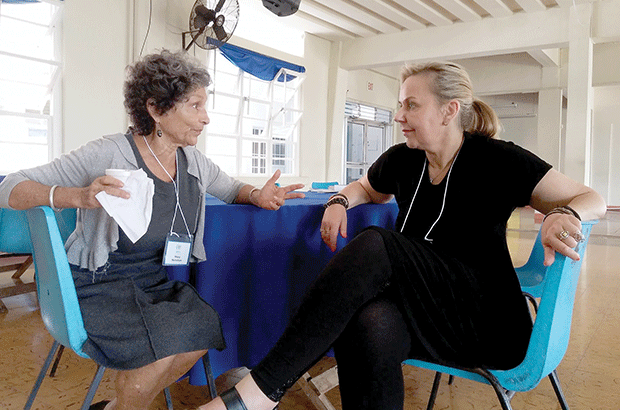 Hillary Nicholson and Rev. Karin Achtelstetter. Photo: Lorenzo Vargas
---
The first session, facilitated by WACC Programme Manager Lorenzo Vargas, examined the evolution of communication rights thought, focusing on issues such as communication and power, taking a right-based approach to communication, and the trajectory from a single right communicate to a series of communication rights. The result was a rich debate about intercultural communication, media ethics, and whether objectivity is possible.
The second session, led by Hilary Nicholson from WMW-Jamaica, explored the relationship between gender and communication. Nicholson began by highlighting some of the findings of WACC's 2015 GMMP study on the representation of gender in the world's news media, and focused her presentation on the impact of gender norms and stereotypes on people's ability to exercise their communication rights. She emphasized that freedom of expression is no gender neutral.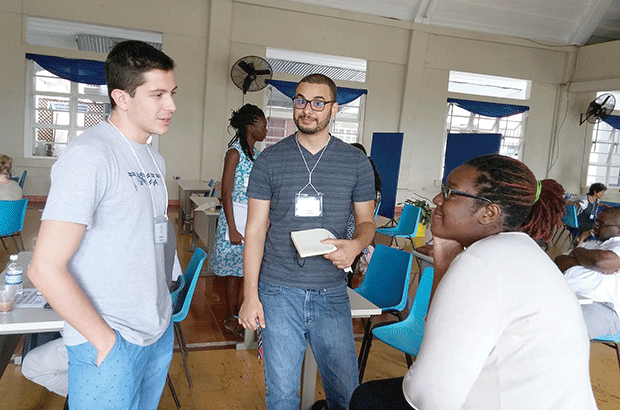 Students at WACC's Summer School in Jamaica. Photo: Lorenzo Vargas
---
One of the main conclusions of the first day of WACC's Summer School is that communication is a process that does not happen in isolation. Rather, communication is deeply connected to issues of power, social relations, economics, and culture. As such, the students underscored the importance of open and dialogical communication to contribute to social change.
Over the next four days, students are to participate in a number of other sessions on topics such as communication for social change, the role of faith-based organizations in development, Caribbean identity, privacy issues, and children's rights.
WACC will be sharing regular updates about the summer school via social media.