17 Oct 2016

WACC supports faith and feminism statement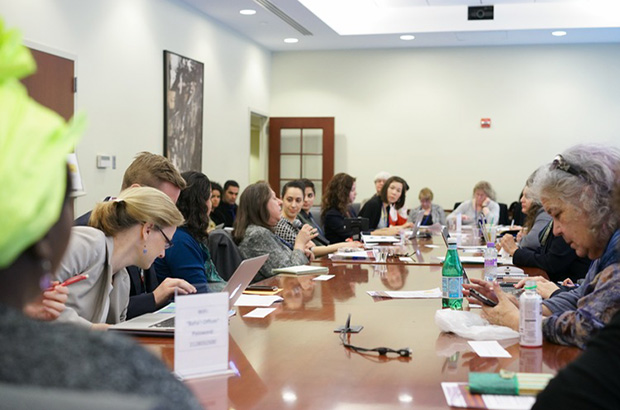 The Faith and Feminism Civil Society Working Group to the United Nations at work in March 2016. Photo: FFWG.
---
A civil society working group at the U.N. notes that feminism and faith groups have a "pivotal role" to play in economic and social development.
The Faith and Feminism Working Group will be submitting the statement titled "Re-conceptualizing Women and Girls' Economic Empowerment through a Spiritual Perspective" to the U.N. this month. It is to be presented at the 61st session of the U.N. Commission on the Status of Women in March 2017.
WACC representative Dr Glory Dharmaraj was a member of the group that wrote the statement and has written about her experience here. WACC is a signatory to the statement.
The statement says that the key role of feminist faith actors must be recognized and utilized to achieve the U.N.'s Sustainable Development Goals by 2030.
"We call upon diverse faith traditions to promote the fair and equitable treatment of women and girls, and eliminate gender-based discrimination and violence. Our resources, including feminist knowledge and spiritual and sacred texts, emphasize the sanctity and interconnectedness of all human life and ecological systems," the group said.
"Throughout the statement we have chosen the word 'spiritual' to signify the individual's experience of making meaning of the sacred, which includes but is not limited to participation in organized religious communities. We advocate for the use of spiritual wisdom to address not only the political, cultural and socio-economic categories that disempower women, but to offer a holistic "economy of life" in lieu of patriarchal economies centered on inequality, profits and resource depletion," the statement reads.
The Faith and Feminism Working Group targets the gender equality discourse at the U.N. It is comprised of faith-based organizations, scholars, secular organizations and social justice groups working towards gender equality through the lens of faith and feminism.
At present, the global economic system has left women and girls vulnerable and threatens their overall wellbeing, studies of numerous faith communities reveal that women and girls use their faith to counter patriarchal norms and seek economic autonomy, according to the statement.
"Unfortunately, their efforts are often undermined by existing political, cultural and socio-economic systems sustained by patriarchal scriptural interpretations. Lack of access to education, discriminatory legislation on divorce and inheritance, and a labor culture that undermines unpaid domestic work continue to present major roadblocks," it said.
Among its recommendations, the group says the international community should support and partner with feminist faith leaders, theologians and faith-based organizations to challenge religious interpretations that undermine women's economic empowerment.
It also recommends encouraging and supporting feminist women of faith in spiritual leadership and decision-making roles, as well as supporting efforts that challenge limiting gender stereotypes.