28 Apr 2015

WACC surveys gender dimensions of news on peace and security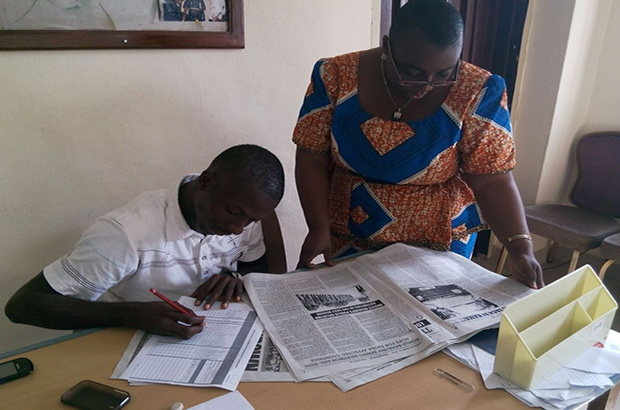 Peace monitors in Sierra Leone at work. Photo: Initiatives for Media Development.
---
2015 marks the 15th anniversary of the adoption of UN Security Council Resolution 1325 stressing the importance of women's equal and full participation in peace processes.
A High-level review to assess progress in the implementation of the resolution at the global, regional and national levels, to renew commitments and address obstacles is planned for September 2015.
In anticipation of the review, the World Association for Christian Communication (WACC) in collaboration with UN Women and partners in approximately 20 countries undertook a media monitoring initiative in April, 2015 to understand the gender dimensions of news content related to peace and security.
The media monitoring teams are located in approximately 20 countries across Africa, Asia, Eastern Europe, Latin America, Middle East and the Pacific region, including the Democratic Republic of Congo, Nepal, Palestine, Guatemala and Papua New Guinea.
"It's a truly engaging exercise" declared Mahamady Togola, National coordinator of the West African Network for Peacebuilding (WANEP) in Mali, a first-time participant in an initiative of this nature.
The monitoring followed the Global Media Monitoring Project (GMMP) methodology in its use of a standard research tool applied uniformly across participating countries.
The tool seeks to uncover gender disparities in news reporting in some 30 sub-topics. They include decision-making in formal peace negotiations, post-conflict reconstruction, transitional justice, women's peace activism, gender violence in conflict situations and access to services in refugee settings.

Among other information, the tool will help generate gender-disaggregated data on the people in the news, their portrayal and representation and patterns, if any, of gender stereotyping.
Communicating their findings from the qualitative analysis, the South Sudan team observed a denial of access for women to front-page coverage despite the presence of women in leadership in the processes that the news topics covered. The team also identified a denial of voice for women within stories carrying headlines that strongly underlined women's participation.
How this and other observations will play out in the body of findings across the participating countries will be seen in the final report to be published in September.
Commenting on the survey, WACC General Secretary Rev. Dr Karin Achtelstetter said, "It is gratifying that UN Women recognizes the value of WACC's media monitoring activities and that we can contribute in a small but significant way to the High-level review process."