13 Mar 2017

WACC symposium participants urge building alliances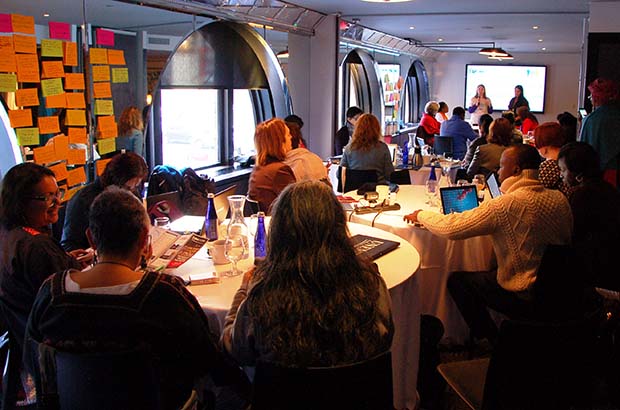 Participants at the symposium work on an action plan. Photo: WACC/Esther Franke.
---
To "be bold for change" – the theme of International Women's Day in 2017 – was a timely one for media activists, Sharon Bhagwan Rolls, told participants at WACC's New York Symposium on "Gender and Media: Challenges and Opportunities in the post-2015 Era" as they wrapped up three days of discussion and dialogue on Saturday.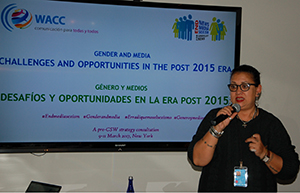 Rolls (photo right), executive director of FemlinkPacific Media Initiative for Women, whose Fiji-based nonprofit organization generates media content related primarily to women in the South Pacific region, says the findings of WACC's 2015 Global Media Monitoring Project (GMMP) provided "evidence of who does and who doesn't make the news."
Rolls, one of four International Ambassadors for the GMMP, noted that even as the symposium's participants focus their efforts on addressing what this means in everything from traditional print media to new social media, it's important to be aware of how the journalism world is changing. For instance, "we must be mindful that a growing wave of citizen journalism isn't following journalist principles" when deciding what stories to cover or what sources to turn to when reporting.
In looking at sexism in the media and the gender imbalance in content, Rolls says the tendency may be to focus on current affairs reporting. "But why aren't women in sports making headlines?" she questions. "Often because they themselves are confronting patriarchy. She noted that the stories of successful businesswomen also are more likely to go untold. "There usually are few women at the table."
As participants in the symposium set out to finalize their communiqué, Rolls urged them to ponder the question of which "persistent power structures continue to relegate women to be invisible in media" and how to change them.
Those attending the event – representing 21 different countries and 24 WACC partner organizations – already were on that track, wrapping up their discussion by calling for building and strengthening alliances, leveraging existing networks of supporters and expanding the capacity of movements that prioritize women's communication rights.
They set out to respond to the overall mandate to advance women's communication rights and gender justice in and through media in the context of the implementation of the Post 2015 Agenda, and to the findings of the GMMP.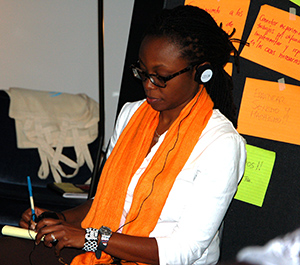 GMMP data showed that "progress towards gender equality in the news media virtually ground to a halt," said Sarah Macharia (photo, right), coordinator of WACC's programmes on Gender and Communication and monitoring global poverty, while presenting the draft communiqué to the group at the end of the final day of discussions.
The communiqué reaffirmed that while women make up only 24% of the people in the news, they report only 37% of the news. Also of significance, the communiqué noted, is the fact that "women's relative invisibility in traditional news media has also crossed over into digital news delivery platforms."
The symposium's participants adopted this preliminary document unanimously subject to revision over the next two or three weeks, in order to accommodate further input from participants, Macharia said.
"We want to build alliances with universities, and with networks of journalists," said Nadia Ferrari, of Argentina's Equipo Latinoamericano de Justicio y Género, presenting her group's findings. There are opportunities "to take campaigns beyond activism, present them creatively, to use people who are influential beyond journalism, (such as) sports figures or actors, who can address the issue" of gender and media.
Raquel Romero, of Bolivia's Fundacion Colectivo Cabildeo, says her group identified the need to look at the labour conditions of women journalists. "We acknowledge the work of women journalists who despite precarious working conditions and the risk of violence they face, they safeguard the human right to communication," the draft document states. It calls on governments to release writers and journalists imprisoned for reasons related to freedom of speech and expression.
Another of the draft communiqué's recommendations emphasized the need for women who are currently marginalized, such as members of indigenous groups or ethnic minorities, disabled women, members of the LGBTIQ community, migrants and refugees, or others who traditionally have had less access to the media to "be part of producing media content, making the news and speaking about their experiences."
"Persons with disabilities will be part of the cause," said Margaret Sentamu, the director of the Uganda Media Women's Organization, in discussing the findings of the breakout group devoted to human and financial resources.
When pursuing the goal of gender equality in the media, several participants urged others not to overlook contributions from any potential allies, even the media organizations that may appear to be part of the problem.
They emphasized the need for these organizations to provide training and affirmative action by these organizations. "It's important to recognize that corporate organizations can also be part of our movement," Sentamu said.
Some participants reminded the group of the need to keep any campaigns relevant to the lives of ordinary women. Rokeya Kabir, founder of Bangladesh Nari Progati Sangha, one of her country's leading women's organizations, says using folk media will be crucial in mobilizing women in Bangladesh at a grassroots level, and notes ordinary women often view large global campaigns as elitist.
GMMP Ambassador Sharon Sharon Bhagwan concluded by suggesting that participants themselves remember that they have a power that stretches beyond their role as activists and organizers. "Let us also not forget to tell our own stories," she told the group, to applause and cheers. "Let's write a book, let's make a film, let's record a podcast.
All photos: WACC/Esther Franke.