16 Jan 2017

WACC UK Annual General Meeting 2016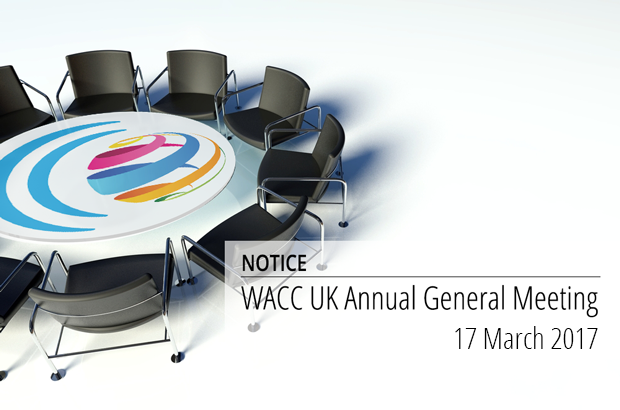 ---
Notice is hereby given that the Twenty-Ninth Annual General Meeting of the World Association for Christian Communication registered in England and Wales (WACC-UK) will be held on March 17, 2017 commencing at 10:00 local time at the offices of the Association's Secretariat, 308 Main Street, Toronto, Canada.
The AGM will review documents related to 2015.
Pursuant to the provisions of the Association's Articles of Association, only Corporate Members may vote at a General Meeting.
AGENDA
Introduction by the President
Report by the Officers
Report by the Treasurer
Ordinary Business
1. Approve the Minutes of the Twenty-Eighth Annual General Meeting.
2. Receive and approve the Reports by the Officers and Treasurer and the Auditor's Reports and the Accounts for the year ended 31 December 2015.
3. Reappoint the Auditors, V R Accountants Ltd, and authorize the Officers to fix their remuneration for the year ending 31 December 2016.
4. Adjournment
By order of the Board. For further information please contact the Secretariat.