26 Apr 2018

WACC UK Annual General Meeting 2018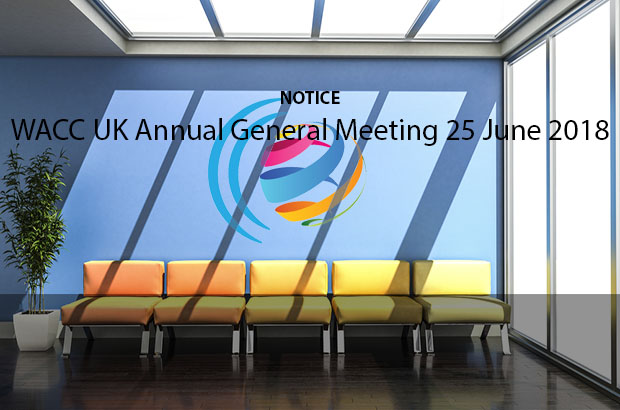 The Thirty-first Annual General Meeting of the World Association for Christian Communication registered in England and Wales (WACC-UK) will be held on 25 June 2018 commencing at 10.00 am local time at the General Secretariat of WACC at 308 Main Street, Toronto, Ontario M4C 4X7 Canada.
---
Pursuant to the provisions of the Association's Articles of Association, only Corporate Members may vote at a General Meeting.
AGENDA
Introduction by the President
Report by the Officers
Report by the Treasurer
Business
Ordinary resolutions
1. Approve the Minutes of the Thirtieth Annual General Meeting.
2. Receive and approve the Reports by the Officers and Treasurer and the Auditor's Reports and the Accounts for the year ended 31 December 2017.
3. Reappoint the Auditors V R Accountants Ltd and authorize the WACC UK Officers to fix their remuneration.
4. Approve the concept that the relationship between WACC UK and WACC Canada be one in which WACC Canada is subsidiary to WACC UK, inviting the WACC Canada Board to consider making any necessary legal changes, including signing a Memorandum of Understanding between WACC UK and WACC Canada by May 2019.
Special resolutions
5. That the Charity's Articles of Association be amended by the adoption of the Articles of Association marked Schedule "A" attached to this Notice in substitution for, and to the exclusion of, the Charity's existing Articles of Association.
6.That for the purposes of calculating Directors' terms of office and their maximum length of service the terms of all elected Directors (José Luis Aguirre (Vice-President), Dr Stephen G. Brown (Treasurer), Ruth Stella Etemesi (Secretary), Andrew Chisamba, Ramon Bultron, Lydia Ma, Keishagay Jackson, Embert Charles, Marianne Ejdersten, Vilma Peña Vargas, Margrite Saroufim, Naji Daoud, Paul de Silva, Shirley Struchen, Linda M. Tematua and Akuila Yabaki) in post at the date on which this resolution is passed are deemed to expire by the end of May 2019 in order to align with the current terms of the Officers and the WACC Canada Board of Directors.