16 Sep 2016

WACC UK Board appoints Executive Committee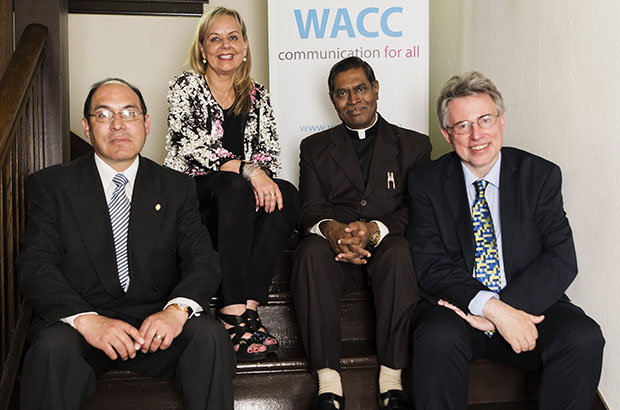 WACC Officers together during the Board meeting in Toronto, Canada, 5-9 September 2016. Left to right: Dr José Luis Aguirre, Revd Dr Karin Achtelstetter, Revd Dr Samuel W. Meshack and Dr Stephen Brown. Photo: Nino Liu.
---
WACC UK's Constitution calls for an Executive Committee to whom powers and duties can be delegated by the Board of Directors.
The Executive Committee includes the President, Vice-President, Treasurer, Secretary, and General Secretary plus six additional members of the Board.
The WACC UK Board has now approved the following as members of its Executive Committee:
Revd Dr Samuel W. Meshack (WACC President); Dr José Luis Aguirre (Vice-President & Latin America); Dr Stephen Brown (Treasurer & Europe); Ruth Stella Etemesi (Secretary & Africa); Revd Dr Karin Achtelstetter (Company Secretary & General Secretary); Mr Ramon M. Bultron (Asia); Keishagay Jackson (Caribbean); Margrit Saroufim (Middle East); Revd Akuila Yabaki (Pacific); Shirley Struchen (North America).
The final member of the Executive Committee is Dr James Martin McDonnell, Communications Consultant based in London, England, former Board member of SIGNIS and currently serving on the Board of the Catholic Media Council (CAMECO).
Dr McDonnell is the statutory Director resident in England & Wales and he will serve from September 9, 2016 until September 8, 2017.
The WACC UK Executive Committee met on 9 September 2016 in Toronto, Canada.
WACC President Revd Dr Samuel W. Meshack welcomed the appointment and wished all the members of the Executive Committee well as they take up their responsibilities.