14 Aug 2014

WACC vice president awarded honorary doctorate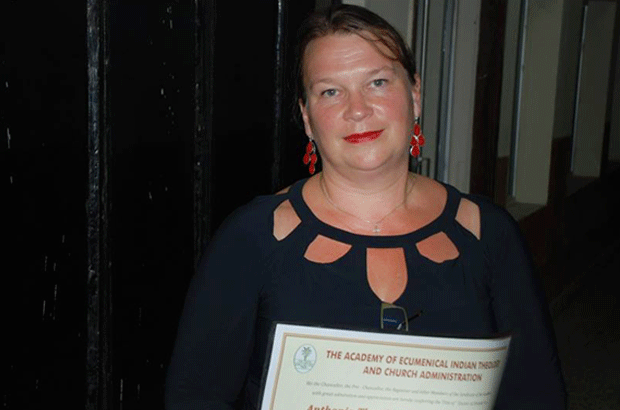 WACC Global Vice President Praxedis Bouwman has been awarded an honorary doctorate degree by the Academy of Ecumenical Indian Theology and Church Administration, which cited her "national and international inter-denominational and ecumenical leadership."
Bouwman received the Doctor of Divinity (honoris causa) degree on Aug. 2 at the academy, which is located in Chennai, on India's southeast coast.
"I feel very honored receiving this doctorate. I am much aware of the fact that this is a personal honor, yet I could never have done what I do without many, many inspiring people around me. Family and colleagues stand around me, they are the ones who supported me in an often vulnerable mission using my talents to open my mouth and challenge power, or motivate those who in fact get the dirty hands. I am grateful to all those who made it possible to make use of the talents I have gotten as a gift," she said in an interview.
Bouwman, 46, has served WACC as global vice president and chair of the European region since 2008. The citation noted that "her theological vision is firmly rooted in solidarity with the marginalized and seeks to proclaim a God whose heart bleeds for justice … Blessed with a critical mind, the ability of articulation and a deep faith based commitment, Praxedis has strived to live out the faith she expresses."
Raised in the Netherlands, Bouwman experienced a strict Dutch Reformed Christian culture as a young person, according to the citation. Attending a church service at the age of eight, she "very clearly decided she did not see God as the many pastors did she heard preaching." From then, she began to explore her own relationship with God.
Bouwman initially was trained as a radio journalist and her career took her to many places, reporting on many topics. She has been general news reporter, political reporter and foreign correspondent, based in the Caribbean reporting for the Dutch national radio and television news. She has also contributed many articles to newspapers.
Returning to the Netherlands, she freelanced and in her late twenties chose to be baptized Lutheran. Beginning in 2002, she worked with the editorial team of the Dutch Lutheran annual report and became editor-in-chief of the Dutch Lutheran magazine.
In 2004 she got involved in the work of KALME, the Communication Committee of Lutheran Minority Churches in Europe, a program of the Lutheran World Federation.
An invitation to join a delegation of the Lutheran World Federation to the second Asian interreligious conference in Kazakhstan resulted in a clear vision for a changing career. From being the outsider, the independent journalist, Bouwman heard a strong call for being a participant, for offering her talents and skills to the interreligious dialogue. She earned a master's degree in religious studies and intensified her international governing work.
In recent years, beside her involvement with WACC, she was a board member of Ecumenical News International, based in Geneva. In her own church, the Protestant Church in the Netherlands, she is a member of the advisory committee on ecumenical national and international affairs. She is also chair of the Dutch Lutheran Mission Society (Luthers Genootschap).
The academy promotes and propagates Indian Christian theology, developed since the dawn of Christianity in India. It studies and reflects upon the contributions of early Indian theologians from various denominations who have paved the way for the development of a specifically Indian theology as well as the contextual theologies of contemporary scholars who are articulating the aspirations of the marginalized.
The Rev. Dr. Karin Achtelstetter, General Secretary of WACC, is also the holder of an honorary doctorate from the academy.
To learn more about Indian ecumenical theology, click HERE and HERE.
To learn more about ecumenical theology, click HERE.