03 Mar 2014

WACC welcomes new SIGNIS President and bids farewell to a Knight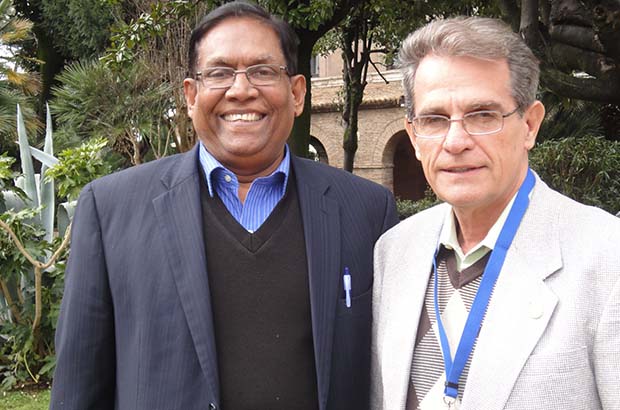 Augustine Loorthusamy (left) former SIGNIS President and Gustavo Andújar (right) newly elected President. Photo: Philip Lee
---
Gustavo Andújar, from Cuba, has been elected as the new President of SIGNIS, one of WACC's international partners. It is the first time the association has a president coming from Latin America.
A film reviewer with OCIC Cuba since the mid-1960s, Gustavo Andújar became its president in 1994.
Since 1994 Gustavo has been President of Cuba OCIC/SIGNIS. An expert on social issues and producer of documentaries, he is also director of the independent magazine ECOS, dealing with audiovisual media.
Andújar is cultural director of the Félix Varela Center, dedicated to influencing Cuban society and politics and the future Cuban transition.
SIGNIS is officially recognised by the Vatican as a Catholic organisation for communication. It is a worldwide, non-governmental organisation of professionals in radio, television, cinema, video, media education, Internet, and new technologies.
SIGNIS was created in 2001 from the merger between UNDA (the International Catholic Association for Radio and Television) and OCIC (the International Catholic Organisation for Cinema), both established in 1928.
The election took place at the SIGNIS Assembly of Delegates following a World Congress on the theme "Media for a Culture of Peace: Creating Images with the New Generation". Before the Assembly, delegates and stakeholders engaged in a process of strategic planning called "Future Search" aimed at defining objectives and priorities over the next few years.
Augustine Loorthusamy, outgoing SIGNIS President (2006-2014), previously spent two decades as Director of the Communications Center of the Asian Social Institute, Manila, Philippines. He was served as a member of the Central Committee of the World Association for Christian Communication (WACC), Secretary of WACC's Asia Region, Vice-President of OCIC, and Special Assistant at Jesuits in Communication in South East, East Asia, and Oceania (JESCOMEAO).
While working with WACC, Augy coordinated the Philippine phase of the Intercultural Communication Program, a study of communication patterns in developing countries. It aimed to examine the role of traditional forms of group media, their content and use in relation to social change.
At the conclusion of the SIGNIS Congress, Augy Loorthusamy was created a Knight of the Pontifical Equestrian Order of St. Sylvester Pope and Martyr, one of five Orders of Knighthood awarded directly by the Pope.
Papal knights and dames do not have specific obligations, but it is customary for them to be invited to participate in major events of their diocese.
WACC warmly congratulates both Gustavo Andújar and Augustine Loorthusamy and wishes them well in their future work.
---