08 Nov 2013

WACC workshop illustrates communication rights in practice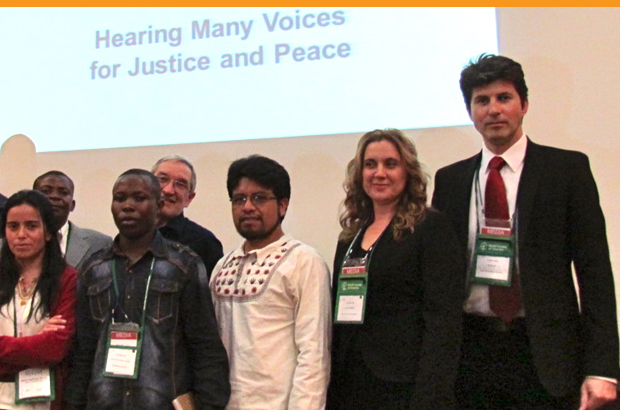 L to R, María Elena Martínez Torres, Boniface Bahizire, Jean-Pierre Mugisho, WACC President Dennis Smith, Sócrates Vásquez García, Amra Seleskivic and Edin Atlic.
---
Communication rights were highlighted at the 10th Assembly of the World Council of Churches (WCC) during a workshop given on Wednesday 6 November. Moderated by WACC President Dr. Dennis Smith, six community radio practitioners explained their work to workshop participants.
WACC's workshop was titled "Hearing Many Voices for Justice and Peace." It focused on the role played by community radio in voicing the concerns of poor, marginalized, excluded and dispossessed people.
Two journalists each from Radio Bubusa FM (Congo – DRC), Radio Vesta (Bosnia and Herzegovina) and Radio Comunitaria Jënpoj (Mexico) took part in a workshop jointly sponsored by WACC and the WCC. Two others from Radio Padma 99.2 FM (Bangladesh) were regrettably denied visas to enter the Republic of Korea.
Sócrates Vásquez García and María Elena Martínez Torres represented Radio Jënpoj in Santa María Tlahuitoltepec, Mexico, which serves the Ayuujk-speaking Mixe indigenous community in the mountainous Sierra Norte of the state of Oaxaca.
They explained that community radio is a recent and emerging movement in Mexico with the greatest concentration in the south-east of the country, which also has the greatest concentration of indigenous people.
Community radio answers a need to strengthen the self-identity of indigenous people and to break down barriers that lead to marginalisation. However, community radio operates in a context of oppression in which broadcasters have even been murdered for doing programmes related to political and social justice.
Boniface Bahizire and Jean-Pierre Mugisho represented Radio Bubusa, a community radio operated by Sauti ya Mwanamke Kijijini (SAMWAKI) on behalf of rural women in the village of Mugogo and the surrounding countryside in South Kivu in the Democratic Republic of Congo.
Radio Bubusa – meaning "the cry of women" – was the first radio station to be set up in South Kivu. In 2010 Africom Net awarded it second prize for the best HIV and AIDS communication strategy.
The station faces many challenges. Patriarchal tradition in rural communities can make discussion of gender issues difficult and media licenses tend to be granted to men and churches that do little for the community.
In response, Radio Bubusa produces local news in local languages, gives voice to the excluded, especially women, children and people living with disabilities, and takes up programme themes suggested by the community.
Edin Atlic and Amra Seleskivic represented Radio Vesta, located in Tuzla, Bosnia and Herzegovina, which promotes active citizenship and human rights, focusing mainly on women, children and youth.
Radio Vesta was the first community radio station in Bosnia, working in a deeply divided society where community radio is seen as a way of strengthening and claiming civil and political rights. Citizens come to Radio Vesta to tackle public issues and to be trained in community radio techniques.
WACC President Dennis Smith noted that: "By joining with WCC to bring these community radio teams to Busan, we were able to introduce new voices into the ecumenical conversation and hear eloquent testimony of how fundamental are communication rights in the global struggle for justice and peace."
Philip Lee is the WACC Deputy Director of Programs