02 Oct 2014

When the saints go marching in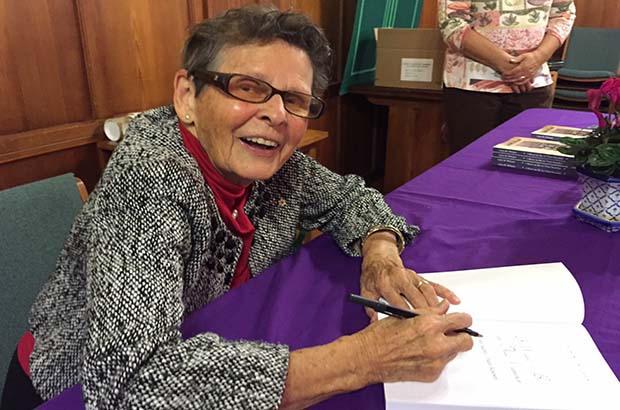 Lois M. Wilson signing copies of her new book. Photo: Saskia Rowley.
---
A new book by Lois M. Wilson titled "I Want to Be in That Number: Cool Saints I Have Known" was launched on 1 October 2014. The ceremony took place at Emmanuel College, Toronto, in the presence of some 60 friends and colleagues.
Ordained a United Church of Canada minister in 1965 after a period of being a homemaker and mother, Lois M. Wilson was the first female Moderator of the United Church of Canada (1980-82). From 1983 to 1989 she served as co-director of the Ecumenical Forum of Canada and also as a co-president of the World Council of Churches.
A Companion of the Order of Canada, Wilson was the 1985 recipient of the Pearson Medal of Peace. She is also a member of the Order of Ontario and a director of the Canadian Civil Liberties Association. In 1998 she was appointed to the Canadian Senate upon the recommendation of Jean Chrétien. She served in the chamber as an Independent until her retirement in 2002.
"I Want to Be in That Number" is a collection of reminiscences about friends who have passed on and the significance of Biblical passages chosen for their funeral services. But far from being morbid or merely nostalgic, it is a celebration of the lives of people who struggled for greater justice in their societies.
Wilson explores not only why these particular texts "fit" the person as she knew them, but what they say about creating new possibilities for the world we share.
As sharply critical and irrepressibly good humoured as ever, Wilson, who is celebrating 87 years of age this year, recounted the book's origins. In a conversation with her daughter Jean, who edited the book, Wilson suggested writing about ageing and death. Her daughter responded, "Shouldn't you write about something you know about?"
The result is 40 profiles of people who would be recognized among what the Apostles' Creed calls the "communion of saints". Wilson discerns what she describes as the "endlessness of the procession of self-giving saints old and young, bringing their gifts to enrich the common life of the church."
The book is divided into four sections: Justice, Resurrection, Transformation, and Church and the World. It ranges from Kim Dae-Jung (recipient of the Nobel Prize for Peace and former President of South Korea) to Dame Ruth Nita Barrow (humanitarian activist and former Governor-General of Barbados) to M.M. Thomas (Indian ecumenist and theologian) to her own mother, Minnie Ada Freeman, whose hospitality to strangers was biblical.
The book's final pages comprise reflections on "undeserved suffering" and three of the great atrocities of the 20th century that defy comprehension: the Holocaust or Shoah, Hiroshima, and the Kwangju massacre. They symbolise and honour what Wilson calls "the untold and unidentified 'saints' of these historic catastrophes."
"I Want to Be in That Number" resists mawkishness. It leapfrogs eulogy to articulate a wisdom that is the hallmark of a life well lived. If communication is one part revelation, two parts inspiration, then Lois M. Wilson – tiny as she is – embodies communication.