16 Mar 2017

Women face double challenge of gender roles in religion and media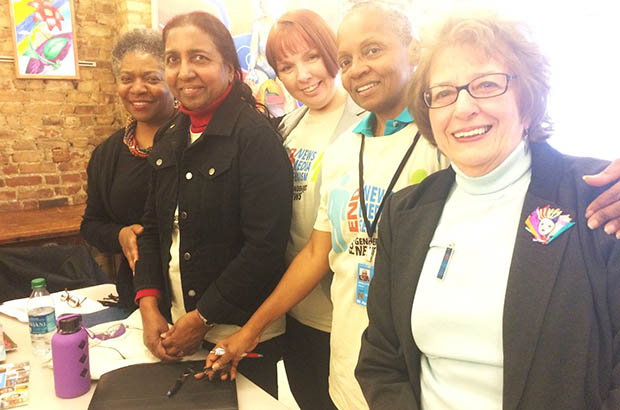 Glory Dharmaraj (second left) and Shirley Struchen (far right) with participants in the WACC-organized public forum on "Rewriting the Script". Photo: WACC North America.
---
Women of faith involved in the battle for gender equality in the media world too often confront a double challenge, members of a WACC-organized panel, "Rewriting the Script" told an attentive and engaged audience in New York on Wednesday afternoon.
Organized as one in a series of sessions in conjunction with the sixty-first session of the Commission on the Status of Women (CSW) at the United Nations, the panel discussed the ways in which questions of faith could aid in the empowerment of women and more specifically in their representation in media.
Ironically, both the religious universe and the media world share an important characteristic, Dr. Glory Dharmaraj, a consultant for United Methodist Women and a coordinator for U.S. media monitoring at WACC, told seminar attendees.
In both groups, she noted, women struggle to attain decision-making power and influence. "It's not just women being visible; it's more than that," she said, noting that the findings of WACC's 2015 Global Media Monitoring Project (GMMP) show that only 5% of those quoted as being religious experts in a news story on the day the survey was conducted were women.
Dharmaraj and several of the other panelists agreed on the need for transformative change within religious denominations to address the systemic imbalances and the root causes that keep women on the margins, and to begin reading religious texts through the eyes of those who are marginalized, including women.
"We have a long history of being very good at Christian charity," said Karri Whipple, a New York-based theological scholar and member of WACC North America. This can be useful as a "quick fix", she notes, and fill a short-term need, but in order to effect substantive change, more is required. "We need to move (onward) from faith communities putting Band-Aids on things, to looking at healing and transformation around systemic oppression."
This shift produces a much more holistic and more concrete model, Whipple said. "We aren't going to pray this away. We often over-spiritualize these issues. It's why issues like the GMMP are so important." It also is why, Whipple added, women of faith need to use media spaces at their disposal as effectively as possible and determine when there is a need to create new ones in order to address issues of transformative justice.
Panelists reminded the audience that constituencies can differ in their needs and approaches.
Yvette Moore, director of communications for United Methodist Women, pointed out that the minority press – representing groups that aren't part of the mainstream – can provide different and important sources of information for individuals who don't see themselves represented in major media. "You want everyone's voice heard in the mainstream media," she said,"but you want to speak to others in your community (through minority media) because it's a way of support."
In Jamaica, says Patricia Phillips, chair of Women's Media Watch Jamaica Steering Committee, religion too often is viewed as a force that oppresses women and denies them the voice that media could provide to them. "Faith and my experiences of faith are separated from my battle for gender equality," she says. "In fact, the faith community is seen as a cause for oppression – we are seen as the reason for women being subordinated because it is said that is what the Bible teaches!"
Coupled with that is the fact that too often, younger people view the pace of change as too slow, causing them to respond by lashing out. Phillips, for her part, endorsed some of those actions, but says they have created rifts in the Christian community in Jamaica, making others uncomfortable and causing them to wonder why they are being asked to support, for example, a young woman who, in her anger and frustration, cursed God. "I think God can handle it; she is good at these things," says Phillips. "God understands what this young woman has suffered."
The problem that all women must address by working together to end sexism in media and bringing about gender equality, Phillips concluded, is that "we are still pushed into the little corners" of newspaper pages or news broadcasts. Women "fill up beauty pages or are presented as victims, or the beneficiaries of charity, or else are in the background, waving banners and yelling that we want justice."
Challenging gender roles in both religion and media, participants and audience members agreed, will help women make progress on both fronts.
The afternoon's debate concluded with a discussion about the possibility of undertaking media monitoring of faith-related publications, to determine their gender balance in both absolute terms and relative to mainstream secular terms.