29 Sep 2015

A gender view of post-2015 Sustainable Development Goals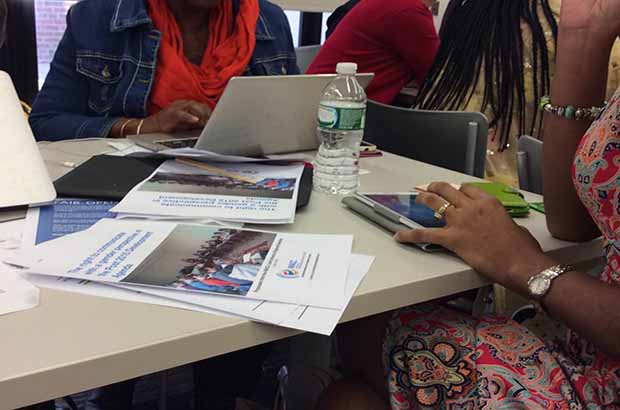 Preparing the ground. Photo: Marcela Gabioud.
---
The right to communicate with a gender perspective in the post 2015 development agenda, is part of a comprehensive approach that WACC and its regions are taking toward addressing the post-2015 SDGs.
On September 25 WACC-Latin America presented it to the New York-based Women's Environment and Development Organization (WEDO) a paper that takes a gender perspective on the U.N.'s post-2015 Sustainable Development Goals.
WEDO describes itself as a global women's advocacy organization that envisions a just world that promotes and protects human rights, gender equality and the integrity of the environment. Its mission is to ensure that women's rights; social, economic and environmental justice; and sustainable development principles — as well as the linkages between them — are at the heart of global and national policies, programs and practices.
The WACC Latin America document arose from the WACC-Latin America regional seminar that took place in Lima, Peru, in 2014.
The meeting identified a common vision: "To achieve gender equality as a condition for any agenda for development, including the right to communicate as an element inherent to the needs and demands of the citizenship for the full exercise of all rights, and a society respectful of diversity, with a greater awareness of the need for democratization of the media."
Looking at communications and news media through a gender perspective, the seminar participants identified that "one of the main problems for achieving equal representation and without stereotypes of women in the media, was the persistence of a patriarchal conception that permeates to civil society, the state and the media."
In the media, the report noted, "the patriarchate is materialised in the use of images of women which are violent and full of prejudices and stereotypes, as well as an inappropriate handling of language."
The seminar made several recommendations, among them:
Mainstreaming the gender perspective in basic formal education and university.

Promoting digital literacy for the state and civil society, as well as free software for the production of communication materials free of stereotypes.

Stimulating regulatory frameworks and policies that promote the democratization of the media in the allocation of frequencies and the opening of spaces for the promotion of gender perspective.

Developing public health policies and harmonization of work and family balance so that both women and men can perform their public functions and have the same employment opportunities.

Supporting the training of citizens' media observatories.

Promoting media self-regulation tools such as codes of ethics and reader advocates, audiences and viewers, who assess aspects related to the dissemination of stereotypes and gender-based violence
To read the full report, click here.