13 Jul 2017

Annual Report stresses new opportunities and partnerships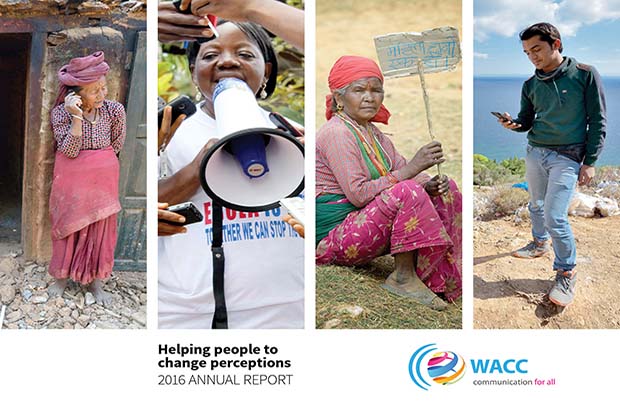 Cover design by Saskia Rowley and Brad Colicott.
---
WACC's Annual Report 2016 reflects advances in the struggle for greater social justice.
"Helping people to change perceptions" is the title of WACC's Annual Report 2016, reflecting the organization's determination to fulfil its mission in a rapidly changing world.
"Wherever I travel and in the most unexpected situations, I meet people who tell me, how their involvement in a WACC project has changed their perspectives," writes WACC General Secretary, Rev Dr Karin Achtelstetter in her introduction.
"It is, therefore, with a special sense of gratitude to our funding partners, members, and staff that WACC is presenting this report," she adds.
WACC had a rewarding and successful year working hand in hand with new and established partners to connect the communication rights movement with civil society and faith-based organisations working for greater social justice and to advance development goals.
At the global level WACC joined the International Partnership of Religion and Sustainable Development (PaRD), which brings together donor countries, international development agencies and organizations such as religious groups to harness the positive impact of religion in sustainable development and humanitarian assistance.
WACC also took on the role of general secretariat for the Global Alliance on Media and Gender (GAMAG), a network of media and media development organizations, unions and civil society organizations working for gender equality across the globe.
WACC's Global Media Monitoring Project (GMMP) Network and other partners launched the "End News Media Sexism" by 2020 campaign It will encourage and assist national advocacy to change media policy and journalistic practice.
At the local level WACC supported projects in more than 20 countries focusing on four areas aimed at advancing and strengthening communication rights: Gender and Communication; Rural Poverty Reporting; Community Radio; and Pathways to Digital Frontiers.
This was also the year in which WACC's Board of Directors endorsed WACC's Strategic Plan 2017-2021. Recognizing that WACC operates in social, political, economic and cultural environments that are continuously changing, the Plan seeks to help bring about societies in which all people everywhere are able to engage in transparent, informed, and democratic debate.
WACC is looking forward to tackling new challenges and to seizing new opportunities together with its members and partners worldwide.
The full report is available here.