16 Feb 2016

Assessing religions' contribution to development and peace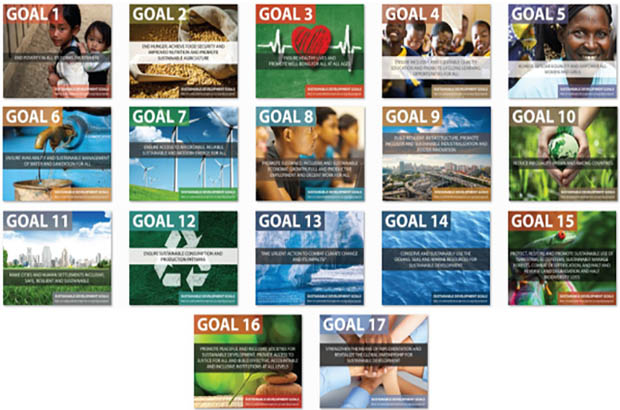 The Sustainable Development Goals (SDGs). Photo: United Nations.
---
The German government – which has said "religion matters" in meeting the world's challenges — is sponsoring a conference in Berlin from Feb. 17 to 18 on religion's contribution to sustainable development and peace.
Titled "Partners for Change: Religions and the 2030 Agenda for Sustainable Development," the meeting is sponsored by the German Federal Ministry for Economic Cooperation and Development. The ministry has invited representatives from the fields of religion, politics, civil society and academia, as well as experts from multilateral and bilateral development agencies.
WACC is the only Canadian-based international non-governmental organization (INGO) invited to participate and become a member of the "Partners for Change" initiative.
WACC General Secretary the Rev. Dr. Karin Achtelstetter will participate in a workshop on Feb. 18 entitled "PEACE – A new Culture of Just Peace? Religions and the Promotion of Peace and Global Justice." The panel will be moderated by Karin Kortmann, head of the GIZ representation in Berlin. GIZ stands for Gesellschaft für Internationale Zusammenarbeit, a company that is owned by the German government and that specializes in international development.
WACC will participate in discussions on media monitoring of religion and on Voices for Peace, a youth-focused media project providing tools for youth to become full participants in conflict prevention, peacebuilding and social change.
"For the past year WACC has been engaged in various processes that brought together faith based organizations, UN organizations and member states to advance the goals of the SDGs. WACC also is a signatory of the commitment 'Ending Extreme Poverty: A Moral and Spiritual Imperative'. The invitation to join PaRD is a result of WACC's involvement and contribution to these processes and WACC's expertise in the areas of peace building, peace journalism as well as media monitoring," commented WACC General Secretary Rev. Dr Karin Achtelstetter.
Federal Minister for Economic Cooperation and Development Dr. Gerd Müller will open the conference on Feb. 17. A prominent guest speaker will be Óscar Andrés Cardinal Rodríguez Maradiaga, who in his capacity as advisor to the pope promotes human rights and is strongly engaged in the fight against poverty.
On day two of the conference, the discussion continues with further high-level guests on new forms of cooperation to jointly promote the new 2030 Agenda for Sustainable Development together with the religions.
The Agenda is an agreement signed by world leaders in September 2015, meeting at U.N. headquarters in New York. It commits nations to "a plan of action for people, planet and prosperity" through 17 sustainable development goals (SDGs) and 169 targets, involving economic, social and environmental areas.
The German government, describing a sector program at the economic development ministry entitled "Values, Religion and Development," said that overcoming the world's challenges requires "a value-based culture of cooperation" in which "religion matters."
The government said it is "committed to a development policy based on values and human rights," and it is important to ensure that "religion's significance as an important source of values gains greater recognition in development policy and international cooperation."
The ministry said that "working together with civil society and representatives of religions, the aim is to develop measures that can be applied in practice."