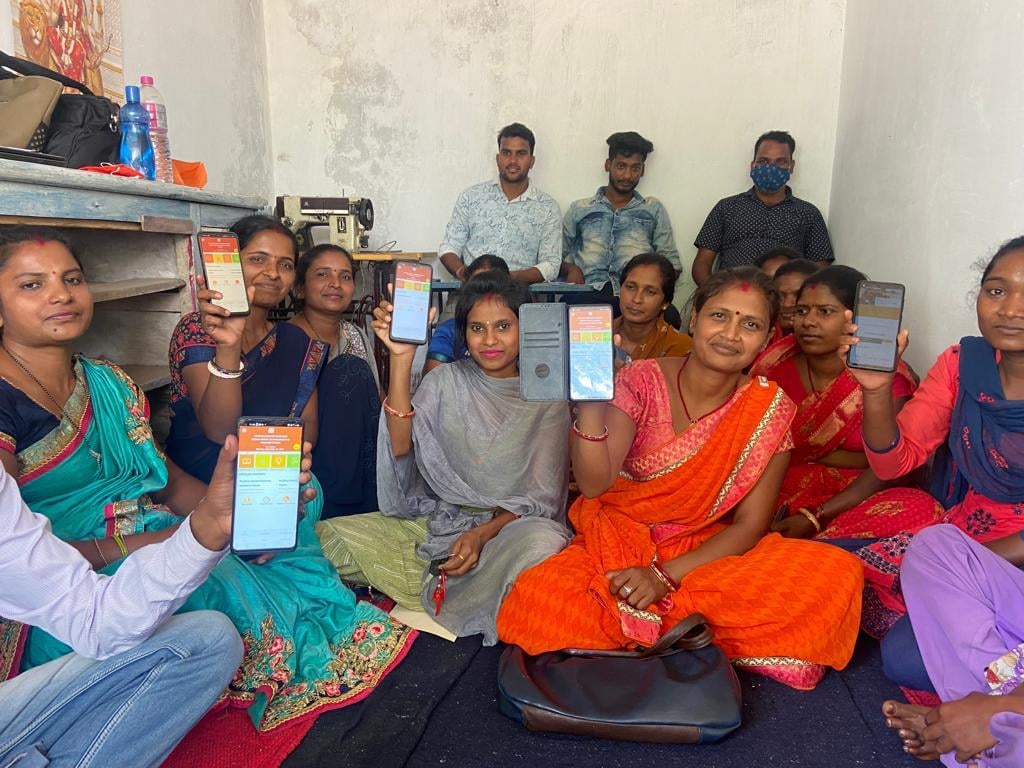 26 May 2022

'Beyond calling and messaging': India project boosts digital literacy skills of rural women

About 4,700 rural women, youth, students, and members of marginalized communities in India will receive digital literacy and skills training as part of a WACC-supported project being implemented by local non-profit groups Digital Empowerment Foundation (DEF) and Wireless Women Engineers (WWE).

The Digital Justice Program aims to enhance the digital literacy of women "beyond calling and messaging," create women-led community network infrastructure and identify women network engineers, develop women entrepreneurs who can take advantage of the growing digital economy, create materials and host advocacy events "on gendering community networks."

Indian society is "deeply divided in terms of caste, religion and gender that penetrate all facets of life. This spills over into the digital sphere where inherent complex societal divisions further create a gendered digital divide," said DEF and WWE in its program description. "Despite infrastructures being created and set up to provide communities with network access, a majority of the population coming from marginalized communities and under-resourced settings in India, remain outside the fourfold of digital access."

Women form the bulk of digitally excluded communities "due to existing gender biases coupled with their social and economic realities within marginalized communities," they added. This exclusion engenders more inequalities and limits women's participation in many spheres that are available to men.

Furthermore, "shared spaces within rural communities are essentially occupied by men coming from predominant caste and class groups. This limits women from accessing essential services from community networks," they said.

"Around the world, there are many communities in remote areas that are effectively excluded from public communication because they lack access to telecommunication services," said Lorenzo Vargas, WACC programme manager for Communication for Social Change. "In these contexts, community-managed telecommunications, often called 'community networks' are stepping in to meet local communication and information needs. The work of DEF in India, supported by WACC and APC, is an example of how these efforts are helping to democratize communication at the local level."

The project, which began in March 2022, involves training 165 women across five locations: Palghar-Maharashtra, Murshidabad-West bengal, Chanderi-Madhya Pradesh, Khunti-Jharkhand, Irumbai-Tamil Nadu. Each location has an access point centre, a physical space for trainings. Three trained Wireless Women Engineers (WWE) oversee one access point centre and cover nine villages in total within a five-kilometer radius.

Each of the 15 Wireless Women Engineers (WWE) will further provide digital literacy to 150 Women Wireless Volunteers (WWV). Both WWEs and WWVs will receive training on internet infrastructure maintenance, digital literacy, technicalities of running successful PM WANI centres (public Wi-Fi hotspot providers) and SoochnaPreneur (information access and service delivery) centres. These access points will work as centres that ensure affordable internet access as well as a one-stop point for delivering last-mile digital services and access to women and other community members coming from marginalised communities and religious minorities.

Members of 45 villages where trainings will be conducted will indirectly benefit by having access to affordable Internet and learn how to use mobile phones and computers.

This project aligns with the UN's Sustainable Development Goal (SDG) 16 on Peace, Justice, and Strong Institutions (Esp. Target 16).

Above: The project aims to create women-led community networks and develop women entrepreneurs who can take advantage of India's growing digital economy. Photo courtesy of Digital Empowerment Foundation.