24 May 2016

Canadian director wins Ecumenical Jury prize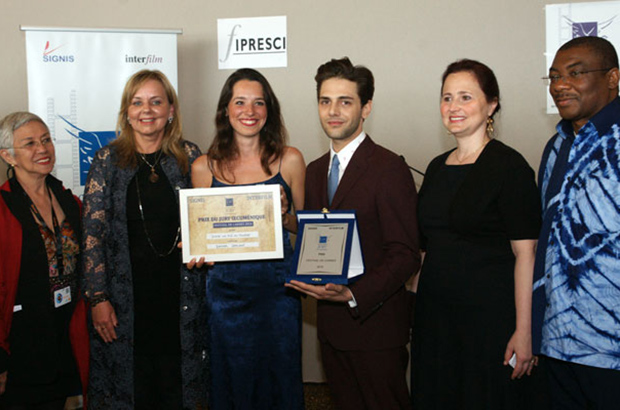 The Ecumenical Jury at Cannes 2016. Photo: Claire Zombas/Daniel Beguin.
---
Canadian director Xavier Dolan's film "It's Only the End of the World" won the Ecumenical Jury prize at the 2016 Cannes International Film Festival.
The jury, including the Rev. Dr. Karin Achtelstetter, WACC General Secretary, honored Dolan for "filming in a transcendental way."
The film tells the story of Louis, a gay terminally ill writer, who returns home after 12 years of absence to announce his impending death to his family.
It also won the Grand Prix at the May 11-22 festival, although it received strong criticism as well as praise. The Canadian-French production was written, edited and directed by Dolan. It is based on the play "Juste la fin du monde" by Jean-Luc Lagarce and stars Gaspard Ulliel, Nathalie Baye, Marion Cotillard, Léa Seydoux and Vincent Cassel.
The film is scheduled to be released in Quebec and France on Sept. 21, 2016.
The Ecumenical Jury also awarded two Commendations. The first to "American Honey" directed by Andrea Arnold (United Kingdom), which also received the Festival's Jury Prize. The second Commendation went to "I, Daniel Blake" directed by Ken Loach (United Kingdom), which also received the Festival's Palme d'Or.

The ecumenical jury is composed of six members, who are nominated by SIGNIS (Catholic members) and Interfilm (Protestants). SIGNIS and Interfilm appoint ecumenical juries at various international film festivals, including Cannes, Berlin, Locarno, Montreal and Karlovy Vary.
Other members of the Cannes Ecumenical Jury in 2016 were: Cindy Mollaret, writer; Ernest Kouacou, diocesan priest and president of SIGNIS-Africa; Gabriella Lettini, minister and scholar; Teresa Tunay, writer and editor; Nicole Vercueil, editor and publisher.
Established in 1973, the Prize of the Ecumenical Jury is an independent film award for feature films at major international film festivals. It has been awarded at Cannes since 1974.
The prize was created by Christian filmmakers, film critics and other film professionals. The objective of the award is to "honor works of artistic quality which witnesses to the power of film to reveal the mysterious depths of human beings through what concerns them, their hurts and failings as well as their hopes."
Films from diverse countries have won the prize. In 2015, "Mia Madre," from Italy, was honored.
Achtelstetter has served as WACC General Secretary since 2010. She formerly served as Director and Editor-in-Chief of the Lutheran World Federation and coordinator for media relations at the World Council of Churches in Geneva.