22 Apr 2015

Charter of free media adopted at World Forum on Free Media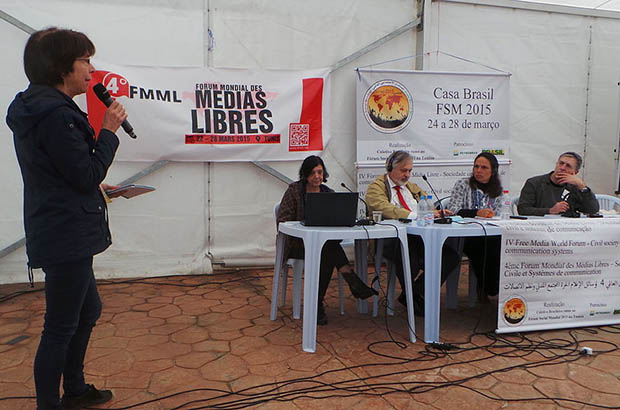 Discussion on media, politics and civil rights at the Casa do Brasil, World Social Forum, Tunis 2015. Sally Burch of the Association for Progressive Communications addresses the panel. Photo: Montserrat Boix.
---
Participants at the 4th World Forum on Free Media, meeting in Tunis 22-28 March, adopted a World Charter of Free Media in support of "communication that is both pluralistic and engaged."
In a statement, the participants said that as "communicators and activists," they are "committed to multiple emancipatory communication practices across different regions of the world."
The forum was organized in the framework of the World Social Forum 2015, however, the World Charter of Free Media was initiated by "collective reflection" in 2013, as noted in the statement. It is a "commitment to just and emancipatory communication, and our engagement with world developments and humanity."
The group said it consists of "communicators, activists, journalists, hackers, community media associations and free media, social movements and popular organizations" as well as "bloggers, audiovisual producers, free technology developers, associations, networks, unions, journalism schools, research centers on information and communication, and NGOs supporting access to information and communication."
The charter marks the culmination of the process begun in 2013 "as a new starting point to continue building an emancipatory movement among activists concerned with information, communication and technologies."
Knowledge production and dissemination of information by the "hegemonic [dominant] media" are subject to political and economic powers, the statement said. "Commercial media reproduce a system of values and understanding of the world, widening the gap between the actual needs of companies and already excluded marginalized social groups. During the last 20 years, with the (rapidly increasing) concentration of the media and the development of transnational telecommunications networks in all regions of the world, the power of traditional communication activists has grown," they said.
The participants also said they recognize the international declarations, charters and reference texts on communication, including Article 19 in the Universal Declaration of Human Rights (1948) concerning the freedom of expression and the various statements of social movements regarding the right to communication adopted at the World Social Forums.
The common principles of the charter are:
Freedom of expression for everyone, the right to information and communication, and free access to knowledge are fundamental human rights.

Democratic information and communication is a fundamental condition for the exercising of democracy.

Information and communication are essential tools in mobilizations and struggles seeking respect for human rights.

Information and communication platforms are common goods. Their use and management should address the concerns of general interest and pluralism, prioritizing popular participation.
To read the full document, click here.