19 Feb 2014

Civil society to play key role in post-2015 development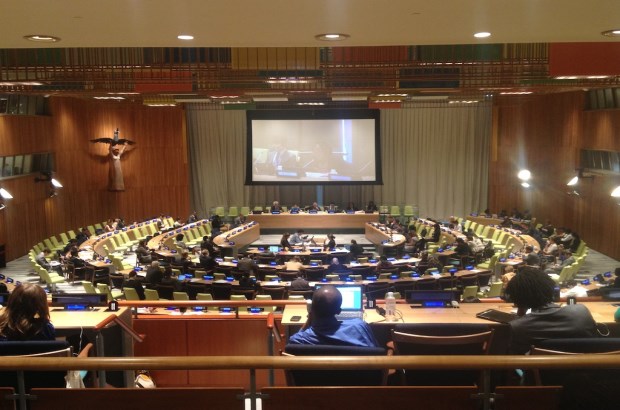 UN debates post-2015 development plans. Photo: MediaGlobal News/Brendan Pastor
---
Targets and indicators for opening up civic space to the best and most creative ideas and actions to help achieve sustainable development post-2015 have been proposed by the NGO Article 19.
"Ensuring accountability in the Post-2015 Agenda through transparency, free expression and enabling civil society participation" appears on Article 19's web site in English, Spanish, French, Portuguese and Arabic.
The proposal draws attention to the report "A New Global Partnership" produced by the High Level Panel of Eminent Persons. It stated that the rights of freedom of expression, access to information, association, and assembly are essential to achieving sustainable development.
Article 19 says these rights are the fundamental building blocks of good governance, empowering people to participate actively in achieving development goals.
The High Level Panel stated, "openness and accountability helps institutions work properly – and ensures that those who hold power cannot use their position to favour themselves or their friends. Good governance and the fight against corruption are universal issues. Everywhere, institutions could be more fair and accountable. The key is transparency. Transparency helps ensure that resources are not wasted, but are well managed and put to the best use."
Transparency and the free flow of information together are widely recognized as central in the promotion of development rights. "A New Global Partnership" emphasized that, "Pluralistic, independent media may help raise public awareness about development issues, empowering people with information to better monitor implementation and performance and hold governments accountable."
In many countries the media (including formal and informal entities and practitioners) face barriers to investigating and reporting on development issues. They are often unable to access important information and face both legal and extra-legal threats, particularly when revealing corruption of public funds, misuse of money from natural resources, tax avoidance by corporations and powerful individuals to pay taxes and other issues which impact a country's economic development.
The High Level Panel stated, "Civil society should play a central, meaningful role but this requires space for people to participate in policy and decision-making." The role of civil society in promoting development has been firmly established in international policy for nearly 30 years – from the Bruntland Commission report, to the 1992 Rio Declaration, the Millennium Declaration, Agenda 21 and most recently in the Rio + 20 "The World We Want" Declaration.
But, as Article 19 points out, "Despite this recognition, restrictive laws and policies have proliferated around the globe to limit core civil society freedoms of expression, association and assembly, which are enshrined in international law and necessary for CSOs to effectively operate."
Article 19 is proposing targets and indicators for the High Level Panel's recommendations to:
Guarantee the public's right to information and access to government data;

Ensure that people enjoy freedom of speech, association, peaceful protest and access to independent media and information;
Increase public participation in political processes and civic engagement at all levels.
See Article 19 for further information.
---