29 Aug 2017

Communication in tomorrow's Caribbean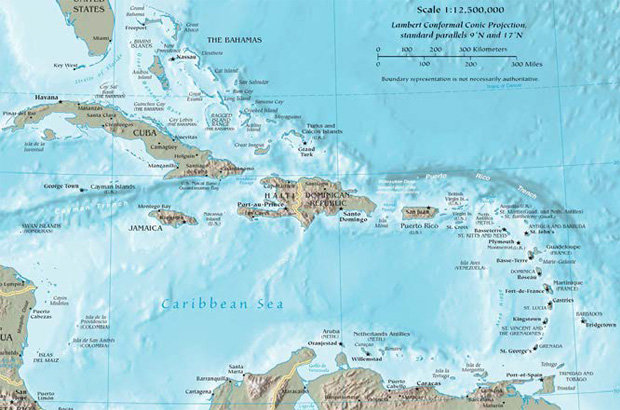 ---
I love the Caribbean. I was born and grew up in the Bahamas, and now I have the privilege of living in Jamaica as a postgraduate student. From my assessment, Caribbean life and culture is dominated by orality. Even though social media and communication technology has influenced social life and cultural realities, Caribbean people still value the traditional idea of gathering and talking with friends and family.
I would say though that persons who value this way of living have found themselves to be very critical of developing societies, and developing cultural and communicative trends. For example, I often hear seniors ask younger persons and middle age persons why they take their cellular phones everywhere they go and why are they always on their phones. There is a disconnection from the trend of the more image-conscious millennial and the constant status updates on social media to the senior who just want to be hospitable and show love and enjoy the presence of others in community.
I think tomorrow's Caribbean must find a way of embracing and embodying both realities. We must rebound from the image and idea of being "third-world" and "developing" to actually become a more sustainable and developed region and if this is going to happen using all resources with respect to communication, media, technology, science and engineering.
Communication and transparency
The Caribbean is defined by tourism, hospitality, beaches, fun and a whole lot more. Often the danger of communication is its misrepresentation of the truth, in that it shows visitors and tourists the good parts of an island or destination to attract them but when these persons come to the islands they are disturbed by the levels of poverty, classism, greed and cruel politics. Tomorrow's Caribbean could attempt to practice more transparency and honesty with communicative branding and public relations so that visitors know what to expect when they arrive
Heard a representative from a regional chamber of commerce suggest that Caribbean people should be careful what sort of information they put out in the new age dominated by mass media and social media. The representative suggested that at the click of a button the world could know whatever it wants to know about a country and do whatever it wants with the information. Caribbean countries in their development stage have always been concerned about their identity and perception.
Islanders have ensured that stories that should be available to the public actually reach the public through airing videos recorded on their phones and tablets on YouTube, Facebook, Twitter and Instagram. Caribbean youth and middle age persons are using social media as a platform to demonstrate their commitment to social, economic and environmental justice and raising awareness and justice consciousness of other youth and citizens within the country or region.
Making communication transparent means not relying on the elected government to provide us with all the truth. There are countless liberal and radical investigative journalists in the Caribbean doing their research on the difficult questions about the messiness of our region and the findings are refreshing and rewarding to our collective sense of knowledge and decision making. In the Caribbean, privacy is celebrated because public exposure can lead to disruption and removal from places of comfort and privilege.
Communication and respectability
Tomorrow's Caribbean will try to redefine and rethink the politics of respectability that has become a part of its identity. In the sharing of opinions, ideas and other information preserving image and legacy are critical even if that means telling half-truths and lies. Respectability in the Caribbean means simply having manners and being courteous to persons you meet daily. With tourism as a leading industry in most Caribbean economies, it seems normal for those islanders with thriving with hotels and nice beaches to have kind, hospitable and caring attitudes generally, but specifically towards tourists and visitors. Often respectability politics does not hit home and impact locals and residents due to the fact that immeasurable value has been place on the tourist because of the dollar.
Caribbean citizens and residents in inner city communities sought to reframe and re-present the idea of tourism and instead use the model known as community tourism which allowed visiting tourists to stay in homes with Caribbean peoples and families and experience real island life. Community tourism allowed tourists to tour the inner cities of actual Caribbean countries rather than exclusively staying at hotels and beaches in areas at a considerable distance from the inner city. Some islanders use a horse and carriage to take tourists on tours of the beautiful inner cities. Respectability in communication challenges marginalized groups to accept the model of how things are done as the way they will always be done.
Challenging the status quo and the elitist culture in the Caribbean is critical to experiencing the richness preserved within the islands. The beauty of the people, communities, and human production can be celebrated and appreciated when we learn to give people and their ideas the right platform to grow and mature. Respectability has always been a struggle in the Caribbean, especially with trade unions and worker's rights. It seems our beloved Caribbean is still recovering from the effects of colonialism and slavery which influences the way we treat citizens who are uneducated and poor and which translates into being undervalued and even disrespected.
We have more protest marches and union worker boycotts and parades now with greater numbers and solidarity than ever before. As a strongly religious region, people of faith in the Caribbean have also chosen to be at peace and let God fight their personal, collective, national and international battles. Caribbean people who refuse to protest and be engaged in advocacy work claimed that their faith in God would sustain them.
Communication and politics
Communications in the Caribbean is plagued with the disruptive influence of elected governments on how information is handled and disseminated. The spirit of objectivity, truth and justice is rarely identifiable at government owned broadcasting stations in the Caribbean. The inherent political activity is seen when the government places one of its loyal supporters as chairperson or executive director at the national station, who is authorized to do the government's bidding and to protect the political party's interest. It is suspicious when governments that offer subsidies, grants and other forms of support to non-government owned radio and television stations still have a degree of control and influence over these media houses.
The extent of such control has led to the removal of radio and television talk show hosts in the name of not losing much-needed state support. State-controlled resources in these tough economic times in the Caribbean have had significant influence on mass media. Media houses with wealth and consistently strong donors and support base are very open and critical about corrupt behaviour practice by the state and constantly challenge the state to sell their public broadcasting stations.
There are more Caribbean people on social media and using it as a digital networking and social platform today than ten years ago. We have seen the introduction of personal videos in which islanders share their views on local, regional and international issues on social media that receive hundreds of comments and thousands of actual views. Stories that local media houses refuse to air or publish people are taking to social media so that they can be digested by all concerned. The Caribbean as we know it is changing.
Social media has been so influential to Caribbean politics that politicians who wanted to be successful in their electoral races saw it as essential to create a profile page on Facebook or Twitter which would enable them to take questions from citizens, residents and others about their political plans and intentions. The openness and accessibility demonstrated in using social media encourage youth and middle age persons who were considered independent voters to vote for the politician they trusted and that trust began with responding to questions submitted on social media.
The political landscape across the entire region reflects a shift in political parties' time in office. It seems that the electorate for the past ten to twenty years are giving political parties one term to deliver on their promises and if they do not they are voted out. The point being made here by the electorate is that we want better and we want to see improvement and if you cannot give that to us we want you out so we can put new people in office. The justice message here is a call to accountability and productivity. For too long politicians have been elected and re-elected in regional governments but have remained unproductive and only looking after their own needs and ambitions.
Communication and culture
Our greatest challenge in the Caribbean is preserving our culture – art, music, fashion, craft, festivals etc. Preservation here refers to more than simply recognizing the connection of the cultural product to our human history but also to being watchful that our own culture is not engulfed by more dominant cultures impacting the region such as American, European, and Asian. Some Caribbean cultural scholars believe that we can embrace all these cultural influences and still keep and maintain a healthy and authentic view of what our own culture is as a people. The need for hybridity and diversity of cultural appreciation and production is essential as the region expands and welcomes new people, ideas, cultures and experiences.
The imperialistic and capitalistic concern with respect to culture is the assessment of its market-value and the using of culture for monetary benefits. Even if our cultural products are without redeemable value we should still have great respect and pride for their inherent and much celebrated meaning and history.
A further concern with culture and cultural values is the possibility that the sad day could come when the historic creators of culture which were inner city peoples for the most part may be unable to enjoy and attend cultural events and activities due to high costs and associated registration fees. We see examples such as Carnival in Trinidad, Junkanoo in the Bahamas, and Reggae Festivals in Jamaica. The producers of culture must always have the liberty and freedom to participate in that cultural form in whichever way they chose and that should be the privilege and pleasure of being a citizen and a culture-producer.
Conclusion
The Caribbean island-nations are experiencing a tremendous amount of development and it is unfortunate that at times progress translates into exclusion, inequality and unfairness. Tomorrow's Caribbean must be a region striiving towards justice and equity daily regardless of which political party assumes office. Tomorrow's Caribbean must be committed to truth and objectivity, transparency and honesty, and respectability as ideal symbols of our ongoing and developing values based culture.
We must remember to celebrate those who helped to produce and create what we refer to as our culture. The producers and framers of culture must be recognized and honoured. Tomorrow's Caribbean must treat locals – citizens and residents – with the same value as tourists and visitors. Tomorrow's Caribbean will continue to embrace social media and networking platforms in order to have a global presence and reach as many people as possible in the world of social media communications. ν
Omar Archer is a M.Phil./PhD in Theology student at the University of the West Indies, Mona Campus in Kingston, Jamaica. He has served as the Director of Campus Life at The College of the Bahamas. He holds both undergraduate and graduate degrees in theology from American Baptist College and Vanderbilt University in Nashville, Tennessee. Omar's current research examines the role and influence of Christian fundamentalist groups on the 2016 gender equality debate and referendum in the Bahamas.