22 May 2014

Communication rights vital to post-2015 development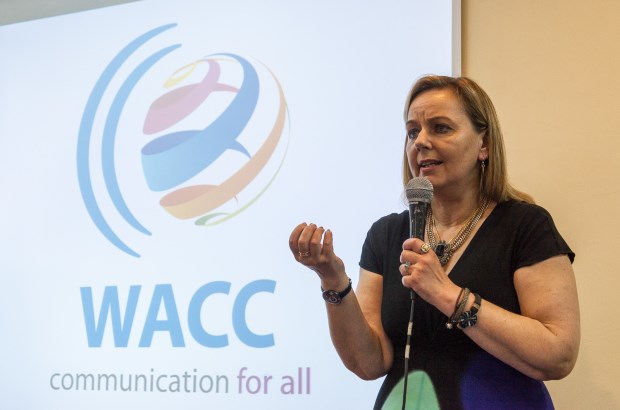 Rev. Dr. Karin Achtelstetter addressing seminar in Manila, Philippines. Photo: Thorsten Krafft
---
In a presentation at a seminar on "Access and Equity of Communication Technology and Rights for the Marginalized Peoples in Asia" held 22-23 May 2014 in Manila, Philippines, WACC General Secretary Dr Karin Achtelstetter stressed the need to place communication and multimedia at the heart of the post-2015 global development agenda.
Noting the growing interconnectedness of the world, especially in more privileged parts of the world, and astonishiong developments in communications technology, she pointed to urgent problems that remain to be addressed.
"Millions and millions of people continue to live in poverty; conflict and violence – including gender-based violence – rage in many parts of the world; climate change is beginning to have a catastrophic impact on nations and populations; the global economic system is still skewed towards the rich; and corruption and impunity appear to be the norm," she said.
The presentation was titled "Communication Rights, Access and the Digital Divide: Leaving No One Behind". It took place in the context of WACC's Asia's Triennial Assembly, a consultation of WACC project partners in the region, and a meeting of WACC's First Directors under its newly approved Constitution.
Achtelstetter focused on the communications scene in Asia today, where two thirds of the world's poor live. In addition, of an estimated 370 million indigenous people in the world, around two thirds live in the Asia-Pacific region. They suffer a range of problems associated with marginalized socio-economic status and discrimination.
She pointed out that, "In terms of statistics, this rather grim picture indicates why communication rights are important. Free, pluralistic and independent media, covering print, broadcast and online, are crucial to the post-2015 development agenda because they offer an inclusive public sphere for involving citizens in the processes of good governance and sustainable development."
In this respect, the role of user-generated content via digital platforms may prove crucial in creating spaces for more people than at any time previously in history to become engaged with the important issues of today. New media tools have already made a significant and enduring difference to the way people organize for social and political activism as well as to share previously inaccessible information and knowledge.
Achtelstetter also acknowledged recent attempts to open up dialogue between North and South Korea, especially a new initiative of the World Council of Churches (WCC) aimed at reconciliation.
"What role can mass and community media play to open up new opportunities for genuine dialogue in this region? How can new digital platforms create better understanding between the Korean people of the larger forces at work that keep them apart? How can better access to communication technologies help address the pressing needs and concerns of both countries if and when they are allowed to live in peace together?", she asked.
In conclusion, Achtelstetter emphasised the need to take advantage of communication technologies transform the structures that forestall or block genuine development and to strengthen those social movements that are struggling for justice and peace.
Or, quoting the words of of the Report of the High-Level Panel of Eminent Persons on the Post-2015 Development Agenda, to "inspire a new generation to believe that a better world is within its reach, and act accordingly."
Full presentation available here.