20 Feb 2014

Community radio stations stay on air in South Sudan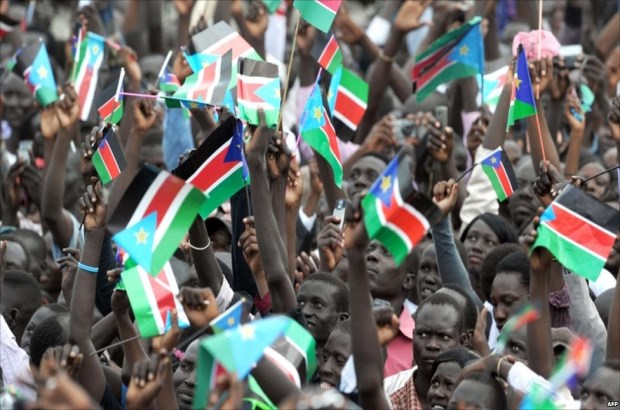 People of South Sudan celebrate independence little suspecting what would follow.
---
Internews Community Radio Network (CRN) stations in South Sudan have made heroic efforts to remain on air and keep their listeners informed about rapidly changing events during the conflict in South Sudan.
Two stations in the CRN both continue to see fighting all-round them, but have bravely managed to broadcast whenever possible.
Naath FM in Leer, Unity State, managed to stay on air throughout most of the conflict in December 2013. This was despite the political atmosphere in Unity State – the home of former Vice President Reik Machar – becoming extremely fierce as the fighting intensified. With the street fighting in Bentiu getting worse, staff were under intense pressure to broadcast messages for one side or the other. The station coordinator John Gatluak had to regularly negotiate with various authorities and explain the station's role in bringing impartial information and in providing essential service to the community.
However, as the fighting came closer to Leer in late January 2014, it was deemed that it was only safe for the station to carry on broadcasting local news and peace messages. The station staff themselves often had to evacuate and shutdown the station temporarily during periods when the fighting was too close.
Throughout this period, staff members Ruot George and John Gatluak would often head back into town to keep the station partially functioning to provide critical information to the community. The remaining station staff were forced to go into hiding away from the town because of the real fear of attack.
Sobat FM in Nasir, Upper Nile State, has been operating under very difficult conditions with fighting uncomfortably close. Station Coordinator Ruot Gach has worked to keep an eye on the political situation in the area as things continue to change rapidly.
Ruot says things in Nasir County continue to be very tense and threatening with young men and youths on the streets firing guns into the air. "Right now they are not shooting at anyone directly, but they are shooting regularly up in the air – the bullets come down and hit people. The streets still are not a safe place to be," says Gach.
"People are walking around shooting for nothing. It goes on day and night. No one is sleeping because of the local situation," he says. Gach says that many people have ended up in the local Médecins Sans Frontières hospital. Just physically getting to the station every day and managing to get it up and running with limited supplies is very difficult.
The journey for Gach from home to work is fraught with regular violence, and there is no functioning infrastructure in the town. "There is no way to get basic supplies, our operational costs have spiralled with local markets greatly affected and with the banks no longer functioning," said Gach, who has been with Sobat FM since it first went on air in 2010.
The crisis that started in Juba on December 15 quickly spread all over country including Nasir County. By December 22 men and youths known locally as the White Army managed to depose the County Commissioner, who they thought was loyal to the Government in Juba. These young armed men began by looting the local market largely run by Ethiopian traders, and then went on to release prisoners from the local jail.
"The station was threatened by armed men who wanted us to broadcast news that their leader was the new Commissioner. They want us to broadcast false information to give them morale such as announcing the capture of the city or to report military advances made. Several demands were made including asking us not to use the word 'rebel' to describe them. The team decided to broadcast only messages of peace and non-political related news," Gach said.
Other stations in the CRN have worked to expand coverage dramatically, broadcasting an extra two days a week to give their listeners a complete picture of ongoing developments. Many staff have worked on their own time for seven days a week without a break.
Nhomalaau FM in Maualkon, Northern Bahr el Ghazal State, has not been directly affected by fighting and has managed to broadcast peacefully throughout the crisis. The station's team decided to make changes to program schedules, and transmission of any politically sensitive music and programs were suspended to prevent the risk of inciting violence. Coverage of political rallies, statements, and events by any side that could be construed as promoting violence was avoided. Locally-produced half hour feature programs were suspended, to allow staff to work on the more extensive news coverage for listeners.
Nhomlaau FM focused broadcasts on coverage of local leaders – such as the local church leader and Dinka Malual peace committee members who called for a cessation of violence. "We played an interview several times over several days from a leader who reiterated that the political tensions should be settled peacefully and who emphasized that the conflict should not become tribal," said James Keer Noon, the Deputy Station Coordinator and News Editor.
Programming shifted to broadcasts that focused on peace messages and interviews about how peace can be achieved. "There were many messages of unity and peace we received from our listeners and we focused on sharing these messages," Keer said. The station hopes that this kind of peace programming continues in the future to help stabilize and develop the region and the country. "We received many messages of prayer and peace particularly for the people based in Juba who were being badly affected by the conflict," Keer adds.
An important observation the radio station has made is that the decision to only broadcast SMS messages and not take live calls – in order to be able to screen content for divisive or violent messages – has meant that voices of poorer, non-literate, mainly women and young people were heard far less on the airwaves.
"We have lost important people in the dialogue. We have to now make efforts to bring their voices back into the conversation about peace," said Keer. The station is looking to pre-record statements from a broader range of people and will begin broadcasting these too.
Local people have been very happy with the coverage provided. "Listeners have been very pleased to hear from Nichola Mandil from Eye Radio who phones in live with reports of the Peace Talks in Ethiopia. If he has ever been unable to phone-in due to poor connection, we get messages now from listeners asking why there has been no update from him," said Keer.
Chris Marol, station coordinator for Nhomlaau FM, is now based in Rumbek, Lakes State, as a producer. While the fighting did not reach this part of the country, it was greatly affected with an estimated 138,000 fleeing from Bor across the river. "As well as ensuring our broadcasting was fair and balanced during the conflict we made sure we went to speak to people affected who are now in makeshift camps in Lake State," said Marol.
"I spoke to many people who fled and been displaced from their homes about the conditions they were in," Marol said. The station tried to share information with the wider community in Lakes State about the poor living conditions people had to now endure. "People were very scared when they arrived. They had very few belongings and basics like food and water. Bor was still close enough for people to hear the gunfire at night," Marol said.
Marol also reported on people who fled to UNMISS who were able to speak in their local language and confirm to their family and friends that they were alive and well after reports that they had been killed had been circulated. "People were very happy and relieved to find their relatives safe," Marol added.
"The situation is improving for the people displaced and we have reported on how their plight is changing as time goes by. In the camps themselves people generally do not have access to radio so we have not yet been able to broadcast information to them."
With the urgent need to get often lifesaving information to people in these camps, Internews is working to set up a Mobile Radio station in Awerial County in Lakes State as part of its Humanitarian Information Service.
Mayardit FM in Turalei, Warap State. Bol Deng David, Station Coordinator with Mayardit FM, described the situation as challenging: "In the first week of the conflict night curfews were imposed and no one could move after 8:00pm. Soldiers regularly stopped me when I was going to and from work. Most of the soldiers knew me but still persisted in making movement difficult. Everyone faced difficulties including the various NGOs and UN agencies that are to help. The local market was affected by the curfew with shops closing by 6:00pm and there were lots of interrogations."
As soon as the conflict erupted, the management team decided that reporters should avoid putting callers live on air. Daily programs continued to run on politically neutral topics such as health, governance, youth, Sports, business, culture, religion, agriculture, music, as well broadcasting a range of new public service announcements (PSAs). These PSAs advised and educated listeners to support peace.
"I am very proud that Mayardit FM helped the local civil society organizations and UNICEF to trace a number of lost and separated children during the conflict," Deng Bol said. "Twic Community Development Team had submitted names of over 40 lost children to the office of Mayardit FM Radio. As a result of our announcements 22 children were traced, and re-unified with their families in IDP camps in Twic County."
This story is part of a series on reporting from the conflict in South Sudan. Internews' work in South Sudan is funded by the United States Agency for International Development.
Source: Internews. Reprinted with permission.
---