20 May 2016

Concerns raised about impact of World Humanitarian Summit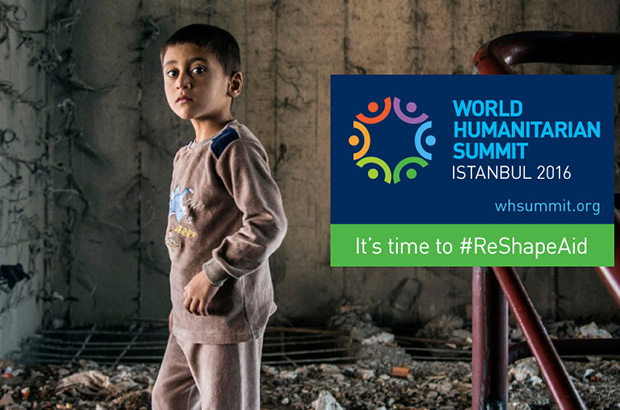 Photo: UNOCHA/Iason Athanasiadis.
---
The members of ACT Alliance, including WACC, are preparing for the first World Humanitarian Summit (WHS), scheduled to take place May 23-24 in Istanbul.
WACC applauds the Summit's strong focus on "people first" the resonance it has with WACC's message of communication rights for all and empowering communities to be the agents of their own change. However, questions are being raised about whether the summit will end up blurring the lines between humanitarian work and sustainable development.
The WHS is a multi-stakeholder event called by U.N. Secretary-General Ban Ki-Moon that is intended to produce commitments for concrete actions to address pressing humanitarian challenges, and to create a new vision on how to meet the needs of the millions of people affected by conflicts and disasters. ACT Alliance is a coalition of more than 140 churches and affiliated organizations working together in 140 countries to create positive and sustainable change in the lives of poor and marginalized people.
Last January, Ban's U.N. Secretary General Report said the summit would focus on five 'core responsibilities':
1. Political leadership to prevent and end conflicts,

2. Uphold the norms that safeguard humanity,

3. Leave no one behind,

4. Change people's lives – from delivering aid to ending need,

5. Invest in humanity.
Annexed to the report is the 'Agenda for Humanity' which breaks down each of the core responsibilities into a series of commitments. However, concerns are being raised about the summit's focus and its intended effectiveness.
In early May, Doctors Without Borders (Médecins Sans Frontières) said it was pulling out of the WHS, stating that "we no longer have any hope that the WHS will address the weaknesses in humanitarian action and emergency response, particularly in conflict areas or epidemic situations."
MSF said the summit's focus "would seem to be an incorporation of humanitarian assistance into a broader development and resilience agenda. Further, the summit neglects to reinforce the obligations of states to uphold and implement the humanitarian and refugee laws which they have signed up to."
In its statement, MSF noted that last year, 75 hospitals it managed or supported were bombed.
"As shocking violations of international humanitarian law and refugee rights continue on a daily basis, WHS participants will be pressed to a consensus on non-specific, good intentions to 'uphold norms' and 'end needs.' The summit has become a fig-leaf of good intentions, allowing these systematic violations, by states above all, to be ignored," the organization said.
Writing in The Guardian, Marc DuBois, former executive director of MSF-UK, criticizes the WHS for seeking to merge humanitarian action with development work. "Would you want ambulance teams to aim at strengthening the hospital system or improving nutrition? No. Should humanitarians be held accountable for ending hunger? No. They should be held accountable for feeding people who are starving," he writes
DuBois critiques the summit's focus on merging humanitarian action with the U.N.'s Sustainable Development Goals (SDGs).
"The sensible solution is to let humanitarians deliver on the immediate needs, empower others to end those needs in the first place and ensure the two work better together. Folding humanitarian action into development, as WHS aims to do, is not the answer," DuBois contends.
In early April, Ban laid out some key components for the WHS and the process afterwards, saying that the WHS "must be the beginning of a new era of international solidarity to halt the terrible suffering of people affected by conflicts and disasters and who are depending on us … Success at the WHS will make an enormous qualitative difference in advancing action on so many other fronts – not least the 2030 Agenda [for the SDGs]."
The U.N. said that the main follow-up process will begin in June at the U.N. Economic and Social Council's (ECOSOC) Humanitarian Affairs Segment, followed by the U.N. General Assembly in September, where the Secretary General will present his final report. The U.N. said that it is envisioned that the true inter-governmental process related to commitments will follow from this.
ACT Alliance will have a number of members present at the WHS. Click here for the most current list.
In preparation for the Summit, WACC invited two of its regional partners in Haiti and Vanuatu to share their experience of working in areas impacted by disasters. Click on the links to see them.