01 Oct 2014

Congress tackles "Media and foreign policy in the digital age"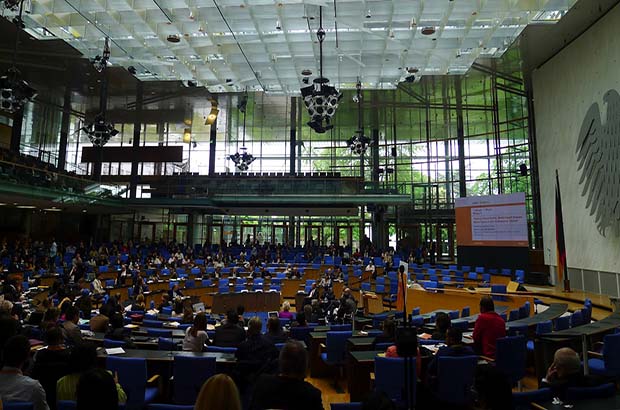 The Global Media Forum 2012 discussed "From information to participation". Photo: Iris Gonzales.
---
Deutsche Welle is Germany's international broadcaster. Its mission is to promote exchange and understanding between the world's cultures and people.
Since 2008 it has organized an annual congress to discuss and design approaches to meeting the challenges of globalization in which the media play a central role.
The theme of the gathering in 2015 is "Media and foreign policy in the digital age". It will explore how the culture of politics is changing, and the opportunities and risks facing foreign policy.
"In global communications, a nation's government is now just one of many stakeholders. The increasingly uncontrollable flow of information has altered the existing power and social structures of society," says the congress web site.
How will the new, expanded media landscape and active participation by members of civil society influence decision-makers' scope of action?
What role do (international) media have as ambassadors and mediators? Is digital diplomacy a harbinger of global media democracy?
Should international organizations rethink their diplomatic strategies?
What consequences will access to new communication technologies have for rapidly growing economies in developing countries?
How can new media be integrated into conventional forms of public diplomacy?
These are some of the questions to be explored by experts from around the world at the 2015 Global Media Forum, which takes place 22-24 June 2015 in Bonn, Germany.