19 Feb 2017

Digital media and transnational languages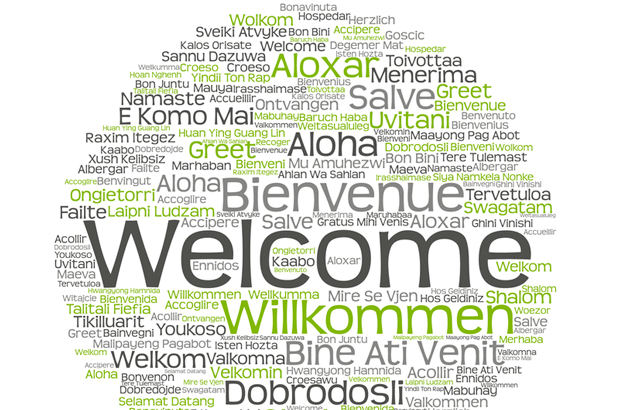 Photo: Design36/Shutterstock
---
In 2015, the United Nations calculated that the number of migrants in the world – defined as those living in a country other than the one in which they were born – had reached 244 million. It's safe to assume that almost every culture in the world has experienced emigration. The rise of mass media and the internet in the last century fundamentally changed how people interacted with one another and by extension, how those millions of migrants related to their places and cultures of origin. Even the most far-flung corners of a diaspora could now connect with others like them in their countries of origin or in other outposts.
But newer technology is pushing changes to human interaction that have not only altered methods of communication and made the world smaller, but have had deep impacts on culture itself. One of the major advantages of digital media and mobile technology that has become evident in the last decade is its democratizing force. If telephones could connect people in real time, digital media and mobile phones hold the promise of even greater integration because they could not only render distance immaterial, but they could transcend language barriers, socioeconomic disparities, and even different levels of literacy.
The ease of accessing and exchanging images and audio from free or very inexpensive sources online and on increasingly inexpensive devices has broadened the information superhighway. More people around the world are producing and accessing more information irrespective of their own linguistic backgrounds or limitations.
Yet the far-reaching, universal effects of this rapid democratization of information look different for different diaspora communities, because "diaspora" itself can mean vastly different things. There are new diasporas and old diasporas, diasporas tied to specific countries and diasporas of specific ethnic or religious groups that have long since lost their ties to one singular homeland.
Ancient diaspora, modern challenges
The story of the Jewish people is itself the story of Diaspora – theirs alone is the word with a capitalized D. A large part of the Jewish people can trace their roots to Spain, and today are known as Sephardic Jews. Since their expulsion from Spain with the Reconquista in 1492 – a year that might bring to mind another painful migration story – Sephardic Jews took with them to new corners of the globe the language that they had spoken for centuries.
It was the Spanish of Ferdinand and Isabella. Today's Judeo-Spanish, also known as Ladino and Djudeo-espanyol among other names, is largely a snapshot of the Spanish language as it was spoken and written in that century, with modifications from the years of exile in the Ottoman Empire, Greece, and beyond.
While five hundred years have failed to quash the language entirely, it can hardly be said to be free of the strains of exile. While maintaining the language was relatively easy when Sephardic Jews formed communities in new places in the centuries following the expulsion, the rise of mass media and, more importantly, digital media, has changed the game. The effect of assimilation given the new geopolitical and technological realities presented throughout the last century and into the digital age – primarily in Israel, the United States, and Latin America – has been detrimental to the transmission of the language to younger generations.
In a 2013 interview, a member of Vijitas de Alhad, a group of Sephardic Jews in Washington, D.C. that meets regularly, admitted that most of the business of the meetings is conducted not in Judeo-Spanish but in English. "No one can claim to speak it fluently because there is another language that always dominates," said Ralph Tarica. The digital landscape tells a similar story.
The language's digital presence today is largely found in websites and digitized archives that act to preserve the language, but cannot be said to be viable tools for its mass transmission to younger generations. One such website is Ladinokomunita. While the website's creators insist that news of the death of language is exaggerated, it is telling to note that this introductory section of the website is in fact written in English.
Nevertheless, despite the absence of widespread use of Judeo-Spanish and a robust pattern of its transmission as a primary language, for many Sephardic Jews such as the members of the group in Washington, the Sephardic identity remains very much alive. It is nourished by other aspects of their ancient culture. "Some elements of the culture, for example cooking, have survived very well," explained Mr. Tarica.
The vestige of Judeo-Spanish that has stubbornly and most prominently remained is no doubt the songs, called romansas. Mr. Tarica points out that every meeting of the group begins with one, and in fact one of the most well-known contemporary singers of romansas is Flory Jagoda, 93, a resident of Virginia and member of the group. She often leads the group in song. Her own digital footprint is impressive. A search of "Flory Jagoda" on YouTube returns 4,990 results. Other Sephardic artists have also found a platform in that digital space, allowing other members of their community around the world to listen to the music that speaks to their hearts, no matter what language they speak with their tongues.
Dynamism in the Latin American diaspora
The digital landscape for the Hispanic community in the United States is very different, and that's because the story of this diaspora is itself very different. It is important to note that this is only one part of the worldwide diaspora of Latin Americans and their descendant who now live in many countries all over the world. But the United States today, home to some 55 million Hispanics, has by far the largest community outside of Latin America itself.
What sets this part of the Hispanic diaspora apart is the sheer scale of digital media production that it now both produces and consumes. With the growth of the community through immigration during the 20th century, media outlets produced for and by those immigrants grew with it. Univision and Telemundo are now major players in broadcast media nationally, and Spanish-language newspapers and radio stations are numerous. But the rise of digital media has presented new ways for younger Hispanics – including children or grandchildren of immigrants and those brought to the U.S. at early ages – to engage with their cultures that have made the need to master Spanish less important.
This trend is reflected in the birth of entirely new, fully bilingual or English-exclusive outlets. Univision is investing in its new English-language network Fusion, and smaller independent outlets such as Flama and Remezcla are offering young Hispanics connections to Hispanic culture in English, albeit with a strong Spanish-language element in many cases. These and other similar digital media outlets are no less part of or representative of diaspora cultural life than their Spanish-language counterparts. Instead, they recognize and respect a new landscape with the newest tools and technology.
For their part, much of the work being done with Hispanic communities by many organizations in the United States is also increasingly taking on a bilingual character. In my own work at Bread for the World, an anti-hunger advocacy organization based in Washington, D.C., we, along with our allies in other national organizations, are seeing the value and necessity in advertising, content production, and social media engagement that combine the use of Spanish and English.
And it's with good reason. In 1980, 59% of Hispanics were proficient in English. By 2014, that number had climbed to 68.4. Among U.S.-born Hispanics, the change is even greater: 71.9% of U.S.-born Hispanics were proficient in 1980, compared to 89.4% today. Concurrently, an increasing share of young Hispanics have been born in the United States. Today, 62% of Hispanic adults in the U.S. are bilingual or use primarily English. Thus, if the population of people who are proficient in English (those born in the United States) is growing, the trend toward increasing use of English in Latino-specific media can only be expected to grow.
Markers of identity, irrespective of language
Consumers of digital media are able to easily access cultural artefacts – images and audio – that keep them connected to their cultures without needing to speak the language. What this relationship between digital media and transnational languages such as in the two cases discussed above demonstrates is that while language is an important element of cultural identity, it alone cannot define it, nor can it determine who belongs.
When a young Hispanic in the United States can view images of dances, foods, symbols, or celebrations that are familiar to them, his or her primary language, whether it be English, Spanish, or Spanglish, becomes irrelevant. Similarly, when the Sephardic Hanukkah ballad Ocho Kandelikas wafts through computer speakers along with images in a video posted by a Hebrew-speaking member of that community in Israel, a young Sephardic Jew in this country might feel the pull of nostalgia, despite the linguistic differences between the individuals.
Are English-speaking Hispanics in New York any less Hispanic or Hebrew-speaking Sephardic Jews in Tel Aviv or the English speakers of Washington's Vijitas de Alhad any less Sephardic? The answer should be no, and it's there that the democratizing effects of digital media and mobile technology on culture bear their greatest fruit. The democratization of information has brought with it the democratization of cultural definition and of self-identification. ν
Esteban García received his Bachelor of Science in Foreign Service from Georgetown University, USA, and is a native of Los Angeles, California. His research interests include international development, urban planning, national identity, and sociolinguistics. Esteban's experience in advocacy with the LGBTQ and Latino communities and his personal ties to Latin America have inspired him to pursue efforts in the fields of human rights and human development in emerging economies.