12 Nov 2017

Digital narratives: me, us, and who else?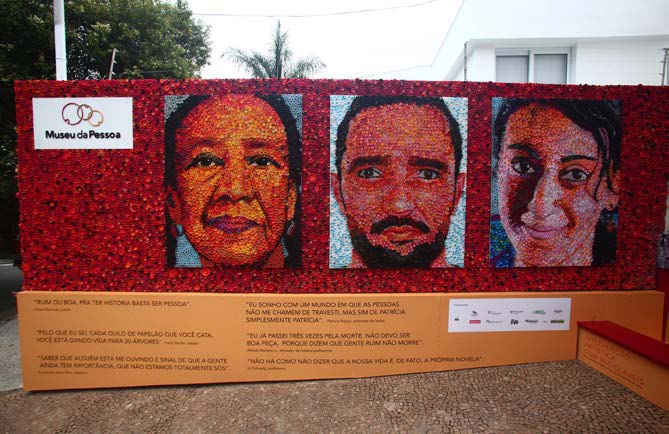 ---
"I'm here to tell you a little bit of my story, and I'd like you to please read to the end. My name is R, I'm 29 years old and I'm from a working class family – or perhaps I should say from a very poor family. I've fought long and hard to get where I am today.
When I was just nine, my parents and I lost everything we had: they burnt our house down and we were left with nothing. My mother, father and I all went out begging, then a year after the fire my parents separated, and I went to Ibirapuã, Bahia, north of Brazil, with my mother. Once again I went out begging, because we didn't have a penny. When we got to Ibirapuã, my grandmother didn't want me in her house and sent me away to live with some people in Teixeira de Freitas, also in Bahia. I stayed at that house for a year; the woman beat me and I still have scars on my body because of the bad way she treated me. My grandmother took me away from there and gave me to a family that was well-known in the town. They played a big part in me getting to where I am today. My mother, poor thing, became an alcoholic and was in no condition to look after me, but even so, she got pregnant again. I was already 15 years old, and I couldn't stand that way of living any more. I often thought about taking my own life, but God wouldn't let me carry on with that way of thinking. When I was 18, I went back to Mato Grosso where my father was. He was very ill, but didn't want any help. I had to change my life, I needed to study and make something of my life, so I decided to turn things around and dedicate myself to my studies. When I was 23, I took the Enem [university entrance] exam in Aparecida do Taboado (MS). I passed and was awarded a full scholarship to study pedagogy. That same year I lost my father. I had to get over it and, three years later, on January 25, 2011, I finished university. On February 6, 2011, mother died, just when I thought I was in a position to provide a better life for her… She was simply gone, leaving me and an 11-year-old child to take care of. Once again, I came back to Bahia. These days I am living in Vila Juazeiro, and a month ago my brother went to live with an aunt of ours in Espírito Santo. I'm working at a company near to Vila Juazeiro."1
This is just one of the stories that forms part of the digital collection at the Museu da Pessoa, a virtual and collaborative museum of life stories. Since its founding in São Paulo in 1991, it has aimed to make any life story a source of knowledge and connection between people and social groups. The Museu da Pessoas's platform allows anyone to become a museum curator by organizing his/her own "digital exhibition".
To date, more than 155 exhibitions have been created and shared by the community. Among these, Valeria Tessari's exhibition Fabrics, clothes, shoes, fashion: material memory, brought together nine life stories, six images, and a number of videos selected from the Museu da Pessoa's collection. Valeria described her exhibition as "a collection of memories based on everyday objects, produced by people that produce human relationships."2 She indexed the collection herself, using tags to allow searches by other Internet users. She also completed her collection by uploading some of her own stories.
From the 18,000 stories of the Museu da Pessoa's archive, around 4,000 were sent in via the Internet and 74% of the total number of 209 online exhibitions were produced by the public. When the entire logic of capturing a story is inverted and the Internet becomes the biggest collaborator in the construction of the Museu da Pessoa's collection, it is obvious that the process changes. But does the quality of the narratives remain the same? What do we lose and what do we gain from this inversion?
From cabinets of curiosities to modern-day museums
Orhan Pamuk, the Turkish writer awarded the Nobel Prize for Literature, wrote a manifesto which, in his opinion, should be used as a guide for museums in the 21st century. He points out that, "the measure of success of a museum should not be its ability to represent a state, a nation, a society or a particular history. It should rather be its capacity to reveal the humanity of individuals" (Pamuk, 2012: 58)
The Internet and social networks have definitively altered the individual's role in the production of content, which has, in turn, had an impact on the collective production of memory. Blogs, books, television and radio programs have started to include the experiences of individuals as part of their content. Though these facts can represent a new opportunity for museums and memory producers, it is important to think about the quality of the new content. How can we guarantee that the impact of the narratives – both in the collection process and in its dissemination – is not lost or turned into practices that trivialize the process and turn the content into a set of data swimming in a sea of information without any sort of criteria or hierarchy?
Museu da Pessoa has started by taking oral history as its basic methodology. Oral history can have many approaches. The Museu da Pessoa has worked mainly with life story interviews (Thompson, 2000), taking as its starting point the belief that each person's narrative is, at the end of the day, an expression of their singularity. None of the interviewees is treated simply as a source of "information" on the subject, but rather as a person who has experienced a part of a moment in history and personally taken something from that experience. The interviewee is considered the main author of his/her narrative, but the success of the interview depends a great deal on the relationship established between the interviewee and the interviewer. The focus is on the quality of the listening.
It is essential that we evaluate the new opportunities that the digital world has enabled for the production and use of these memories. Story circles that are a traditional part of oral societies have been revitalized as a basis for the production of digital stories, a resource that is used for the mobilization of social groups throughout the world. The same thing occurs with the production of personal memories. These are new forms of recording, preserving and, above all, distributing memories. The different contents reflect different productions, and the question of how to access all this material only gets bigger. But the most important question concerns the quality.
Joanne Garde-Hansen, Andrew Hoskins and Anna Reading (2009) explain that, during a large part of western history, the preservation of collective memory was carried out with enormous effort by society. From scribes to copyists, from painters to photographers, from cabinets of curiosities to big national museums, great efforts were put into the conservation of memory. As such, museums, above all in the West, demonstrate what our societies "understand" or "consider" to be of value. It is a fact that this "effort" implies a process of selection, registration and preservation. Naturally, it also implies the need for resources and, as such, that which is preserved in museums, books, and historic monuments results from the vision of a certain group.
In so far as new technology drastically reduces this "effort", individuals have started to record their own stories and to share them, be it on the pages of Facebook or in collective spaces, such as that of the Museu da Pessoa. Both as a society and as individuals, we were used to being spectators of large events, great facts, whilst we were simply actors in our own lives. We shared our narratives with a small group of friends and our family. The new means of digital production have brought with them the idea that our small circle of friends and family can expand. It has modified our concept of the group and territory.
In addition to being a common space shared by a group of people, a territory carries meaning for a community in the sense that it acquires a historical, affective and economic meaning for those that inhabit it. The new digital spaces allow us to create new territories. Our communities have expanded. Therefore, the question that we have to ask is: when individuals share their day-to-day experiences in virtual spaces, do their opinions, in fact, occupy what we have traditionally called their narrative spaces of memory? Does this correspond to what we used to do when we organized a photograph album?
Museums and us
It would be a mistake to see all these initiatives as a simple exchange of media. Should we therefore ask ourselves what leads an individual to share their story at a museum? In a study conducted with Internet users in 2009 on what had led them to use the Museu da Pessoa's space, some answers suggested the main reasons. One of the answers perhaps summarizes and illustrates a large portion of them:
"I think that everyone imagines that they are alone when they think about talking about their personal issues, when, in fact, there is an institution like this one where there are people like you, who are a minority, who are interested in the stories we have to tell."
To what extent does the socialization of everyday events recorded by those using the Museu da Pessoa's website result from reflections on their own path through life? I believe that we are still going through a period of transition. It is a transition that includes our notion of time – past and present – our notion of community and our relationship with our own memory. It is essential to understand that these new forms of narrative indicate changes.
The experience of the Museu da Pessoa, just as with many other similar initiatives in the digital world today, is part of work-in-progress that is very much in its early stages but whose positive responses and active involvement by the community already allows us to envisage numerous developments in the future. There will be new possibilities for museums to expand their areas of activity by reversing the traditional institutional organizational logic still perpetuated by the majority of Western museums.
By enabling members of the community to become curators of a museum's collections, it is argued that such methods provide greater opportunities for the collective – and collaborative – construction of new memories, along with new spaces that challenge some of the established perceptions and frameworks in society. Such projects, it is argued, create new horizons and possibilities for museums to reinvent themselves, not only in the digital world, but also in the physical and symbolic spaces of society in the 21st century.
Such possibilities allow them to engage with and, if possible, to join in Orhan Pamuk's vision of museums as places for representing people and their means of expression.
Notes
1. Story sent in by an Internet user in April 2014. All passages quoting Internet users cited in this article are in their original form. We have only changed the names.
2. Free translation.
Bibliography
Garde-Hansen, J.; Hoskins, A. and Reading, A. Save as… Digital Memories. London, Palgrave Macmillan, 2009.
Lambert, Joe. Digital Storytelling: capturing Lives, creating community. 3ed. Berkeley: Digital Diner Press, 2009.
Pamuk, O. The innocence of objects. New York: Abrams, 2012., p 55-58.
Thompson, P. 3ed. The Voice of The Past. Oxford, Oxford University Press, 2000.
Karen Worcman was born in Rio de Janeiro, Brazil, in 1962. She graduated in History and has a master's in Linguistics from the Federal University in Rio de Janeiro. She started working with oral history in 1997 on a special project about Jewish immigrants to Rio de Janeiro, Brazil. In 1992 she founded the Museum of the Person, a virtual museum that connects people and groups through their stories. There (and via all the social media connected with it) every person can register his/her life story and create a thematic collection that can be publicly accessed. She has written many articles and edited many books on the issue like Social Memory Technology: Theory, Practice, Action (together with Joanne Garde-Hansen). She is an Ashoka fellow since 1999, a global institution that supports social innovative entrepreneurs in more then 60 countries and a member of the board of many institutions like the Center of Digital Storytelling (www.storycenter.org), Diversa and others.