01 Oct 2014

Discovery en Español investigates: Do miracles truly exist?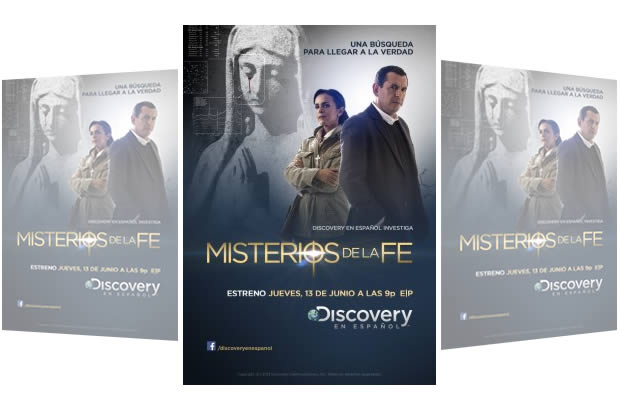 In the new series, a journalist and a Jesuit priest travel around Latin America in search of the truth.
Haga clic aquí para ver este comunicado de prensa en español.
Miami, Florida, June 4, 2013 — A rain of blood, images that cry real tears, people who experience Christ's stigmata on their bodies… popular devotion explains these occurrences as miracles that carry a message from the divine. Discovery en Español's new investigative series analyzes the scientific evidence behind 16 potentially miraculous occurrences to uncover the truth. MISTERIOS DE LA FE begain airing June 13 and will air on Thursdays at 9PM E/P.
Led by journalist Gabriela Calzada and Jesuit Father Juan Carlos Henríquez, MISTERIOS DE LA FE visits places where miracles are alleged to have occurred to interpret what seem to be inexplicable enigmas. In each instance, Calzada and Henríquez try to put together the pieces of the puzzle, aided by interviews with specialists and scientists. They speak to the locals to get their version of the story and analyze the personal and social issues behind these unusual cases.
Taking into account the moving human stories that surround developments that many consider to be miraculous, the eight-part series explores some of the most fascinating phenomena in the world of religion. The mysteries examined in the series include: Rain of Blood (Colombia), The Miracle of the Virgin of Juquila (Mexico), Stigmata (Mexico and Brazil) and the Miracles of La Santa Muerte, or Holy Death (Argentina).
MISTERIOS DE LA FE has a microsite www.tudiscovery.com/misteriosdelafe with additional information about the series, including exclusive videos, photographs and episode descriptions.
About the series hosts:
Dr. Juan Carlos Henríquez is a dynamic, open-minded Jesuit priest. He is a professor at the Instituto Tecnológico y de Estudios Superiores de Occidente (ITESO) in Guadalajara, Mexico. Previously, he taught communications at Universidad Iberoamericana in Mexico City. He has a Ph.D. in sociology from Boston College, which he earned while working directly with the Hispanic community in Massachusetts in 2005-2011. He traveled worldwide, studying media and religion, when he served on the International Study Commission on Media, Religion and Culture.
Gabriela Calzada is a well-known Mexican journalist who has appeared on numerous current events series on television. Faith is deeply important to her; she is not a skeptic and she is willing to accept the existence of miracles, but she is also committed to search for the truth behind each case presented.
MISTERIOS DE LA FE is a Discovery en Español and Wag TV co-production, under the supervision of Jon Stephens, Martin Durkin y Steven Green. Michela Giorelli and Irune Ariztoy were Executive Producers for Discovery en Español.