15 Dec 2016

Emily Lau addresses WACC meeting in Hong Kong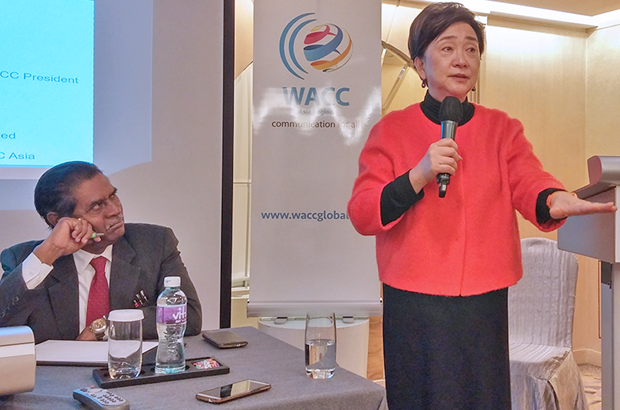 Emily Lau (right) together with WACC President Rev. Dr Samuel W. Meshack (left) at the WACC consultation of project partners. Photo: Lorenzo Vargas
---
Democracy activist and journalist Emily Lau spoke to participants attending the WACC consultation on "Linking Communication Rights to the Sustainable Development Goals", Hong Kong, 16 December 2016.
Ms Lau described the present political situation of the Hong Kong Special Administrative Region, based on her 25 years' experience in the Hong Kong Parliament and membership of the Legislative Council.
Banned from entering mainland China for more than 20 years, she was recently given permission to apply for a home visit permit.
"Hong Kong is one of the freest cities in Asia, with an independent judiciary and a people willing to defend their rights. There are democratic freedoms but they are being eroded," she said.
In this respect, "It is very important that we Hong Kong people continue our struggle with dignity and perseverance, but in a peaceful and orderly way," she added.
Ms Lau stressed the role of social media today in a context where newspapers are under financial pressure from a massive drop in circulation. However, this also creates a problem of balance and truth.
"People should have access to rational discussion and alternative opinions in political and social matters and news media should be able to provide that," she said.
Lau was Hong Kong's first directly elected woman legislator and gained a reputation for being fearless in pursuing tough questions. She has also regularly directed criticism against the central and local authorities on issues such as the snail's pace of democratic progress in the city and alleged interference by parties across the political spectrum
After leaving school in 1972, Lau studied journalism in California, graduating just as the Watergate scandal was breaking. She began her journalistic career at the South China Morning Post in 1976 and later moved to London to pursue a postgraduate degree in international relations at the London School of Economics.
Emily Lau was Hong Kong correspondent for the Far Eastern Economic Review (1984-91), chairperson of the Hong Kong Journalists' Association (1989-91), Lecturer in Journalism at the University of Hong Kong (1987-90), and previously worked for BBC Television and Hong Kong TVB News.
Recently she stepped down as chairperson of the Hong Kong Democratic Party (2012-16) and as an elected member of the Legislative Council of the Hong Kong Special Administrative Region (1998-2016).
In an interview published in the Financial Times (24 March 2016) Ms Lau said, "I will continue to do my best to ensure that Hong Kong people can continue to enjoy their freedoms and social justice under the central government's policy of 'one country, two systems', and will continue to fight for the rule of law and democracy."
The WACC consultation on "Linking Communication Rights to the Sustainable Development Goals" took place 14-16 December 2016 in partnership with WACC corporate member Asia Pacific Mission for Migrants (APMM).